The benefits offered by modularization are provoking increased interest from the mining industry. Despite it being around for several decades now, the concept is still misunderstood. So, what exactly is modularization – and what are the practical considerations when applying it to mineral processing?
By Jonathan Rowland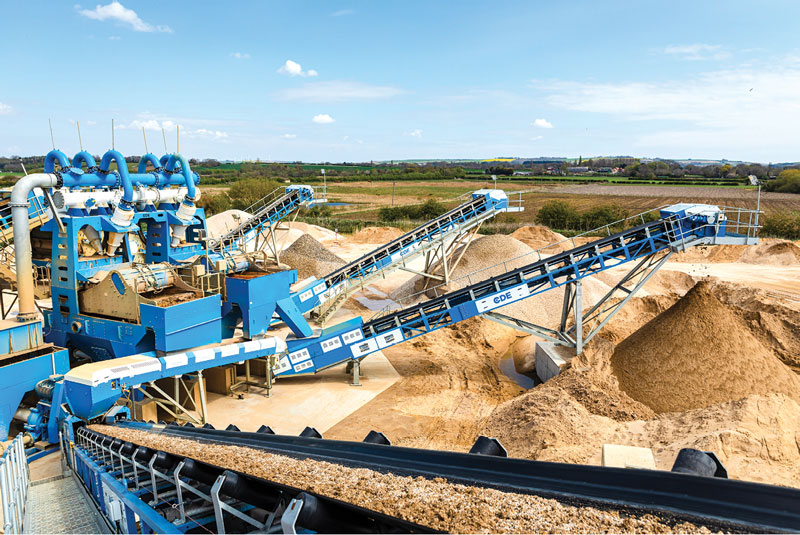 We are of the opinion that it is time for a paradigm shift in the [mining] industry," wrote the authors of a 2016 thought piece from Deloitte Mining. That paradigm shift was to be achieved by "introducing smaller, scalable and modular processing plants, which are suited for the current distressed industry."
Calls to shift paradigms might look good in headlines – and in reports from management consultants – but they very rarely represent calls to a truly novel approach. And so it was with this piece. Modularity is a long-established approach in various industries: from modular accommodation units on offshore oil rigs to modular cement grinding plants. Nor is it a case of the concept being only recently adopted into the mineral processing sector. As Ivor Jones, general manager of the Modular Division at ADP, told North American Mining, it has been around in the mining industry for several decades.
"We have been building modular plants since the late 1990s," the ADP executive said. "And there were companies before us that were building modular dense media separation (DMS) plants going back to the late 1980s. It has been particularly prominent in the marine diamond business, much of which is driven out of Cape Town, South Africa, where specialist fabricators are located close to the harbor to facilitate delivery of these preassembled units onto the ships."
A wholly-owned subsidiary of Lycopodium, ADP offers EPCM/EPC service offerings with a particular specialty in modular processing plants. Founded as Alluvial Diamond Projects in 1997, the company retains a strong presence in the southern African diamond industry with many of the major diamond houses – including De Beers – as clients. The company is also active in the precious metals sector and has expanded its geographic footprint with projects undertaken as far afield as Australia, Brazil, Canada, India, Indonesia, and Norway, as well as many African countries.
Modular mineral processing may be more venerable than the Deloitte authors imagined. But it is perhaps true to say that modular concepts have gained a higher profile more recently as the benefits are more widely recognized.
"Modular plants have a variety of advantages that can be tailored according to individual project requirements," explained Gustavo Brasil, business development manager at CDE, based in Austin, Texas. "The application of modular processing plants in the mining industry has become increasingly popular due to their flexibility, scalability, and cost effectiveness. The modular design also allows for easy customization and expansion, enabling mining companies to quickly adapt to changing mineral processing needs and site-specific conditions."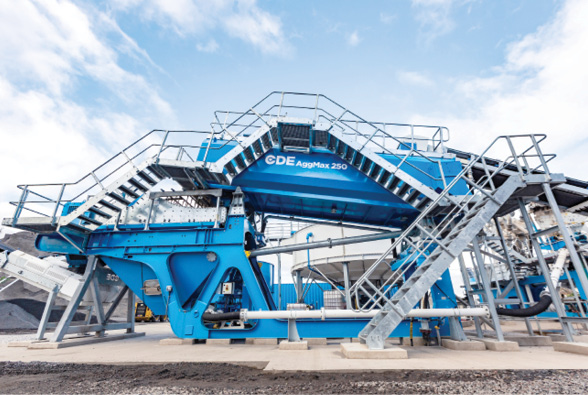 So, what is a modular mineral processing plant? 
Before going further into some of the benefits, however, it will be helpful to spend a moment defining what we mean by a modular mineral processing plant. The key concept is prefabrication and preassembly before being sent to site. 
"Unlike traditional mineral processing plant, which are typically large, monolithic structures, modular plants are designed using prefabricated modules, which are assembled onsite to create a flexible and customizable processing plant," said CDE's Brasil. "Each unitary process in the modular plant is bundled or divided into specific blocks, with the structural requirements integrated into these blocks."
These blocks or modules are often (but not always) based on standard-size containers to facilitate shipping, especially when dealing with remote mine sites. "Modular plants are more easily transportable than traditional plants, making them a good option for companies operating in remote or challenging environments," continued Brasil.
That said, when modules are fabricated closer to site – such as with the marine diamond modules mentioned earlier – or when transport routes allow it, module size can be larger.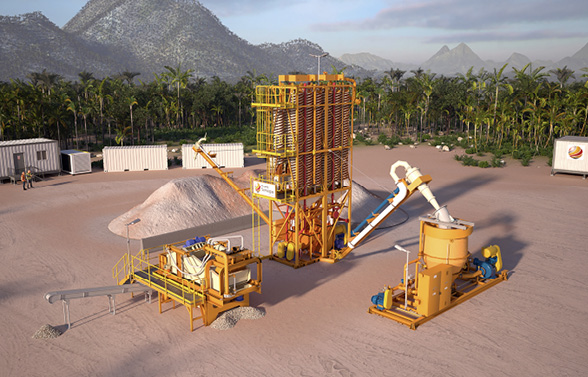 Why go modular? 
According to Matt Urquhart, regional manager, North America, at Mineral Technologies, the benefits of modular mineral processing plants include:
Quick and easy site construction, condensing
commissioning time and improving speed to market.
Compact design.
Agile ramp-up and expansion of production.
Faster operationality.
Reduced site impact, making it easier to return it to pre- mine conditions.
Additionally, "when working at small to moderate scale and when the orebody and flowsheet are well understood, project studies and design phases can be accelerated using pre-engineered, fully-costed modules," Urquhart added.
One of the major reasons to look at modular construction is to "reduce construction time on site," agreed Jones. This in itself has a number of benefits. Firstly, time spent onsite is significantly more expensive than time in the workshop. Modular plants also reduce the need for massive civil engineering work: for smaller plants, the need for civils can be eliminated altogether, although larger-capacity modular plants may still need some.
"With traditional construction methods, you will typically see assembly rates of about 3-5 ton per day," continued Jones. "When dealing with modular construction, we estimate that to be more like 15-20 tons per day or higher. Modular construction also requires a lower level of skilled labor on site, as much of the complex assembly is done in the workshop."
In the negative column, design time for modular plants is generally slightly longer, as the interfacing between blocks must be correct before they ship. Plants are often preassembled and pre-commissioned in the workshop before being transported to site to ensure functionality (although this is also true of traditional plants). And modular plants will often require more steel. This will all tend to increase the price vis-à-vis conventional mineral processing plants – but not enough to offset the cost reduction gained from the shorter construction time and the financial opportunity of getting into production earlier.
On balance, "modular plants allow for quicker and easier construction and have the potential to significantly shorten the mine development cycle," said CDE's Brasil. "Modular plants can thus be commissioned and start processing minerals much more quickly than traditional mineral processing plants, accelerating the point at which the project begins to generate revenue."
In addition, modularity "allows for easier expansion or modification as mining conditions change of time," continued Brasil, "reducing the need for costly and time-consuming plant redesigns. This flexibility can help mining companies optimize their operations and increase productivity, which can also help shorten the development cycle."
Modular plants also have specific benefits in terms of supporting mining companies to extract value from existing tailings deposits. "Modular processing plants can be designed and configured to process tailings in a way that maximizes the recovery of valuable minerals, while minimizing waste and environmental impact," explained Brasil. "The flexibility of modular plants allows for the efficient and cost-effective processing of tailings deposits of varying sizes and compositions. Mining companies can therefore unlock additional value from their operations, without the need for significant new investment in infrastructure."
By processing tailings dams, companies also reduce the environmental and safety risks associated with such facilities. "Overall, the ability to extract value from existing tailings deposits using modular mineral processing plants represents a significant opportunity for mining companies to improve their sustainability and profitability," concluded the CDE expert.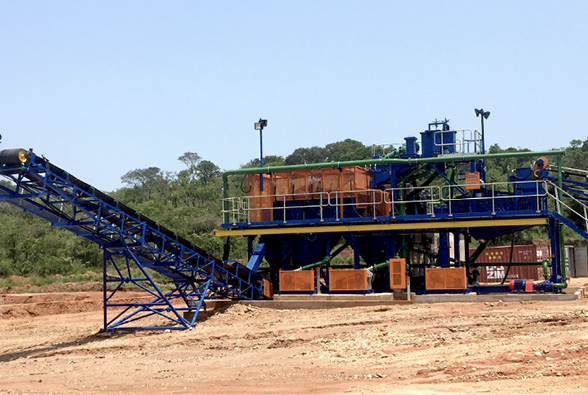 Implementing a modular minerals processing plant
The steps to implementing a modular minerals processing plant are not dissimilar to those involved in traditional installations: 
Project scoping. This first step defines the desired performance of the plant, including throughput and mineral product specification. Combined with the long-term vision of the mining company involved, this helps to determine the size and configuration of the modular plant.
Design and engineering. After the scope of the plant
is defined, the plant is designed and engineered. This
includes developing a detailed process flow diagram, as well as designing the individual modules and supporting infrastructure.
Fabrication and assembly. Modules are then fabricated off-site in a controlled environment, which helps ensure high quality and consistent production standards. When the modules are complete, they are shipped and assembled onsite. Before shipping, the complete plant may be pre- assembled to ensure it meets specifications.
Commissioning and start-up. After the plant has been
assembled at the mine site, the modules are tested
individually, and as a complete system, to ensure it is operating as designed.
Throughout this process "it is important to work closely with all stakeholders to ensure that the plant is designed and implemented in a way that meets the needs of the specific mine," said Brasil. "Ongoing communication and collaboration are critical to ensure that the plant remains optimized for performance and that any necessary modifications or upgrades are made in a timely and effective manner."
Modularization in practice
CDE recently undertook a project involving a client that had recently acquired a diverse industrial silica mining operation. "The company was seeking to future-proof its operations and partnered with us in 2019 to supply three modular processing plants," said Brasil. "The performance of these – coupled with an aggressive expansion plan – led the company to acquire a fourth plant and additional modules to upgrade the original three in 2022."
Through the project, CDE worked with the customer to optimize its operations to reduce both CAPEX and OPEX, as well as to better understand its mines and the direction of the market. As a result, one of the modular plants was moved, while the company tripled the processing capacity of another. Ultimately, the customer has ended up with five plants, each tailored to specific needs.
"The case study is an example of the potential that modular plants offer," concluded Brasil. "By providing flexibility, scalability, and customization, modular plants can help mining companies increase productivity, while reducing costs."
Another case study was provided by Mineral Technologies, which provides an off-the-self modular mineral processing solution, with capacities of 5-250 tph, known as FLEXSERIES. The company was engaged by WIM Resource in Australia to deliver a process solution at its Avonbank test-pit project, which was aimed at demonstrating extraction of heavy mineral concentrate. One of the main challenges of the project was the fine particle sizes of 50-60 microns.
The solution ultimately comprised a 10-tph pilot plant that could be easily relocated on flatbed semi-trailers or shipped as break bulk (but not containerized). The plant incorporated MG12 and HG10i spirals operating in a four-stage (rougher, scavenger, cleaner and recleaner) circuit within a footprint similar in size to a standard tennis court (excluding feed hopper and transfer conveyor).
"Working within WIM Resource's challenging delivery schedule, we were able to develop a process flowsheet and design a relocatable modular plant that could be quickly assembled and commissioned onsite," said Mineral Technologies' Urquhart. "The plant helped confirm separation of heavy minerals – including titanium, zircon, and rare earths – from the ore in line with required grade and recovery specifications.
Modularization can also play a role at larger mineral processing operations – and this goes back to the importance of communicating with the customer to fully understand their process, as Jones continued. "Typically, when you talk required tonnages, you are talking about the front-end of the plant. But that tonnage does not necessarily carry through the whole plant."
Jones went on to use the example of a lithium processing facility to make the point. "A recent project we worked on had a head feed of 400 tph – so beyond the top end of what is cost-effective for modularization. But after crushing, the head feed was classified into smaller three streams: a 150-200-tph coarse stream, a 200-tph fine stream, and a 50-60-tph ultra-fine stream. These all fall within the scope of cost-effective modularization. The project could thus take a hybrid approach with both traditional and modular elements to provide an optimized solution."
Is the future modular? 
The future of modular mineral processing is "bright," according to CDE's Brasil. "Modular plants are set to play a crucial role in the mining industry going forward, as the industry continues to evolve and needs grow for innovative, flexible, and efficient solutions. Modular plants also have the potential to reduce the environmental impact of mining through improved efficiency, reduced waste, and more sustainable use of resources."
Yet it is also important to note that modular processing plants are not a panacea. "We came up against this attitude recently in a project in Angola, where the client wanted to modularize but, when we looked into it, we realized the equipment being selected was well beyond what could be broken down into easily-transportable modules," noted ADP's Ivor Jones. "Ultimately, we went back to the client and said this would be modularization for modularization's sake – and not cost effective; it wouldn't deliver the advantages that were being sought."
In short: there will always be sites that require traditional installations. However, in the mining industry's continued battle to supply essential mineral products, economically and sustainably, in sufficient quantities, despite ever-more complex ores, modularization is likely to be an increasingly important weapon in the industry's arsenal.