Changing – and shrinking – underground environments have created an unprecedented demand for narrow-vein mining equipment and technology. J.H. Fletcher tells North American Mining magazine more about the options for these tightening spaces.
Drilling and bolting play such crucial roles in underground mining, and while narrow-vein extraction is not a new idea, its application is growing as the prevalence of these smaller spaces grow and the mining of them becomes more a requirement than an option. Along with that comes the need for precision, efficiency and, more than anything else, safety, as operations work to keep productivity and output at optimum levels.
NAM recently spoke to an expert in the sector, J.H. Fletcher's Ben Hardman, about three of the machines at the core of its product line that have the ability to keep each of these vital priorities in line and keep mines moving in the form of two bolters and a jumbo drill that carries much might in a small package. All three machines have become arterial to a number of mines seeking success while working in this distinctive environment.
The Fletcher N3016-AD/E Roof Bolter/Mesh Handler
The Fletcher N3016-AD/E was first developed for use at a gold mine in the western United States. Prior to that, the mine was using a small drill jumbo to advance the face, followed by partial material removal with a LHD. 
The remaining material would then be utilized as a ramp and/or platform for jackleg operators to bolt the roof and ribs. Enter the N3016-AD/E, which was designed to decrease the needed time to install mesh and bolt a cut, thus improving the safety level of the previous roof bolting method, improving efficiency and improving the operation's costs.
"The N3016-AD/E is capable of installing 6-foot bolts in a 10- x 10-ft. heading and equipped with a mechanized carousel," Fletcher's Hardman said. "It has the ability to drill and install mesh simultaneously with a single operator."
With dilution reduction essential to ore mining, the OEM wanted to put focus on the condition that can often lower ore grades. Because many operations are forced to use larger standard mining equipment, they must deal with high rates of dilution. To address this issue, Fletcher's new machine design fits headings as small as 10 x 10 ft. (3.05 x 3.05 meters).
Addressing a large safety concern, the Fletcher N3016-AD/E mechanizes the bolting process and eliminates jacklegs from the bolting process. The N3016-AD/E is designed to allow loading, drilling, resin insertion and bolting to all be performed from the operator's deck.
"This design allows the operator to remain under a protective canopy for additional protection from rock falling while bolting, and while installing mesh," the company said, noting that there is also an available option of an enclosed filtered cab. Unlike most commercially available air conditioning and heater systems, the Fletcher system filters both recirculated air and the make-up air with a high efficiency filter, working to provide the operator added protection from high noise levels, diesel particulate matter and ambient mine dust.
"To improve efficiency, the boom has the ability to lift, swing, and extend to allow multiple installations from one chassis position," Fletcher said. "The machine is equipped with a KRM module, with single pass chain drive drill and bolt feeds. Featuring independent crowd on both drill and bolt feeds, allowing versatility in a narrow heading environment."
The machine's compact design is made possible by utilizing the HV-32 Rock Drill, a low profile, rotary percussive drill head designed for roof bolting applications. The drill has already found success in platinum, nickel, copper, coal, limestone and salt mines. The low frequency, high impact nature of the percussion cycle, allows drilling in hard-to-penetrate rock.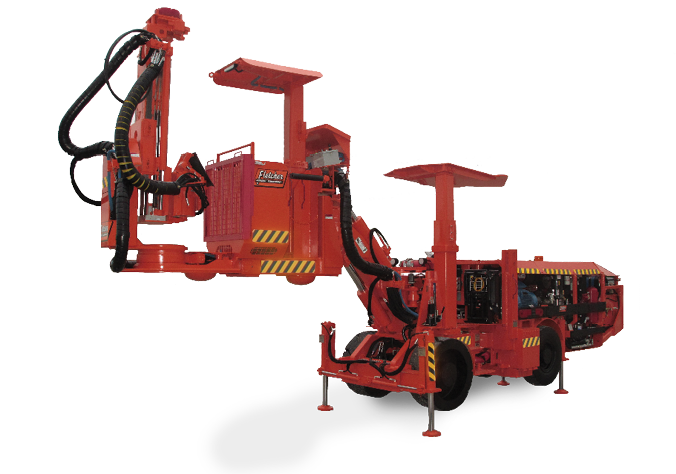 Fletcher N3114-AD/E Roof Bolter
"Reduced commodity prices, paired with high dilution rates, have placed a burden on narrow-vein operations. Fletcher has begun working with several of these companies to aid in relieving some of the current day operational struggles," Hardman noted. As a result, the Fletcher model N3114-AD/E Roof Bolter was designed to improve productivity through reducing dilution rates, while also reducing the physicality involved in hand drilling and mucking in small spaces.
The machine was designed with diesel tram and electric drilling, with inch tram from drill platform. The machine is supplied with rubber tires, articulating carrier and a single boom with a mounted lifting operator platform.
The N3114-AD/E is designed for use in headings down to 8 ft. (2.4 m) wide. The drill unit can reach a maximum height of 14 ft. 6 in. (4.4 m), which eliminates the need for stope backfilling before roof support can be installed. With an articulating chassis, the machine can negotiate turns with as little as 8 ft. 3 in. (2.5 m) inside radius.
"This ability alone saves valuable time, as well as reducing exposure to additional shifts and trip accidents associated with a muck pile or drilling pad," the OEM noted. "Basket swing allows parallel offset, and also aids in maneuvering around tight corners."
Drilling, resin insertion and bolting can all be performed from the operator's basket, mounted on a lift-and-swing boom to permit multiple installations. Additionally, canopies provide more operator protection in both driving and basket-work positions.
"The machine was designed to allow access to tram compartment and drill platform from both sides of machine, allowing the operator to position the machine where necessary, due to the irregular characteristics of slope mining," the company noted.
The Fletcher model N3114-AD/E is currently in successful operation in the western United States and Canada.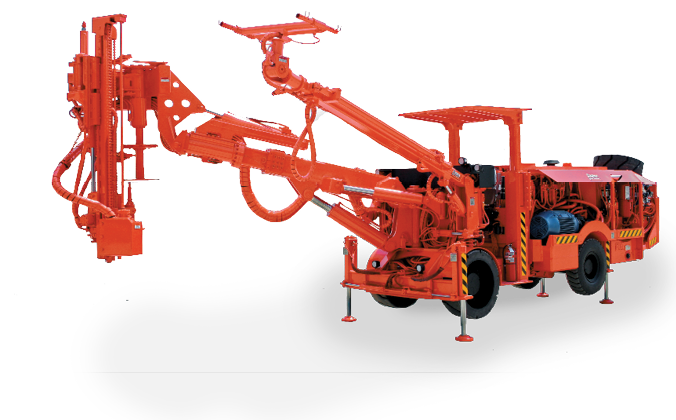 Fletcher Model J101-AD/E Drill Jumbo
The Fletcher model J101-AD/E is a single-boom drill jumbo designed to complement the N3114-AD/E and N3016-AD/E bolters. Designed for narrow-vein mining applications with an overall width as small as 1.4 m, the J101-AD/E has diesel tram and electric drilling and is equipped with proportional control of tram and boom functions. 
Drilling efficiency is optimized with direct acting anti-jam circuit. The software monitors drilling parameters and automatically adjusts the drill to accommodate different drilling conditions increasing efficiency, bit and steel life.
The J101-AD/E's ability to accommodate a variety of rockdrills for various rock conditions gives the end user the ability to use their tools and procedures. The machine is a result of blended proven Fletcher designs, creating a machine that is efficient and cost effective. This was accomplished through utilizing many of the same components found on the Fletcher narrow vein bolters, and borrowing controls and functionality from Fletcher's standard drills.