The tire OEM introduced the newest season of its Global Trends OTR immersive digital roundtables to talk about key topics to the industries it serves with discussion of innovation, digitization and, yes, tires.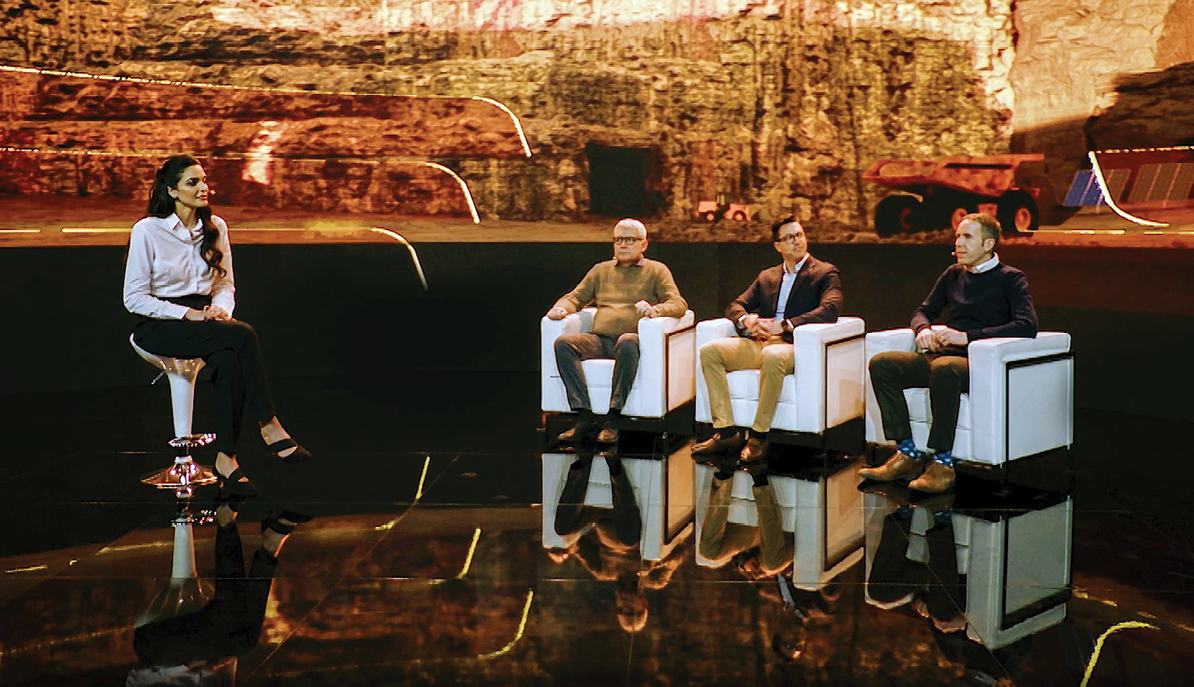 The new season of the Global Trends OTR series from BKT Network, the company's digital platform, ran from March to June 2023 and included episodes on sustainability and ESG; technology, automation and robotics; alternative energies; and net zero and low carbon emissions.
One of the newest episodes released at press time was "Alternative power: a turning point in the mining sector," and included the input of Paul Muller, Technical Sales manager at Perkins Engines; Jonathan Cohen, director of Products Commercialization at AutoStem Technology; and Piero Torassa, Field Engineer manager of BKT Europe, who is in charge of testing tires to evaluate their performance and quality.
"BKT's journey through new technologies, which will make the OTR sector increasingly sustainable, continues," the company said of the series. The alternative power episode began with Muller, who spoke first of the importance of electric power in the ecological transition process and how it can reduce the environmental impact in the OTR sector without compromising engine efficiency and performance. 
For instance, he noted: the application of new, modular 300- and 600-volt electric battery systems on large equipment as well as 48V batteries on smaller machinery. For the mining sector, the adoption of electrical systems is closely related to availability, or the potential adaptability to often inadequate existing infrastructure.
"We see ourselves as part of the energy transition and play an important role in supporting a wide range of customers to help them achieve their goals," he said.
"We want them to improve their efficiency, but also to reduce their environmental impact. One of the ways we do this is offering them electric solutions."
Muller, who pointed out the key role mining plays in the greater decarbonization process, said that, if implemented, the electrification of vehicles and infrastructures will lead to the reduction of emissions such as NOx, other particulates and greenhouse gases.
In some cases, different solutions than electrification are required, he stressed, pointing out the use of alternative fuels such as synthetic diesel, biodiesel or HVO (hydrotreated vegetable oil) – alternative fuels would make it possible to combine the use of traditional internal combustion engines with the reduction of carbon emissions without involving investments in new equipment.
Muller also discussed the solution of hydrogen, which he said should be exploited in the energy transition process, despite critical issues with its use as a fuel because of the "more or less sustainable sources" from where it comes.
"It is a matter for a good debate. We cannot focus on a specific technology without taking into account its impact and the origin of the fuel that feeds it," he said. "Mining is a key sector where electrification is and will be an important part of decarbonization and energy transition. For sure, it will be necessary to learn a lot before adopting these technologies."
Cohen spotlighted in his discussion a new type of alternative energy in relation to the use of non-detonating explosives, particularly in the mining sector. The technology is based on deflagration, a subsonic combustion phenomenon, which occurs at a speed of about 300 m/s and is activated by a chemical reaction and a cartridge system.
"We describe our technology as the world's first non-detonating blasting product. We don't even call it explosive," Cohen said.
"Thanks to our solution, consequences such as shock waves, rock crumbling, mineral pulverization, as well as damages to structures or tunnels near the explosion area can be avoided."
The expert said that there are numerous sustainability-related positive impacts, pointing out that, in three decades, it will be the most employed technology.
"By avoiding the shock wave associated with conventional explosives and by eliminating some of the most harmful chemical components typically used in the production of conventional explosives, we avoid the creation of very fine dust particles that are a primary air pollutant as well as the generation of noxious gases," he said. "Our technology eliminates the possibility of land contamination that always occurs, to a greater or lesser extent, with the use of conventional explosive slurries," adding the technology has additional economic benefits.
Finally, Torassa explained in the episode the fundamental factor of energy efficiency within the OTR sector's entire value chain. The BKT Europe engineer highlighted how different levels of energy efficiency affect the rating of a product, which in itself if innovation which can go hand in hand with the introduction of alternative power in the production process.
"We use renewable energy in the production of our tires," said Torassa. "At the same time, however, we assess efficiency, load capacity, and so on.
"Normally, in the OTR sector, we talk of 'star rating'; this is to say the ability of a tire to carry the load. Fifteen years ago, we were one star, now we are at three stars. To facilitate and accelerate the adoption of alternative energy sources, it is important to define the goal you want to achieve, understand the real use of your application, and hence cooperate with a partner, who is able to develop and integrate a solution to meet these requirements."
Having unclear objectives and lacking understanding of how to employ proposed solutions can ultimately lead to developing products that do not that meet the needs of customers and/or discourage implementation of those products.
The full episode of Global Trends OTR can be watched at www.bkt-network.com/alternative-energies, and other episodes can be found on the company's website.