Now nearly 5% bigger than the record set in 2020, the show will feature 1,800 exhibitors and 150 education sessions.
By Mark S. Kuhar and Josephine Patterson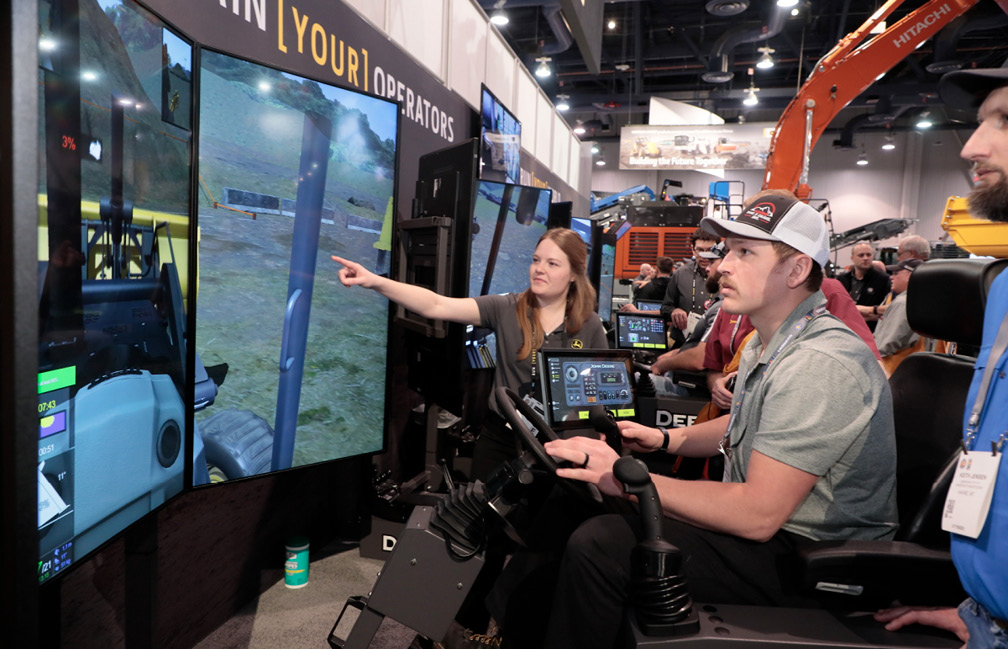 Here it comes again. The next ConExpo-Con/Agg will be held March 14-18, 2023, in Las Vegas. ConExpo-Con/Agg is the largest construction, aggregates and mining trade show in North America and the premier event that connects professionals from every major construction sector.
Held every three years, ConExpo-Con/Agg takes the industries to the next level by helping attendees elevate their industry expertise, experience the newest equipment and products through demonstrations and industry-leading education, make new professional connections, and grow their own marketability within the industry.
ConExpo-Con/Agg, already recognized as the largest trade show in North America, has officially sold all available exhibit space, guaranteeing the 2023 edition of the show will be the biggest in history.
"The addition of the new West Hall and Diamond Lot at the Las Vegas Convention Center gave us, and our exhibitors, a number of new opportunities to show how we are taking the construction industry to the next level," said ConExpo-Con/Agg Show director Dana Wuesthoff. "Now at 2.8 million square feet of exhibits, there's more for construction pros to see than ever before."
The show, now nearly 5% bigger than the record set in 2020, will feature 1,800 exhibitors and 150 education sessions during its five-day run.
Despite being the largest ConExpo-Con/Agg ever, recent additions to the Las Vegas Convention Center (LVCC) will make it the easiest to get around as well. Beneath the entire LVCC campus runs the Convention Center Loop, an underground transportation system designed by Elon Musk's The Boring Company that transports convention attendees throughout the campus in under two minutes in Tesla vehicles, free of charge.
"We are excited to welcome ConExpo-Con/Agg back to Las Vegas for another record-setting event," said Brian Yost, chief operating officer of the Las Vegas Convention and Visitors Authority (LVCVA), which owns and operates the LVCC. "The addition of the West Hall and the Convention Center Loop will only further enhance the 'Only Vegas' experience for attendees and exhibitors."
Industry professionals are ready for the show to return as well. The current pace of attendee registration is nearly double what it was for the 2020 show.
"This is the event that construction professionals, especially those making company-level decisions, and those needing professional development hours, can't miss," said ConExpo-Con/Agg Show Chair and Caterpillar Senior Vice President Phil Kelliher. "Seeing the new equipment and techniques on a screen doesn't compare to seeing it all in person. At the show, you can see the equipment, ask questions of the manufacturers themselves, and really understand what the equipment and education can do for your career and business."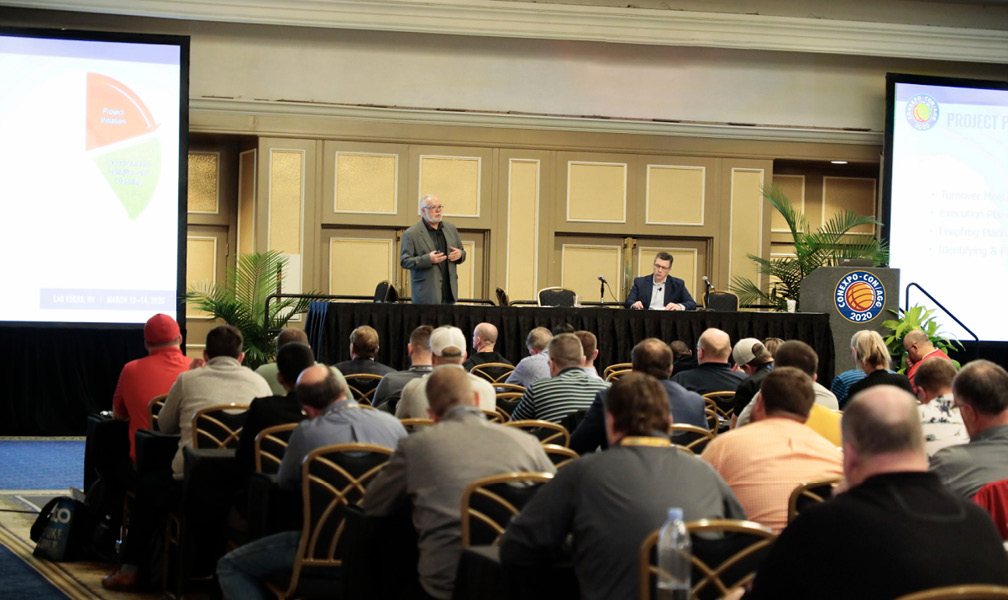 Education
"The biggest value in making the trip to Vegas to come to ConExpo-Con/Agg is learning, and I don't mean just learning about the latest and greatest equipment on display," said Wuesthoff. "The education offerings at ConExpo-Con/Agg have always stood out for their focus on helping construction professionals build both their skillsets and their overall businesses acumen."
With construction technology around sustainability significantly advancing in recent years, ConExpo-Con/Agg is already set to have the biggest focus on sustainability since the show began in 1948.
"The construction industry and ConExpo-Con/Agg are evolving in many ways to adapt and showcase sustainable technologies, products and practices supporting a more sustainable world," said Wuesthoff. "More than ever, show attendees will see sustainability in action, from electric and hydrogen powered construction equipment, to more recyclable materials and waste reduction opportunities, to changes we're making to the show to better support sustainability."
Show Floor Spotlights
While many of the exhibitors at the show focus on construction, there are many with a mining focus. Check out the below, and make sure to stop by and see SEMCO Publishing at Booths GL12594 and GL32101.
BKT USA, Booth W41766: At ConExpo-Con/Agg, the company will show the BKT EARTHMAX All-Steel radial tires; EARTHMAX SR 30 (E-3/L-3) All Steel radial tires, dual-purposed for loaders and articulated dump trucks; and EARTHMAX SR 46 for rigid haul trucks in severe rocky, abrasive and harsh mining environments.
Caterpillar, Booth F9127: The extensive Cat equipment display in the Festival Lot will have more than 30 machines, including model unveilings and battery-electric model prototypes with charging stations.
CDE, Booth C30269: CDE will debut new equipment, new projects and showcase the waste recycling solutions that are transforming dirt into dollars across North America. Equipment on display will include CDE's AggMax scrubbing and attrition system, its Counter Flow Classification Unit (CFCU) for density separation and EvoWash sand classification and dewatering system.
Haver & Boecker Niagara, Booth S5948: Haver & Boecker Niagara is highlighting its Pulse Condition Monitoring technology, along with other innovative mineral processing products and services.
Hitachi, BoothW43321: Hitachi's booth includes 20 full-size construction excavators equipped with the latest technologies; mining simulators to test operator skills; a large mining bucket with interactive life-sized rocks for photo opportunities; and, educational sessions led by Hitachi experts.
Komatsu, Booth W42044: On the show floor, Komatsu will feature its latest electric offerings alongside brand-new and recently introduced machines, including the PC210E (with Smart Construction Retrofit) electric excavator; PC900LC (with Smart Construction Retrofit) excavator; HB365LC-3 (with Smart Construction Retrofit) hybrid excavator; HD465-8 mechanical haul truck; PC230F-11 processor; and WA600-8 wheel loader.
Liebherr, Booths F9253 & S80821: Liebherr will showcase new, innovative products and technologies that emphasize digitalization, alternative drives and efficiency. The outdoor booth will highlight more than 30 machines, including several new products and technologies. Liebherr will also present the latest component technologies in its South Hall booth.
Magna Tyres, Booth N10741: Taking center stage at the Magna Tyres booth will be a quality selection of six tire patterns – 20.5R25 Magna MA01+, 26.5R25 Magna MU30, 29.5R25 Magna M-Terrain, 35/65R33 Magna MA07+ and 37.25R35 Magna MA02, which will cover the mining and earthmover market sectors. Plus, the 12-16.6 PR12 Magna M-Skid TL for the construction industry.
MAJOR, Booth C32267: MAJOR is highlighting its FLEX-MAT Modular PLUS screen media panels.
Mazio, Booth W43211: The company will have its experts on hand in the West Hall; visitors will learn how Mazio's innovative attachments will help them save time and money.
McLanahan, Booth C31372: McLanahan will showcase a Horizontal Screen Over Screw Portable Plant for the first time at any trade show. While this is not a new piece of equipment for McLanahan, it is a highly demanded configuration that the company's dealers requested be on display due to its popularity. It will also display its UltraDRY Dewatering Screen in the booth, and will have a variety of displays showcasing its washing equipment, crushers and screens, tailings management solutions, pumps and more.
Philippi-Hagenbuch, Booth W42435: Philippi-Hagenbuch will showcase its custom haul truck solutions at its booth. Some of the solutions the company will highlight include Autogate Tailgates, Rear Eject Bodies and HiVol Water Tanks. These are all custom engineered to fit the specific make and model of haul truck.
Polydeck, Booth C31561: The company will showcase RUBBERDEX ULTRAMAX and METALDEX ULTRACLEAN, designed to improve the efficiency and effectiveness of the screening process. A team of application experts will be on hand to demonstrate the features and benefits.
Rokbak, Booth F8926: ConExpo-Con/Agg will be the first time Rokbak haulers have been on display at a North American trade show. The Scottish articulated hauler manufacturer is bringing both models, providing attendees with the chance to get up close and personal with the earthmoving machines and demonstrate exactly how they can offer grounded 'Rok-solid' performance stateside.
Sandvik Booth S5254: Sandvik will launch Ranger DX910i, its latest flagship top hammer surface drill rig, together with new drilling tools. It will also display an electric concept surface drill rig; the Leopard DI650i, a surface drill simulator; and the RockPulse system for optimizing Ranger drilling results. Also showcased will be its latest rock tools offerings, as well as a spotlight on the Carbide Recycling Program. The technologically advanced Sandvik CH865i mid-range cone crusher will anchor the stationary crushing and screening display.
Superior Industries, Booth S5006: Superior Industries is planning to showcase more than 250 tons of its products at ConExpo-Con/Agg. At least eight of the products will be brand-new and revealed for the first time at the show.
VDG (Van der Graaf), Booth C32930: VDG is the leader in the design and manufacturing of drum motors for all types of belt conveyor applications, including mining and aggregate. GrizzlyDrive Series Drum Motors are designed specifically to operate in harsh, dusty, abrasive and extreme environments where performance and durability matter most.
Volvo, Booth F8926: The 55,000-sq.-ft. Volvo booth will feature the company's newest and most popular products, cutting-edge services and technology in a dedicated Solutions Hall, two areas where attendees can test drive electric machines, and more. The company will also display autonomous concepts, the world's first hydrogen fuel cell articulated hauler, a remote-controlled unit, and much more.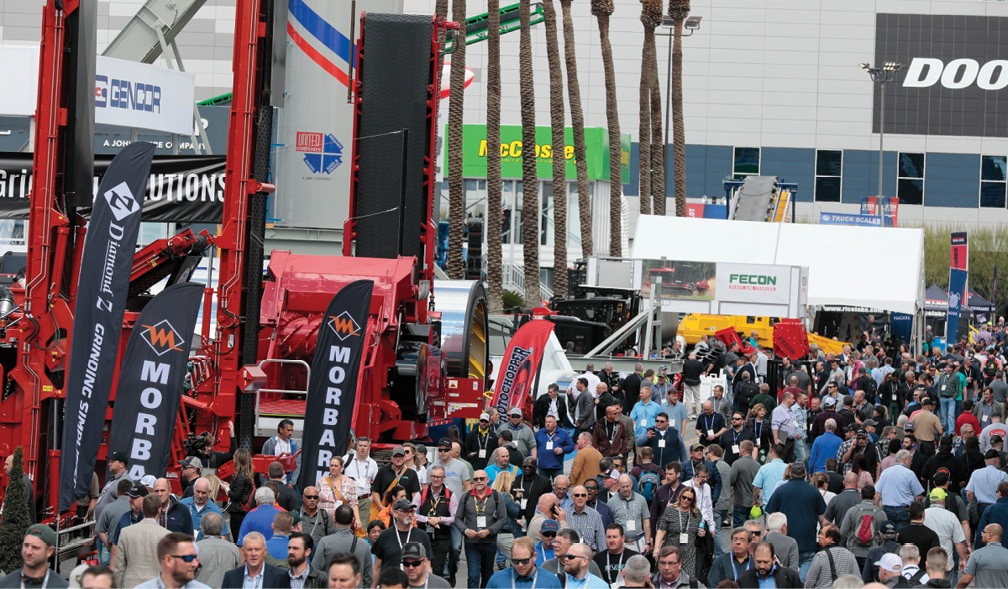 Sustainability in Focus
One of the biggest sustainability efforts on the part of ConExpo-Con/Agg directly is a newly announced partnership between the show and the Arbor Day Foundation. The partnership is working toward planting 130,000 trees in forests of greatest need, one for every show registrant.
Additionally, ConExpo-Con/Agg exhibitors and attendees can contribute to the Arbor Day Foundation's funds, allowing them to further their goal of involving themselves in its mission of planting, nurturing and celebrating trees around the globe.
Each dollar contributed to the Arbor Day Foundation will result in one tree being planted in a forest in need.
"The Arbor Day Foundation is excited to be the official nonprofit sustainability partner of ConExpo-Con/Agg," said Becca Hebbard, corporate partnerships manager for the Arbor Day Foundation. "As one of the world's most trusted and experienced tree planting organizations, we work with organizations of all sizes to help them meet their corporate sustainability, ESG, and CSR goals. Whether you're looking to help protect biodiversity, contribute to wildfire recovery, bring the benefits of trees to a community in need, or add verified forestry carbon credits to your emissions reduction strategy, the Arbor Day Foundation is uniquely positioned to connect you with meaningful projects all over the world."
ConExpo-Con/Agg has given sustainability its own education track in its seminar offerings, now with 13 sessions dedicated to the topic. Those sessions tackle subjects like getting and managing electric construction equipment, carbon neutrality, and a "Sustainability 101" session for attendees just now starting their sustainability journey.
The sustainability efforts at ConExpo-Con/Agg reflect the focus on sustainability within the entire construction industry. Many companies have realized that clients are demanding sustainable building practices more with each project, and contractors themselves are recognizing the benefits of moving to more sustainable equipment and practices.