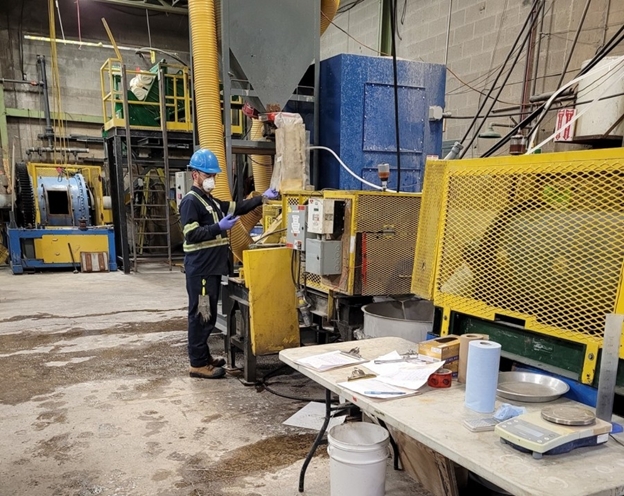 Frontier Lithium has successfully wrapped its pilot-scale mineral processing plant programme in Ontario, Canada, to produce 500 kilograms of spodumene concentrate for use in the piloting of a hydrometallurgical conversion process.
The Sudbury, Canada-headquartered company said it used a blended material from the Spark and PAC deposits, 89% and 11% respectively, at a combined sample weight of 7,800 kilograms. Spark's material was fine-grained, so it required desliming as well as magnetic separation and gravity concentration before the flotation phase. The two averages lithium oxide of 1.57% and iron oxide of 0.8%.
The northern Ontario pilot plant campaign's total operating time was 81 hours, and that included a continuous run of 31.5 hours, Frontier officials confirmed. In all, 930 kg of concentrate was produced at an average grade of 6.0% Li2O; the grade of concentrate produced on a per shift basis ranged from 6.4% to 5.6% Li2O and a bulk sample of 640 kg was prepared at a grade of 6.13% Li2O and 0.76% Fe2O3 was prepared.
"The survey collected during the final operating shift, FPP-08, produced a similar concentrate as the bulk sample at 6.07% Li2O and achieved a lithium recovery of 76%," the company said.
"This compares well with the recovery achieved from the bench-scale locked cycle test announced on January 11…of 78%. "
Naizhen Cao, Vice President of Technology for Frontier Lithium, said the company was satisfied with the results of the campaign, as they compared favorably to lithium industry specifications.
"The piloting program has generated data required to support the company's advancing feasibility studies. The pilot also produced representative concentrates required for lithium chemicals processing for battery-grade lithium hydroxide production," he said.
"We see the opportunity to improve lithium grade, recovery, and reduce iron content by further optimizing conditions and the flowsheet."
The PAK lithium project, which Frontier Lithium holds, contains one of North America's highest-grade, large-tonnage hard-rock lithium resources in the form of a rare low-iron spodumene. A tier one lithium resource, it is one of the global top three premium resources by quality.
Source: frontierlithium.com