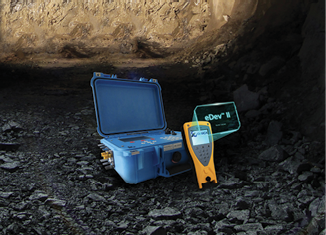 Users of Orica's eDev II and uni tronic 600 electronic blasting systems (EBS) will now experience more efficient and productive operations, as the updated versions of both have been integrated with the field-proven Blaster 3000 currently used with the i-kon III system.
The Blaster 3000 will serve as a common blast box platform to deliver an improved user experience and blasting capabilities for Orica customers using eDev II and uni tronic 600.
Blaster 3000 is the blast box hardware for Orica's flagship i-kon III Electronic Blasting System and is widely hailed for its superior precision and reliability.
"The integration of our best technologies across our EBS product families demonstrates our commitment to delivering smarter solutions and adding value to our customers' operations through technology and innovation," said Orica Head of Initiating Systems Rodney Williams, who added that the updates will make their use more safe and efficient.
Designed for underground development and civil tunnelling operations, key highlights of the upgrades to eDev II, include remote firing capability enabling up to 800 detonators to be fired remotely, and improved firing precision to +/- 0.005% for greater precision and better blast outcomes.
The uni tronic 600 system, designed mainly for small surface mines, and quarry and construction blasting operations, will now allow larger blasts to be fired remotely with synchronized firing capability for up to 1,600 detonators and starter detonator functionality also enabled through the upgrade.
The migration to the Blaster 3000 platform provides users with a range of additional benefits, including being able to store and access up to 30 blast reports to better support regulatory reporting and post-blast analysis.