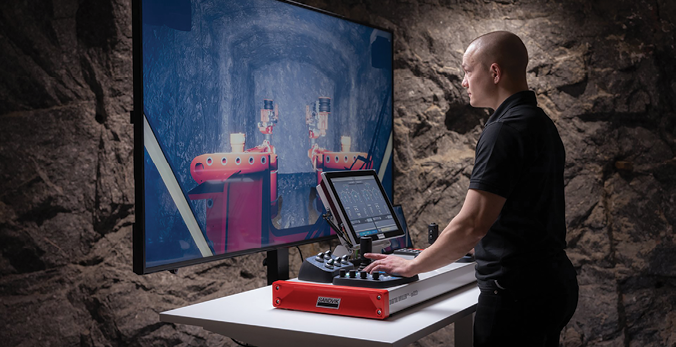 Sandvik Mining and Rock Solutions has introduced two new virtual training simulators to its popular Digital Driller offering.
The new Sandvik DD322i and Sandvik DD422i Dual Controls simulators feature the latest software and advanced training methods for underground drill operators and maintenance teams.
Digital Driller simulators offer an authentic, safer learning environment for operator training across all underground hard rock drilling applications. The virtual training environment means that operators can be trained on site with zero damage to equipment or the mine environment, and no impact on machine availability.
"With the addition of the DD322i and DD422i Dual Controls models, we're enabling even more comprehensive operator training," said Tiia Pohjanlehto, training academy manager, Underground Drilling, Sandvik. "We can tangibly improve efficiency, productivity, and safety, as operators can be trained before the drill rig arrives, on site, or during rig maintenance."
The new DD322i and Dual Controls simulators complement the introduction of Sandvik DD322i and DD422iE Dual Control development drills to the Sandvik underground drilling portfolio in 2022.
Both new simulators retain the classic features of Digital Driller – such as total location flexibility, easy setup, customizable training courses and group learning – and now feature upgraded software for a more sophisticated and authentic operator experience.
The Dual Controls simulator, showcased earlier this year at the CIM Convention Montreal 2023, replicates the unique dual drilling control panel available for Sandvik DD422i and Sandvik DD422iE rigs, and can be further customized to include either one or two control panels during training, depending on the application. Operators can experience true multitask operations from a single control panel, including bolting, boring and meshing.
Digital Driller simulators also offer environmental and sustainability benefits, with no rock tools or fuel consumed during training, zero damage to the rig or mine and zero harm to personnel. It can be utilized across all competency levels, from product familiarization and basic training for novice operators, to developing and refreshing the skills of experienced operators. Trained operators receive a formal qualification in Beginner, Professional or Drill Master levels after each module has been completed.