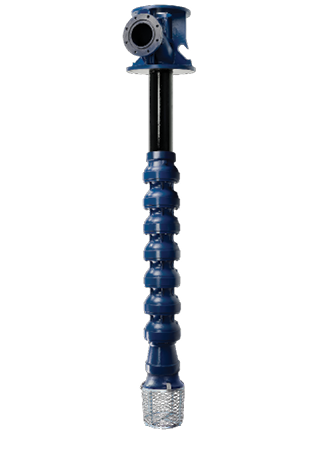 Indiana-based Franklin Electric has expanded its operational capabilities dedicated to producing its deep-set FVT Series vertical lineshaft turbines (VLST) to facilitate increased speed of product delivery to customers.
Franklin Electric's VLST line, which the company said is considered one of the most advanced in the industry, is a critical tool for moving water in mining, industrial, municipal and agricultural applications. This dedicated focus will allow customers to customize and quickly acquire pumping solutions to meet the most demanding performance requirements.
The FVT Series offers flows up to 35,000 gallons per minute in size ranges 6 inches to 42 in. and is classified to meet NSF/ANSI/CAN 61 standards for drinking water applications. It is produced at the company's Olive Branch, Miss., location, which also underwent a significant expansion in 2021 to provide additional room to produce large-scale turbines that can measure up to 42 in. in length. The facility now includes enhanced machining and fabrication equipment, assembly capabilities and dedicated inventory levels.
Franklin Electric also offers customers the ability to quickly customize and select the best VLST for their needs via its proprietary online tool, FE Select. The tool prompts users to input performance requirements and recommends the best VLST based on those needs. It also provides downloadable assets, including performance curves, dimensional drawings and detailed specifications of components.
"At Franklin Electric, our in-house manufacturing facilities provide a level of quality control and engineering excellence that goes from design through to production and delivery," said Chris Schantz, global director, Vertical Pumping Systems. "Since we own the entire manufacturing process, we have oversight across our supply chain. This level of control is important to helping our customers move water quickly, reliably and safely."