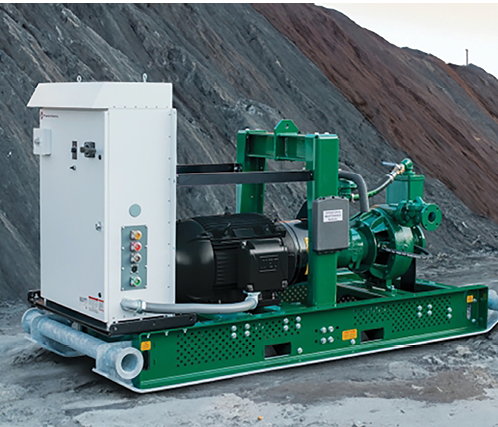 Franklin Electric brand Pioneer Pump has unveiled a new portable variable frequency drive for temporary applications, the EletricPAK VFD.
The solution has been designed to withstand the demands of mobile dewatering applications, and engineered to deliver a more intuitive operation experience via a new touchscreen interface, SmartPrime.
The VFD uses Franklin Electric's proven experience with electronics as the foundation of the new offering. The VFD platform will be available in two portable packages: the ElectricPAK VFD can be mounted to the pump skid to simplify transport and ensure that pump, motor and VFD are always ready to set up and go on the job site, or the VFD can be mounted in its own standalone skid for maximum setup versatility and use with different pumping systems.
The standalone skid features a metal cage design that keeps the VFD protected and secure during transport while providing extra protection against jobsite hazards.
The drive's SmartPrime control interface features an intuitive user experience, and users can handle all aspects of operation from a streamlined central hub with easy-to-navigate graphics. SmartPrime creates a fast startup and simple monitoring experience, eliminating the need for complex keypad setup, advanced programming skills and specialized training.
"Our goal was to optimize motor control for electric-driven surface pumps, even when they're being moved and re-staged constantly," said Product Manager Mario DeSimone.
"The system's new SmartPrime control interface has been built and configured specifically for temporary pumping installations. There's no programming learning curve for new VFD users who are accustomed to working with diesel-driven packages. Plus, the entire system delivers optimized performance and durability to withstand tough field conditions as well as transport."