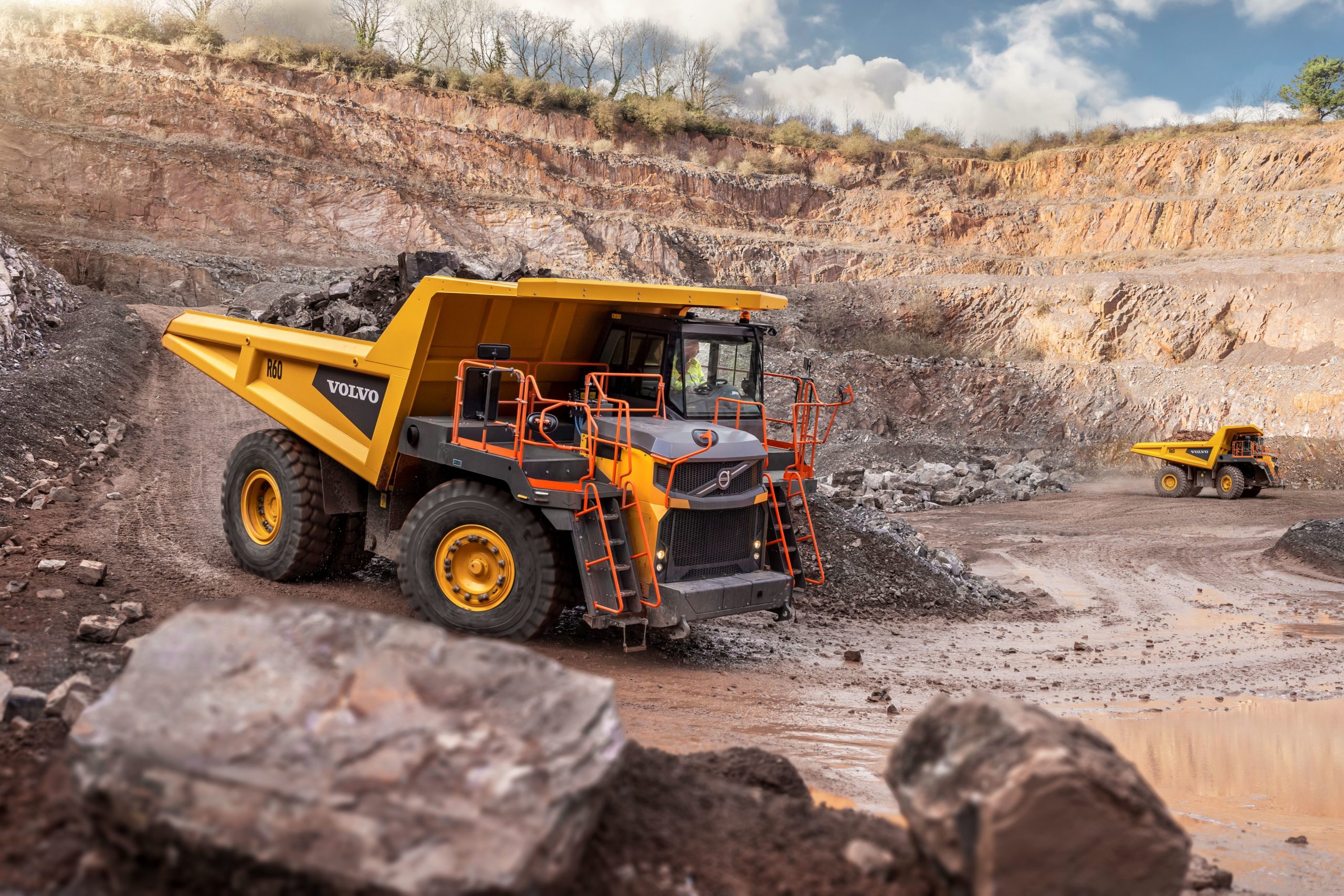 The new E-generation Volvo R60 Rigid Hauler has been designed to get the most out of every working day. Built for markets with Tier 2-compliant engines and based on the R100E model, the R60 packs a higher payload than the D-generation model it replaces, along with a durable design and new comfort and safety-enhancing features – enabling it to move more for less with every cycle.
"The Volvo R60 offers a 55-tonne payload and body volume of 36 cubic meters, enabled by a V-shaped body ensuring optimum load retention and minimal material carry-back," said Drew Watson, global product manager for the Volvo R60 at Volvo Construction Equipment (Volvo CE).
"The rigid hauler is a perfect match for a 90-tonne excavator and meets the industry standard of 10/10/20 where it can take 10% overload for 10% of the time but should not exceed 20%. To help operators haul the optimum amount of material, an optional On-Board Weighing system provides real-time payload insight to the hauler operator via the on-board display, and can predict the 10/10/20 payload."
Not only is it productive, but the R60 is also fuel efficient. Thanks to Volvo Dynamic Shift Control, gear selection is automatic to adapt to varying conditions, while ECO mode enables the hauler to default to the most efficient gear shifting schedule. Additionally, auto engine-idle shut-down eliminates unnecessary fuel consumption and engine wear.
Operators can enter the cab from both sides using anti-slip steps and walkways. The cab is now pressurized, Roll/Fall-Over Protective Structure-certified (ROPS/FOPS) and features a left-positioned operator station to aid safe passing. Volvo Smart View is an added option to improve visibility even further with a 360-degree birds-eye view of the work zone.
Ergonomically positioned displays, responsive fingertip controls and low-effort steering combine to make operation of the Volvo R60 effortless. An adjustable air-suspended seat and a Bluetooth-enabled audio system add to operator comfort.
"Customers wanting to lower total cost of ownership in quarry and mining applications should look no further than the Volvo R60 Rigid Hauler," affirmed Volvo CE.