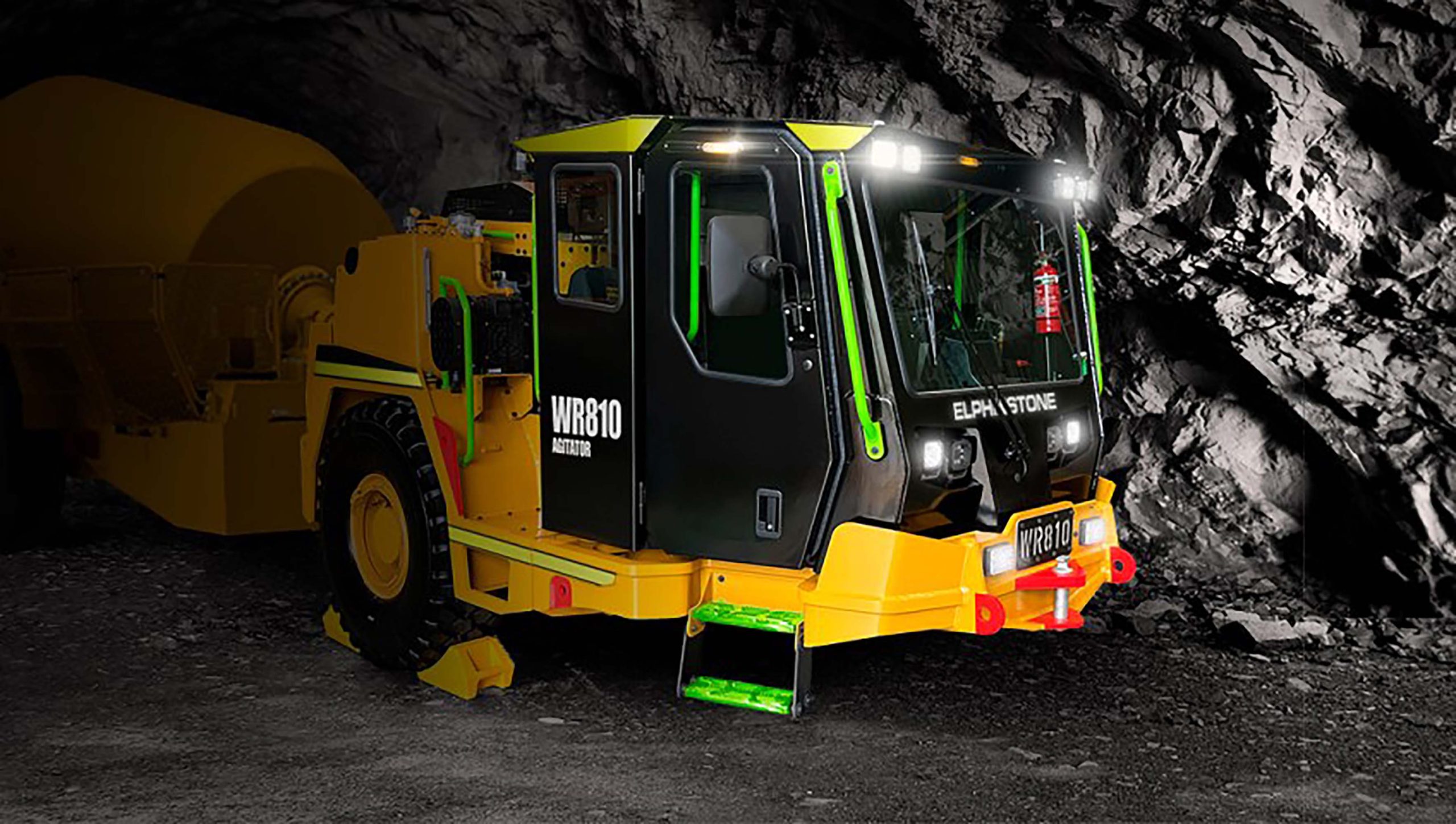 Equipment producer Elphinstone recently released its new WR810 front-mounted cab at the 2023 Underground Operator's Conference in Brisbane, Queensland, Australia – a low-profile option to increase versatility for its existing range.
All WR810 models can now be optioned with either a centre-mounted, 3-meter-high cabin or a low-profile, front-mounted 2.4-m-high cabin, unveiled for the first time at the event.
Both operator stations feature a three-seat configuration which is suited to training or transporting work crews, eliminating the need for additional light vehicles.
A central driving position with occupant seats displaced behind the operator provides 180-degree visibility and equal judgment of distance to both sides of the machine.
The seats can be configured with air-ride or optional active-ride cushioning and feature ergonomic and position-adjustable controls.
A 12-inch LCD touchscreen displays machine information, on-board fault register, machine health and diagnostic functions, while air temperature and quality are maintained with an optional HEPA filter, climate-controlled air conditioning and cabin pressurizer.
Models in the WR810 series all share a common engine front frame featuring the Cat C7.1 with Caterpillar's breakthrough ACERT technology to meet exhaust emission reduction standards.
The engine can be optioned as a Tier 3 with an optional diesel particulate filter or Tier 4 final with a standard clean emissions module.
"With such a high number of common configurable parts and components readily available, part-stocking is reduced, simplifying machine maintenance and operation", Elphinstone Global Sales and Marketing Manager Tim Mitchell said.
An oscillating hitch provides superior operator comfort, four-wheel ground contact and reduced wear on the hitch and steering components. The hitch incorporates a heavy-duty 600-mm frame section with +/- 42.5-degree steering articulation and +/- 10-degree oscillation.
Nitrogen-charged hydraulic suspension cylinders provide strong front axle ride quality over rough terrain. The combination of the front axle suspension, oscillating hitch and suspended seats deliver a high level of machine comfort to the operator and passengers.
The front-mounted cab's improved weight distribution and machine stability increase maneuverability in smaller, more confined mine site applications.
For superior braking performance on grade, the WR810 features an electromagnetic retarder and electronic speed control. The innovative electronic design helps to significantly reduce the retarder's energy consumption, preserving electric circuits. The retarder is controlled via an integrated multi-function joystick controller on the operator's right-side armrest.
The electronic speed control function permits the operator to set a speed and the machine will use the engine speed, transmission and retarder to maintain that speed.
"The operator can increase machine speed on level ground using the accelerator, but as soon as they remove their foot from the accelerator pedal the machine will return to the set speed," Mitchell said.
All engine and machine isolation functions are located on a single panel accessible from ground level on the left-hand side.
The front cab design provides improved service and maintenance accessibility, with all service points such as tanks, filters, lubrication points and compartment drains located at ground level.
The monitoring system and alarm strategy provide a three-tier warning and shutdown functionality, alerting the operator of abnormalities and automatically limiting the machine's functions.
To simplify machine servicing, onboard machine diagnostics provide the operator and maintenance staff with valuable information.
In January 2022, Elphinstone announced its intention to develop a suite of battery-electric vehicles for underground hard-rock mining to address the increasing decarbonization efforts and expectations of its global customer base.
Once further development is completed, the battery-electric version of the powertrain will be available in a similar low-profile platform.
Elphinstone continues to build an experienced and capable development team with a vision to provide a battery-electric vehicle solution at the forefront of technology.
With an increased domestic footprint, new models soon to be released, and a progressive battery-electric vehicle program, the future is looking bright for this industry leader.