Annual Event, The Second Largest In The U.S., Is Back – In Person – In Nevada.
By Donna Schmidt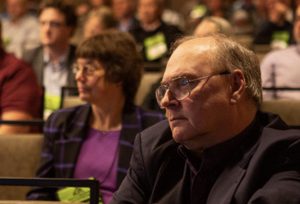 As the industry closes out another year, there is one more event that many will be attending: the annual meeting of the American Exploration and Mining Association (AEMA), the longest running annual mining convention in the United States, being held Dec. 5-10 at the Nugget Casino and Resort in Sparks, Nev.
In its 127th year in 2021, AEMA has themed this year's event "Mining's Role in Securing America's Future" and will offer more than 250 exhibitors and 100-plus technical presenters on topics including mineral geology and exploration, business and finance, operations, environmental issues and legislative and public affairs.
The meeting will feature a trip of keynote speakers to take the stage over two days, the first being Nova Gold Resources president and CEO Gregory Long with a presentation "The Evolution of Sustainability Practices at Donlin Gold."
On Dec. 8, Resource Capital Funds responsible investment officer Allison Forrest will present "ESG and Mining Private Equity: An Investor's Approach to Exploration and Juniors" in which she will discuss environmental, social and governance implementation strategies including alignment with best practices, structured communication with management and setting goals and milestones associated with funding. The final keynote speaker will be a special guest, Alaska state governor Mike Dunleavy.
Before the technical sessions begin, attendees can select from a number of short courses, and during the show portion several receptions will be held. Student posters will also be on display on the exhibition floor, and a professional poster exhibition has been planned.
AEMA has stressed to all attendees that COVID-19 precautions will be taken throughout the event, with the organization asking all to wear a mask and to be prepared to show proof of their coronavirus vaccination. That can be provided using the live card, a photo of the record or by uploading proof to the CLEAR App to validate vaccination status.
"We understand these safety protocols may preclude some from attending the annual meeting," AEMA officials said. "Therefore, we are exploring a hybrid/virtual option to accommodate those who may not be able to attend." At press time, those logistics had not been released.
A full outline of all presentations, activities and events related to the annual meeting is available to view here.