Epiroc announced in late November it extended its electrification solutions portfolio by adding a wide range of charging products for mining equipment. The products encompass several different models, fixed and mobile, to ensure that Battery Electric Vehicles (BEV) have the flexibility to charge at any given time or place.
"We want to be a total solutions provider when it comes to our customer's electrification journey, providing everything from battery conversions and BEV to related services and infrastructure," said Fredrik Martinsson, commercial manager Rocvolt, Epiroc.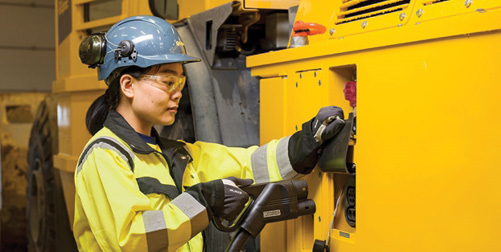 Epiroc said the chargers come with a connectivity option, and customers can easily monitor charging products remotely through a cloud service. When a new software is available or, if the system needs any attention, it can be updated remotely by an Epiroc service technician.
Charging products are offered globally, supported by trained Epiroc service technicians and backed by service agreements available at different levels. The portfolio includes lifting tools for Epiroc batteries as well as the provision of expert advice on the design of charging bays.
Besides chargers, Epiroc is already offering Batteries as a Service (BaaS), which removes the risks associated with owning batteries. It provides all the benefits of electrical power and takes the responsibility for the batteries, from certification to maintenance plus technology upgrades, using a circular business model that provides the battery operation as a service.