Two recent announcements – one from an operator and one from an engine OEM – are adding power and excitement to an already fast-evolving area of mining: alternative fueling.
By Donna Schmidt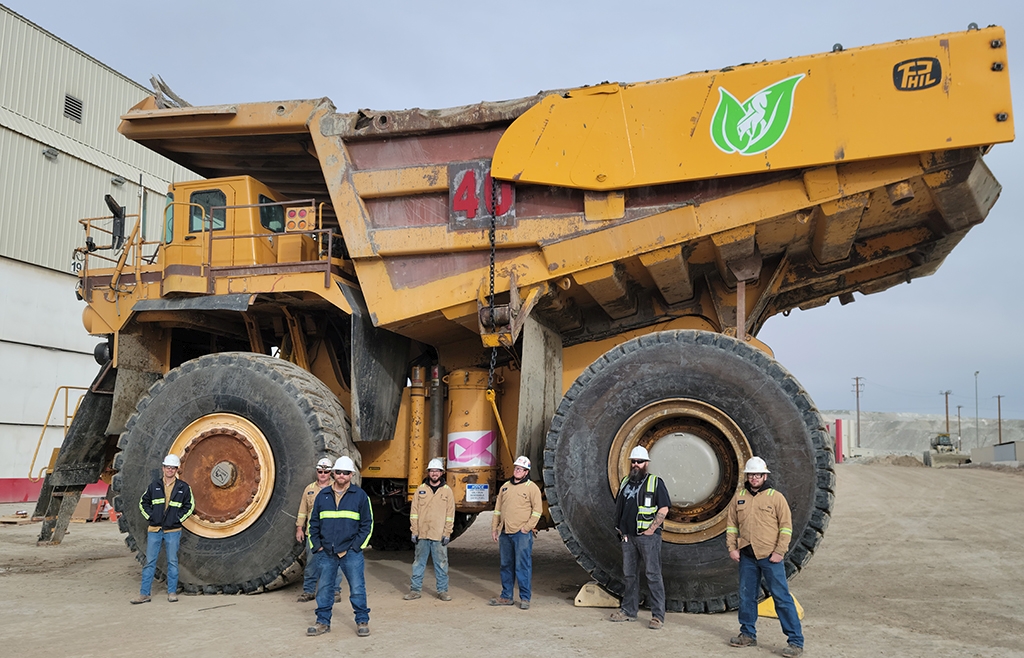 Well, it is safe to say 2023 is off to a good start, at least as far as future tech is concerned. If neither of these are at least intriguing for the impact they will have on how mining will fuel the future, it's perhaps time to check your pulse.
First, decarbonization is front and center at Rio Tinto, which said in mid-January it will swap out its conventional diesel fuel for renewable fuel across its haul truck fleet at its U.S. mines.
The miner has wrapped a renewable diesel trial at its U.S. Borax mine in Boron, Calif., and is conducting a second trial at the Kennecott copper complex in Salt Lake City, Utah, to evaluate suitability of renewable diesel for its open-pit haulage.
The first trial was conducted through 2022 in partnership with Neste and Rolls-Royce. Rio Tinto U.S. Borax used Neste MY Renewable Diesel, a hydrotreated vegetable oil (HVO) made from sustainably sourced renewable raw materials like used cooking oil and animal fat from food industry waste.
Results showed a truck running on renewable diesel delivered similar performance and reliability as trucks running on conventional diesel. Based on the positive results, Rio Tinto U.S. Borax will continue to work with the Environmental Protection Agency, the state of California and engine manufacturers; the combined goal is a full transition of the heavy machinery fleet on-site to renewable diesel by 2024, representing an anticipated CO2e reduction of up to 45,000 tonnes annually.
The second trial launched at Rio Tinto Kennecott's Bingham Canyon mine, in collaboration with Cummins, to test renewable diesel in a different operational environment and on different mining equipment.
The seven-month trial began last October and will compare acceleration, speed, cycle times, fuel usage and engine inspection reports for two trucks running on renewable diesel versus two trucks running on conventional diesel.
Within days of the news, Rolls-Royce was in the headlines for its successful testing of a 12-cylindar mtu 4000 L64 gas engine running entirely on 100% hydrogen fuel – paving the way for the company to further develop mtu gensets and cogeneration units for hydrogen use.
The testing, conducted by the company's Power Systems business unit, "showed very good characteristics in terms of efficiency, performance, emissions and combustion" as Rolls-Royce moves toward a commercial introduction of hydrogen solutions.
With success achieved, the company has already planned the first installation: the enerPort II lighthouse project in the German inland port of Duisburg, as part of the development of a climate-neutral energy supply for a new container terminal.
For several months, the mtu gas engine has been undergoing bench testing and continuous improvement in terms of efficiency, performance, emissions and combustion using 100% hydrogen as fuel. With green hydrogen, these mtu engines can be operated in a CO2-neutral manner in the future. For gas engines already installed, Rolls-Royce offers a conversion solution.
Because of varying combustion behaviors with hydrogen as compared to natural gas, Rolls-Royce noted some engine components, including fuel injection, turbocharging, piston design and control, were modified in the test engine.
However, by using proven technologies within the Power Systems' portfolio, such as mtu turbochargers, injection valves and engine electronics and control, the development of the engine to use hydrogen was advanced quickly and efficiently.
In times of low demand and high renewable energy generation from wind or solar, excess energy can channel through an electrolyzer to convert water to hydrogen, which can later be used as fuel in various applications.
As part of its sustainability program, Rolls-Royce is realigning its Power Systems product portfolio toward more sustainable fuels and new technologies to further reduce greenhouse gas emissions.