The Colorado School Of Mines Gives Air To A Realistic Experience In Its Ventilation Lab, Then Put To Work In Its Edgar Research Mine Environment.
By Donna Schmidt
Many educational and training environments offer students and trainees ways to put their skills to work in a setting that offers a realistic experience – but those facilities connected to an actual research mine with some of the best and most true-to-spec technology to put that research to work firsthand are not as common.
That number reduces even more when one looks only at the best in research facilities for ventilation. For the Colorado School of Mines in Golden, Colo., outside Denver, it means offering versatility in its work, and giving future ventilation experts – and the operations for which they will ultimately work – in a place ahead of the curve with hands-on experience.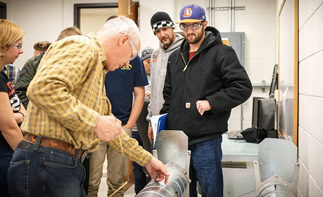 The CSM Mine Ventilation Laboratory, according to professor Jurgen Brune, is equipped with instruments to determine metrics such as absolute (barometer) and relative (manometer) air pressure, wet and dry bulb temperature, quantitative testing for a variety of mine gases and contaminants, and a variety of anemometers. Students can also perform temperature and psychometric readings during their labs and correct air pressure at elevation, as Mines is about 6,000 feet above sea level.
At the heart of the lab are two independent experimental vent duct and fan configurations that allow students to conduct experiments using numerous arrangements of fan circuitry.
The laboratory's first configuration includes an arrangement of 8-inch ductwork with a 6-in. restrictive bottleneck and using dual centrifugal fans operable individually or in a series. One of those is driven with a 3-horsepower single speed motor; the second is variable frequency driven, also by a 3-hp motor.
In this scenario, researchers can measure air velocities with a pilot tube, and over different diameter sections of ductwork can record velocity profiles. They can also measure static, dynamic and total air pressures at multiple points and determine pressure drops stemming from the ductwork's friction and shock losses.
Changes in air flow can be measured as well as the fan speeds and regulator settings are changed, and researchers can determine the effects of operating multiple fans on the same network, including air reversals.
In the facility's second configuration, 10-in. ductwork has been arranged with a single centrifugal fan and motor on a rotating carriage and scale for motor torque measurements. In this design, the fan is variable frequency and is driven by a 5-hp motor.
Using this configuration, students can measure a fan motor revolutions per minute along with motor torque and wattage. They can also identify electrical and mechanical horsepower and motor efficiency, as well as measure fan output quantities at different regulator settings to determine the air horsepower and fan's efficiency.
The lab facility additionally has a wind tunnel model used for anemometer calibration. It features a VFD and a 2-hp motor.
"The 6-in. wind tunnel serves to test and calibrate anemometers," he added. "It also uses variable orifice plates to accommodate different ranges for high- and low-speed anemometers."
Other instruments include smoke tubes, a Dräger Accuro pump and set of tubes for CO2, CO, NO and NO2, manometers, MSA gas meters and more.
Enter, too, the CSM Mining Engineering computer lab, where students utilize ventilation network calculation software to analyze circuits and model system changes.
From this crucial facility, all of the designs, data and hypotheses can be put to the test at the CSM Edgar Experimental mine, a former silver-gold operation that can accommodate full ventilation surveys and projection calculations for planned mine expansions with the capabilities for air velocity measurements, pressure, air resistance and other key indicators.
Brune notes that each element of technology in the ventilation lab, as well as the Edgar mine, plays a vital role in keeping research accurate and ready for deployment. The use of VFDs on all of the fans is also crucial, as it permits testing at various speeds – speeds often found at many diverse mining locations across the world.