June Event, Held Virtually In 2021 From South Dakota School Of Mines, Deemed A Success.
By Dr. Purushotham Tukkaraja, symposium chair
The 18th North American Mine Ventilation Symposium (NAMVS) was held on a virtual platform this year from June 12-17. The symposium was organized by South Dakota Mines, Rapid City, in collaboration with the Underground Ventilation Committee (UVC) of the Society for Mining, Metallurgy and Exploration (SME). 
The NAMVS, held every 2-3 years since 1982, provides a forum for practitioners, educators and researchers to exchange the latest information in the ventilation of mines, tunnels and other underground facilities.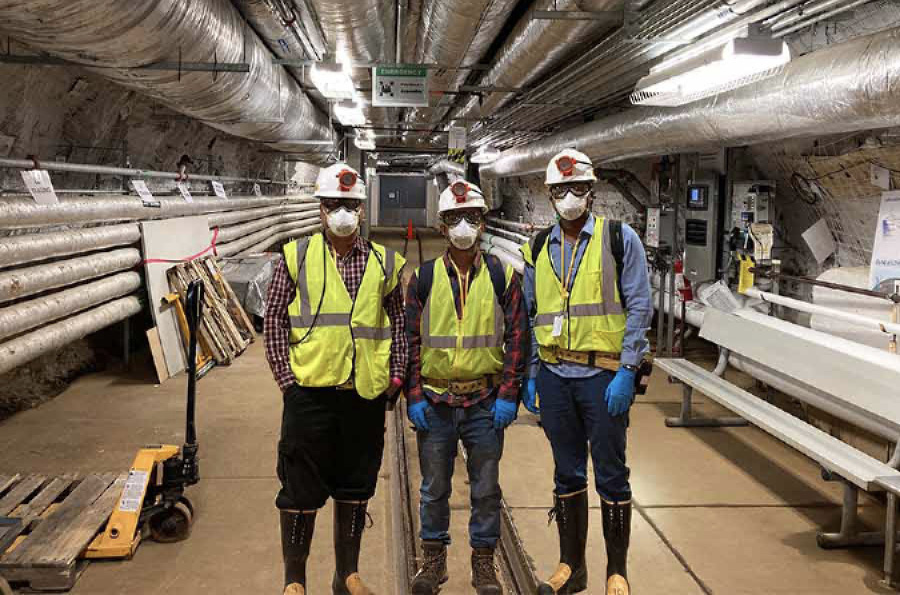 I, as symposium chair, wanted to welcome everyone to the beautiful campus in Rapid City and the Black Hills area. Unfortunately, due to the COVID pandemic, the symposium was held on a virtual platform for the first time. However, there was no shortage of enthusiasm or curiosity among the 220 attendees registered from 17 countries, who gathered online to hear from speakers and authors and share their experiences.
The event began with opening remarks, followed by welcoming remarks from the South Dakota Mines Provost and Vice President for Academic Affairs Dr. Lance Roberts and the mining department head Dr. Robert Hall. SME President Bill Edgerton welcomed the audience.
The keynote addresses were presented by Dr. George Luxbacher, deputy associate director for mining, NIOSH Mining, on "Mine Ventilation Research at NIOSH Safe Miners – Healthy Miners"; Dr. Jurgen Brune, P.E., professor of practice and associate department head in mining engineering at Colorado School of Mines, on "Mine Ventilation Engineering and the Case for Certifying Mine Ventilation Officers"; and Lawrence Klobuka, chief, ventilation division at MSHA, on "MSHA Tech Support, Ventilation Division: Who we are and what we do."
The event was packed with four days of the technical program, 220 delegates registered from 17 countries and five continents. A total of 57 technical papers were presented in 16 sessions, six special topics courses, virtual mine tours, and two amazing panels: one on battery electric vehicles and the other on prescriptive versus risk-based regulation. The on-demand session and poster presentations were held over the weekend, and virtual networking sessions were convened each day for participants to connect.
Proper airflow and ventilation is critical for safety and operational activities and the symposium promotes the exchange of ideas and research in a wide variety of ventilation topics including atmospheric gas and dust monitoring and control, primary and auxiliary ventilation planning and design, system modeling and simulation, diesel and electric machinery, temperature control and refrigeration, fire and explosion prevention, ventilation automation and control, occupational health and safety, mine emergency response, and energy cost and efficiency.
This symposium also showed the role Mines plays as a global leader in mining engineering and technology. We were pleased to have so many top experts in this field represented.
I would like to thank the speakers, session chairs, panelists, attendees, committee members, judges for their contribution and participation, and the sponsors and exhibitors for their generous support of this symposium. There were 12 exhibitors and 10 sponsors. Platinum Sponsors – SRK Consulting, Mecanicad, Howden, Hurley Ventilation Technologies; Gold sponsors – Freeport-McMoRan, Accutron; and Silver Sponsors – G+Plastics, Maestro Digital Mine – thank you for making the event possible. Special thanks to Sanford Underground Research Facility and NIOSH for providing a virtual tour of their facilities.
The 57 peer-reviewed papers and the recorded technical paper presentations were scored by the judges and the best papers and best presentations awards were presented to the authors and the speakers. The prestigious Hartman Award was presented to Dr. Jurgen Brune, and the mine ventilation scholarship was awarded to Nana Amoah. Congratulations to all award winners.
The next NAMVS will be held at South Dakota Mines in Rapid City, S.D., in June 2023.