By Willa B. Perlmutter
Here's a fun fact. Going back as early as 1998, the federal Mine Safety and Health Administration (MSHA) has promised the mining industry it would issue a rule that addresses workplace exposures to respirable crystalline silica at mine sites around the country. (By "rule," I really mean "regulation." In other words, a binding requirement issued under the authority of the Mine Safety and Health Act of 1977 that sets out what mine operators must and cannot do when it comes to silica exposure.)
MSHA's sister agency, the Occupational Safety and Health Administration (OSHA), announced its own silica rule in the Federal Register way back in 2016, and ever since then those of us in the mining sector have been waiting for the other shoe to drop. OSHA published its rule in the closing months of the Obama administration, and while there was a general recognition in the industry that MSHA was likely to follow suit, the next administration did not issue the mining analogue we all thought would be coming. MSHA under President Biden predicted that it would issue a rule that would limit exposure to respirable crystalline silica on its semi-annual regulatory agenda, but nothing happened for almost three years.
Well, it's finally here. On June 30, MSHA proposed the rule we have all been waiting for. In explaining why the rule was being proposed, MSHA noted the need to "amend its existing standards to better protect miners against occupational exposure to respirable crystalline silica, a carcinogenic hazard, and to improve respiratory protection for all airborne hazards."
What does the proposed rule do? Well, first and foremost, it applies to all sectors of the mining industry, surface and underground, and both coal and metal/nonmetal. It establishes a permissible exposure limit (PEL) that would require mine operators to keep their miners' exposure to respirable crystalline silica at or below 50 micrograms per cubic meter (µg/m3) of air for a full shift exposure, calculated as an 8-hour time-weighted average. (That upper limit is exactly half of the current PEL of 100 µg/m3.)
If an individual miner's exposure goes over that, the proposed rule would require his or her boss to take immediate corrective actions in order to get them below that level. Although no "action level" (AL) exists under current standards, in the proposed rule MSHA identifies an AL of 25 µg/m3.
There are some other requirements in the proposed rule as well. For example, the proposed rule sets out new and very detailed dust sampling requirements in four different situations: baseline (within 120 days of the rule becoming final); periodic (every three months, for miners whose sampling results fall between the AL and PEL); post-corrective action; and post-evaluation. MSHA has stated publicly that if you know for sure that none of your miners can reasonably expect to be exposed to silica, you do not have to do anything at all. The proposed rule also describes two required medical surveillance programs. (This part really applies just to metal/nonmetal mines, since coal already has its own medical surveillance requirements.) Medical surveillance must be offered at no cost to all miners on a voluntary basis at least every five years.
In addition, medical surveillance will be mandatory for all miners who enter the industry for the first time after the effective date of the rule. For those of you concerned about privacy, be assured that the results of the medical surveillance go only to the miner, while the operator will get a report that the medical surveillance was conducted and, when appropriate, information about respirator use. Consistent with MSHA's general approach, mine operators are expected to employ engineering controls to limit exposure as a first resort, and administrative controls are available just to supplement engineering controls. Moving miners around to keep their exposure down is expressly forbidden.
The proposed rule also identifies what respirators will be acceptable. It defines what corrective actions must be taken if a miner's silica exposure exceeds the PEL. And, of course, the rule requires that records of sampling, corrective actions, etc., be kept and shown to miners, to miners' reps, and to MSHA upon request.
What happens next? Good question. Remember that this is just a proposed rule. In other words, some or all of it may or may not be turned into a final, binding rule in the future. (Show of hands: how many of you remember the ill-fated proposed rule MSHA published back in 2014, when the agency was going to revamp Part 100 to…well, we're not really sure what it was going to do. That one died on the vine, and for good reason.)
The proposed silica rule is still subject to review and revision, and a final rule could still be months or even years out. MSHA is asking stakeholders to submit comments on the proposed rule, which you can do by accessing a link on MSHA's website, www.msha.gov/regulations/rulemaking/silica. Comments are currently due at the end of August, but MSHA is already considering extending that deadline. 
MSHA is also planning to hold not one but three public hearings in August, which you can attend (and at which you can testify, if you are so inclined) virtually or in person. (They do ask you to register, at the same link, if you want to do more than listen in.) If you're thinking about submitting a comment but are not sure what you want to say, take a look at the language of the proposed rule itself. In there, MSHA invites folks to submit answers to any number of specific questions, and those questions should guide your thinking. MSHA is also asking stakeholders to provide comments on the costs and benefits of the proposal.
I want to take a minute to make a plug for participating in the rulemaking process. First of all, MSHA is required by law to consider and address every comment it receives on the proposal. When it publishes the final rule in the Federal Register, you'll see how the agency resolves each concern brought to its attention. Moreover, unlike what happened with the 2014 civil penalty proposal, it's a virtual certainty that MSHA will finalize a rule on respirable crystalline silica. It is going to happen. And since it's going to happen, you might as well take advantage of the opportunity being offered to add your input and possibly influence the final version.
Finally, we all (myself included) tend to complain when MSHA lays down rules that don't make sense, or that impose burdens we find it hard to live with. This is the time, now, to make your voice heard. If you don't want to submit an individual comment you can at least check with one of the mining trade associations to see what they are planning to submit and if you approve, sign on to that. As the phrase goes, "speak now or forever hold your peace." Or, as one of my favorite musicians, Lyle Lovett, would say, "What would you be if you didn't even try? You have to try."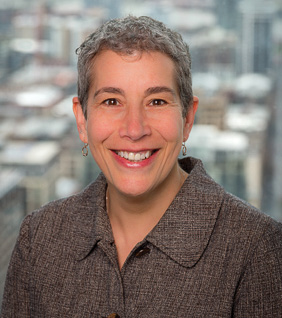 Willa Perlmutter
Willa Perlmutter is chair of Stoel Rives' OSHA group and co-chair of the firm's mining group. She can be reached at
[email protected].