This month's featured woman in mining has mining's spirit at heart as the vice president of Environment and Social Responsibility for Seabridge Gold. NAM learns more from Elizabeth Fillatre Miller.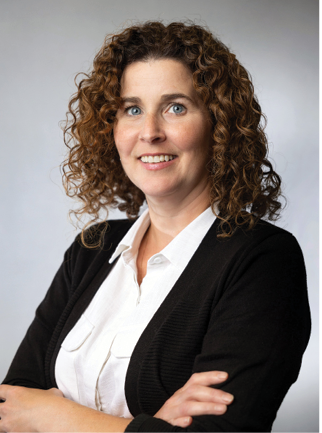 Environment, social and governance (ESG) is a crucial factor for today's mining companies – and the only thing more crucial is to place someone at the helm of responsibility for it at a mining company that has the health of the community and planet at heart. It's a big order, but Seabridge Gold found it in Elizabeth Fillatre Miller.
Elizabeth, what attracted you to working in ESG?
Growing up in the Northwest Territories (NWT) and Nunavut, as a family, we spent a lot of time outdoors, and I've always been interested in biology and the environment around me. The mining industry has been the cornerstone of the Northwest Territories' economy for over 80 years, providing numerous direct and indirect business opportunities and creating thousands of jobs for local communities. Once I completed graduate school, I was fortunate enough to get a job with an NWT environmental consulting company and got to experience a range of industrial projects, such as mining and hydroelectric, in different geographic locations. I enjoyed the challenges and opportunities that came with the job.
As a consultant involved in designing and implementing environmental baseline and monitoring programs for various development projects, including mining, I gained a deep appreciation for the importance of responsible environmental, social, and governance (ESG) practices. Over time, I realized that I wanted to work more closely with mining and exploration companies to help them address their ESG challenges and opportunities. By doing so, I could play a role in creating positive impacts not only for the environment and local Indigenous and non-Indigenous communities but also for the long-term sustainability and profitability of the mining companies themselves. Working in ESG in mining allows me to align my values and professional interests to make a meaningful difference in the industry.
How do you feel mining in North America is performing in this key area?
From my perspective, the mining industry in North America is making considerable progress in ESG, including sustainable mining practices, reporting and transparency, and greater collaboration and engagement with local Indigenous and non-Indigenous communities. However, there is a pressing need to clearly communicate those efforts. People in general lack a comprehensive understanding of what initiatives mines are undertaking and the sheer amount of effort to get a mining project approved and built in North America today, and the industry needs to do more to bridge that gap. Most people don't know that less than 1 in 10,000 projects become mines and it typically takes 10 to 15 years, and often much longer for exploration, engineering and environmental studies, planning and financing, and permitting to bring a mine into production.
Our KSM project in northwest British Columbia provides an excellent example of the extensive effort required to navigate the permitting process. Seabridge has been actively exploring at the KSM project since 2006. In 2014, the project received environmental assessment approval after a comprehensive seven-year process, which included compiling 36,000 pages of scientifically rigorous information from over 250 independent scientists across 20 disciplines. This information was then independently reviewed by the Canadian and British Columbian Environmental Assessment Agencies, U.S. Federal and Alaska regulatory agencies, the Nisga'a Lisims Government, Tahltan Nation, and other Indigenous groups. This level of scrutiny and review is just one example of the immense effort and complexity involved in bringing a mine into production.
Therefore, there is a lot of room for improvement in terms of educating and informing the public about the rigorous processes required for mining operations in North America today.
What is the best part of the mining community, in your opinion?
In my opinion, the best part of the mining community is its dedication to innovation, continuous learning and collaborative mindset.
The mining and exploration industry is in a constant state of evolution, as new regulations, technologies and practices emerge to enhance efficiency, productivity, and safety in mining operations. The advent of innovative technologies like automation and artificial intelligence has revolutionized the mining industry, making it safer and more efficient than ever before. Therefore, it is critical to keep up-to-date of new developments and remain open to adopting new technologies and approaches when feasible.
In addition to technology, the c also emphasizes continuous learning and improvement. As mining professionals, we need to seek out new knowledge, explore innovative ideas, and find better ways of doing things. By fostering a culture of continuous learning and improvement, mining companies can stay ahead of the curve and remain competitive in a rapidly changing world.
Mining and exploration companies have come to recognize the significance of engaging with both indigenous and non-indigenous communities in and around a project area. This has been a primary focus for Seabridge Gold and the KSM project. Engaging and working collaboratively with local indigenous and non-Indigenous communities helps ensure that communities have a clear understanding of the resource development projects and can benefit from industrial projects leading to the successful and sustainable development of the project.
What do you think of the progress of women in the mining industry? Are we in a positive place? Do you feel more work needs to be done?
Since I started my career in the mining industry, there has been some progress toward diversity, but there is still a long way to go. Currently, women account for about 12-15% of the global mining and metals workforce in 2022 depending on your source of information, with less than 5% of them holding technical roles. 
This lack of diversity is also evident at industry conferences and other events. While many mining companies have started to acknowledge the importance of creating more inclusive and supportive work environments and have implemented various initiatives, we still have a long way to go to achieve our goals of a truly diverse workforce. Encouraging people from different backgrounds and genders to participate in the mining industry is crucial. Despite the challenges, the mining industry is an exciting and rewarding place to work, offering tremendous opportunities for personal and professional growth. I am optimistic about the industry's future in this regard. However, much more work needs to be done to create a truly inclusive and diverse work environment.
As a member of the management team at Seabridge Gold, I take pride in the fact that Seabridge places a high value on diversity and inclusivity in the workplace. We are committed to recruiting women for all positions and at every level, resulting in a workforce that currently has 49% female representation and is on track to have 30% women on our board of directors and executive team by 2025.
What are your goals for yourself in the industry?
My personal aspirations are centered around continuous learning. I am eager to continue to gain knowledge about emerging practices, technologies, and industry trends that are making the mining and exploration industry more sustainable.
Establishing and maintaining strong relationships with Indigenous and non indigineous communities where we operate has always been and will continue to be a key priority for me and for Seabridge to ensure the successful and sustainable development of all our projects.
I also remain committed to mentoring and inspiring the next generation of mining professionals, particularly women and Indigenous peoples, to pursue careers in mining and make a positive impact on the industry.
Editor's note: There is much more to Elizabeth's story! Check out northamericanmining.com beginning April 8 to read the full interview.
About Elizabeth
Name: Elizabeth Fillatre Miller
Current position: Vice President, Environment and Social Responsibility (ESR) Seabridge Gold (2022 – Present)

Past mining positions and experience:
Seabridge Gold- Manager of Environment (2011-2022)
BHP Billiton – Environmental Specialist at EKATI Diamond Mine (2005 – Apr 2007)
Rescan Environmental Services Ltd – Fisheries Biologist/Acting Manager of Northern Operations (2002 – 2005)
Past non-mining experience:
BC Ministry of Environment – Senior Fisheries Biologist (2007 – 2010)
Education/certifications:
Master of Science – University of Windsor
Bachelor of Science, Wildlife Biology – University of Northern British Columbia
Registered Professional Biologist in BC