New technologies are supporting improved shovel maintenance practices, allowing mines to extend maintenance intervals without endangering the machine.
By Jonathan Rowland
Shovel breakdown
There are 5,500 hydraulic and 1,900 electric shovels with payloads above 20 metric tonnes currently active, according to the mining equipment trackers at The Parker Bay Company. These are large and complex pieces of machinery that operate in severe conditions.
The risk of component failure and breakdown is therefore ever present: as Emerson notes in the white paper on the topic, "something as common as sweeping a wall can break teeth in the gearbox and bring your production to a standstill" (Emerson: 'Apply condition monitoring to move toward zero unplanned downtime').
Compounding the risk is the substantial impact of an unexpected shovel shutdown. A shovel will often service 10 or more mining trucks. But unlike trucks, which can be taken out of service, parked up for repair, and their place taken by another, there is no easy substitution for a broken-down shovel. Unplanned downtime will therefore cause a significant loss of production and profitability: according to Blake Anthony, product specialist – Asset Health for Komatsu's Mining Technology Solutions, "unplanned maintenance can be upwards of five times the cost of planned maintenance."
The ticking away of production time will sound loudly in the ears of maintenance personnel and push them to expedite the necessary repairs. This rush can "potentially put them in harm's way," said Emerson; it can also "raise the likelihood of mistakes and introduce new problems. If a swing drive is improperly installed or a hoist motor aligned inaccurately, it won't be long before your next costly unplanned shutdown."
Keeping track of shovel condition is crucial to avoiding such unwanted outcomes but it has traditionally been "difficult to make detailed predictions about upcoming problems with large excavators or shovels using conventional methods," Babliton Cardoso, senior director, Mining Equipment Sales, Hitachi Construction Machinery Americas Inc. (HCMA), told NAM. "Service personnel have typically relied on operating time as a guide to determine periodic service intervals, inspections, and parts replacement."
This approach involves a trade off in which maintenance personnel aim to maximize component life without risking failure. New telematic technologies are now emerging, however, which "transform the landscape and making it possible to increase the uptime and life of excavators and shovels," said John Schellenberg, mining product manager, Trucks, Hitachi Construction Machinery (HCM). NAM looks at the solutions on offer from the main mining shovel OEMs.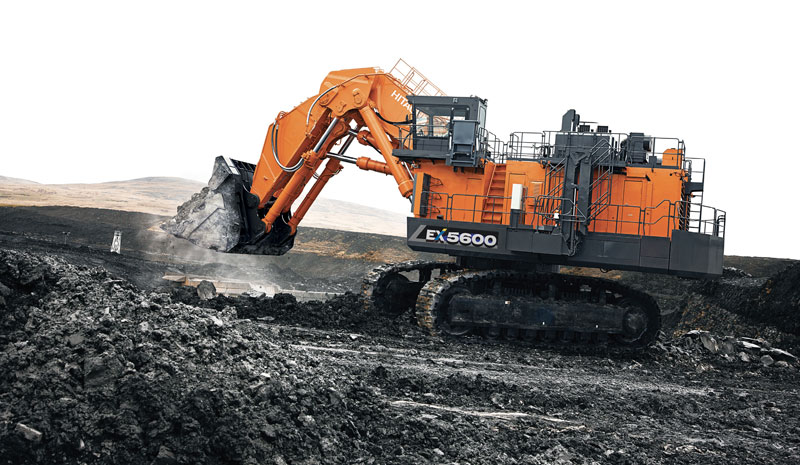 Hitachi Construction Machinery
ConSite Mine technology from Hitachi Construction Machinery remotely monitors compatible excavators and shovels 24 hours a day. Data is then provided to a customer's maintenance staff or their equipment dealership's maintenance team via email or the ConSite Mine Shot smartphone app. A monthly report provides updates on the machine's operational condition, while an alarm report notifies personnel if the technology senses an abnormality that may require immediate attention. As a result, owners and dealers can plan maintenance or repairs based on real-time performance; this reduces lifecycle costs and minimizes machine downtime.
Other features include:
Inspection reports: the ConSite Mine Shot app allows service personnel to automatically create inspection reports by simply taking photos of the inspected
locations with a smartphone camera and entering comments about the inspection results. This provides more accurate reports to better understand the status
of the machine.
The Load Index function helps predict stress-related issues in booms and arms to improve productivity and reduce lifecycle costs. This function combines the use of AI with proprietary stress-analysis technology that taps
into the mining machinery design and manufacturing knowledge Hitachi Construction Machinery has acquired over the years. Operating data is collected from sensors installed on the excavators and shovels. Unlike traditional strain gauges, which only detect issues with the structure, the Load Index function also provides advice on maintenance, inspection and operation of the welded structure before any structural damage occurs.
ConSite Oil uses sensors installed on the machine to
continuously monitor the condition of the oil, which in a hydraulic excavator serves as a barometer of a hydraulic
excavator's or shovel's health. Early detection of contamination or degradation of the oil properties can therefore help to extend machine life and uptime, while
any abnormal changes in oil condition trigger an emergency alarm report to the customer and the dealer.
Proper operation of the excavator or shovel on the job site also influences ownership cost. An Operational Data
Recorder identifies operation outside of normal
parameters. It is automatically triggered by vehicle
body conditions, such as a sudden tilting of the body,
and records up to 10 minutes of machine data to provide insights and identify the causes of any incidents that occur.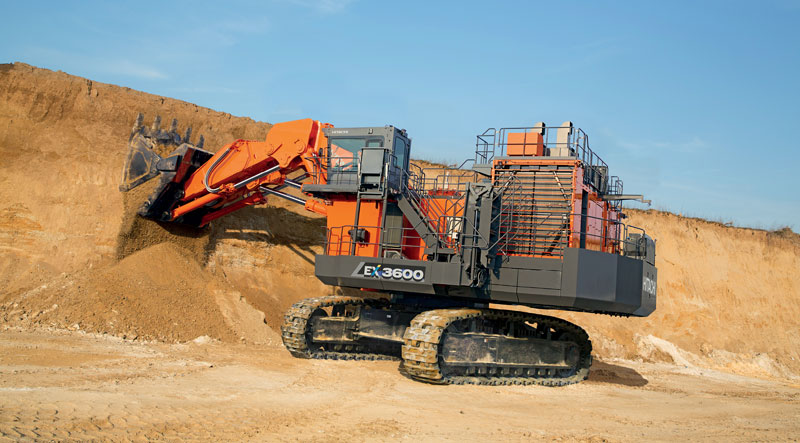 Komatsu Mining
The MineCare Maintenance Management System Modular Mining, a Komatsu technology brand, leverages intelligent computing capabilities to transform your maintenance process. Benefits include:
Extending operating life: MineCare allows you to monitor the health of your equipment in real time to determine where and when repair or maintenance is needed. This preventative/predictive maintenance model give your equipment a better chance of avoiding excessive wear and tear – extending the lifetime of your equipment.
Reducing total cost of ownership: MineCare provides the tools, such as Conditional Monitoring Sessions or User Defined Events (UDEs), to detect potential failures before they happen, resulting in a shift from majority unplanned maintenance to majority planned maintenance.
Improving operating performance: MineCare's Operate for Reliability reports allow mines to track all OEM events and UDEs that are triggered as a result of the operator incorrectly operating the equipment. This enables mines to identify areas where they need to focus messaging, and potentially training, for operators.
The MineCare Maintenance Management System was recently leveraged to extend the engine life of an excavator at a South American coal mine. The OEM-specified engine replacement was 12,000 hours; the mine wanted to add at least 1,000 more hours beyond that specification. "By carefully monitoring critical engine parameters, analyzing the data collected, and immediately reporting anomalies to the maintenance crew for repair or replacement before failure could occur, we were confident the MineCare system could help the mine hit their excavator longevity goals," said Komatsu's Blake Anthony.
The initial step involved configuring the MineCare system's trend reporting to monitor the parameters including:
Coolant temperature and pressure
Oil temperature
Intake manifold temperature
Crankcase pressure
Exhaust gas temperature on all valves
"Using this data collected – which are all common indicators of potential engine failure – we established predictive inspection routines to detect anomalies that could indicate a potential or impending failure, including premature oil degradation, ruptured seals, damaged intake and exhaust valves, and oil leaks," Anthony continued. "These seemingly minor issues, if left unresolved, can lead to significant engine damage. This proactive approach allowed the mine's maintenance team to effectively minimize their mean time to repair (MTTR) and overall likelihood of component failure, while safely maintaining excavator productivity well beyond the 13,000-hour OEM specification."
As a result of the MineCare team's improvement plan, the excavator engine clocked up 14,500 hours of operation – an increase of more than 11% on the OEM specification. Excavator availability was also improved from an average of 62.5% in the six months before improvement plant to 84% in the six months after. The mine was consequently able to postpone maintenance, deferring capital costs of more than $400,000 to a more opportune time.
Liebherr
Earlier this year, Liebherr announced a new digital monitoring system – bearing clearance monitoring (BCM) – that enables remote monitoring of slewing bearings in various applications, including mining excavators. The system can be used to monitor both axial and radial bearing wear, as well as tilting clearance.
"A distinct disadvantage of all common wear measurement methods is the necessity for service technicians to mount dial gauges or other measuring devices directly on the slewing bearing in the danger zone under the excavator or other machines," said Wolfram Halder, product manager for slewing bearings at Liebherr, in a press release. "The Liebherr BCM system makes this unnecessary, as the measuring devices are already permanently installed on the bearing."
The Liebherr BCM system also saves time. Currently, machine operators commission external service providers to measure the bearing clearance. This makes them dependent on the experience and schedule of third-party companies. "With digital maintenance for slewing bearings by Liebherr, measurements can be carried out at any time, outside the danger zone, independently of external service providers," concluded Halder.
How does it work? The sensor connection box receives data from the sensors attached to the slewing bearing and supplies the entire BCM system with power. The data are passed to the 'gateway,' where it is stored. A direct Bluetooth connection then allows the data to be downloaded from a safe distance and without a network connection. This ensure that the system can be used anywhere – even in regions without a data connection, as it often the case at mines.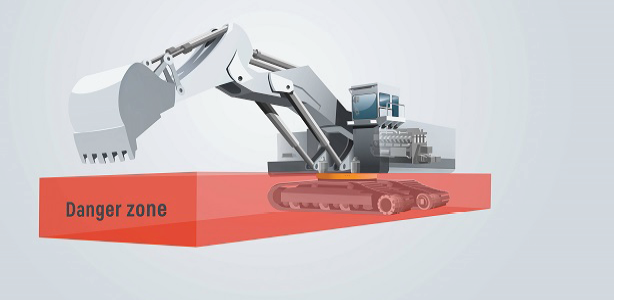 Caterpillar
Cat MineStar Health – Equipment Insights is a data visualization and reporting tool that allows mines to efficiently view, manage and use machine data to make better-informed maintenance decisions. The Cloud-based and web-accessible system allows mines to view and analyze data from both Cat and other OEM machines to create custom data dashboards and reports that meet the specific site needs.
"Users can effortlessly drill right into the data to view what is actually happening on their equipment and then back that up by viewing the change in the data after a repair or component replacement," explained Ben Mcauley, condition monitoring analyst at Cat dealer, Hastings Deering. Meanwhile, the Cat Condition Monitoring (CM) service combines the strengths of a mine's maintenance organization with those of the local Cat dealer and the MineStar Fleet Monitoring Center.
The service comprises six elements:
Certified Caterpillar condition monitoring advisor: This
full-time expert, located in the MineStar Fleet Monitoring
Center, is dedicated to analyzing a mine's fleet and providing predictive maintenance recommendations.
Predictive analytical software: The CM service leverages
a cloud-hosted software that is designed specifically for the mining industry.
Dynamic health data visualization: Site reliability engineers
and maintenance planners have access to a cloud-hosted application that provides real-time visibility of machine, inspection and fluids data at the mine level. This data is
used for preventive maintenance (PM) planning, monitoring of critical machine parameters, and analysis of operational trends and patterns.
Mentoring and improvement program: Caterpillar will
deploy resources to a mine to support the local maintenance team, helping them make business process improvements to the maintenance program.
Data connectivity: CM service includes the hardware and
software required to collect condition monitoring data from the site mining equipment, as well as from site or dealer databases, for transmission to the Minestar Health Fleet Monitoring Center in Tucson, Ariz.
Application program interface: Real-time data and
information will be transferred between caterpillar, cat dealer and mine-site databases to affect the service.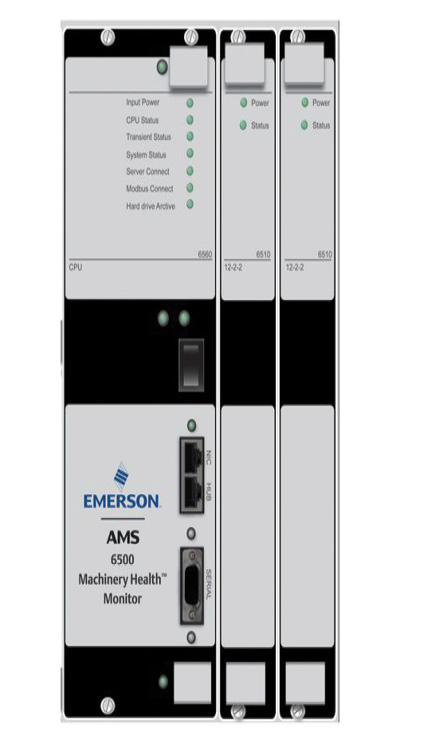 Vibration analysis: Emerson AMS 6500
The AMS 6500 from Emerson has a proven history of monitoring critical rotating equipment in a wide variety of applications, enabling problem detection within the unique vibration characteristics of rotating equipment – characteristics found on many types of ore extracting assets, including the electric rope shovel.
"Changing vibration levels don't always mean the machinery health is changing," the company explained. "Collecting vibration data in context with machine operating condition is essential to accurately diagnose the health of the shovel. By applying an approach called adaptive monitoring, the AMS 6500 adjusts the monitoring strategy based on changing machine conditions, such as load or speed. When these conditions occur, within a specific range, data is acquired and stored. Trending of the data, analysis, and alert levels are all based on similar conditions. With adaptive monitoring, mines can also identify those faults that occur under abnormal operating conditions."
The AMS 6500 uses a processing methodology called PeakVue technology. This recognizes increasing stress waves during the monitoring process and offer quicker fault identification compared to standard vibration analysis techniques. "PeakVue technology detects – even at very low RPMs – anomalies that may go unnoticed with traditional methods," the company continued.
"The combination of adaptive monitoring and PeakVue technology enables the AMS 6500 to capture data during stage testing and normal shovel operation. This flexibility delivers unprecedented insight into the operating condition of your most critical pit asset. Analytical data is available both on board the shovel and can be integrated with other systems for remote analysis. From both in the field and further away, you can easily identify and monitor developing faults and schedule for repairs during planned maintenance."