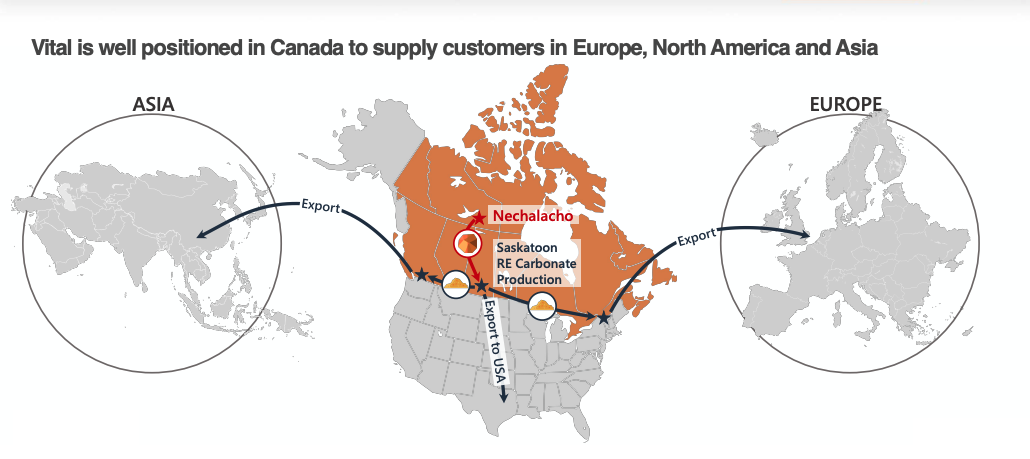 The first rare earths mine to go operational in Canada, Vital Metals' Nechalacho operation southeast of Yellowknife, Northwest Territories, has indicated it has started shipping concentrate.
In a presentation to shareholders last week, the move to deliveries comes about 10 months after the operation confirmed it had started mining last July.
Nechalacho is not just the first rare earths producer in Canada, it is also the second to go active in North America behind Mountain Pass complex in California. According to Canadian government statistics, there are currently 13 active rare earths projects in the country preparing for production.
Vital is targeting 5,000 tonnes of contained REO by 2025. It has already inked an offtake deal for Stage 1 production with Norway-based REEtec for 1,000 tonnes annually over five years. It also has an established offtake contract with Ucore, and a binding agreement with Schaeffler that underscores its mine-to-electric-drive-supply chain plan.
"Over the past two years, Vital has demonstrated its capabilities by bringing the Nechalacho North T project into operation despite the world being in a pandemic," company officials said of the asset, which it acquired in 2019. "[And] 2022 will see Vital complete its transformation into a rare earth producer."
Vital said the Nechalacho project, in all, contains more than 1.3 million tonnes of rare earths, allowing for significant expansion opportunities.
The concentrate transport plan for Nechalacho is via barge, where it will arrive on the Great Slave Lake to Hay River. Rail links will take it to Saskatoon, where Vital, which owns operator Cheetah Resources, has constructed a refinery. The first shipments are expected this month.
Source: https://cheetahresources.com and First Canadian rare earth mine starts shipping concentrate from N.W.T. | CBC News