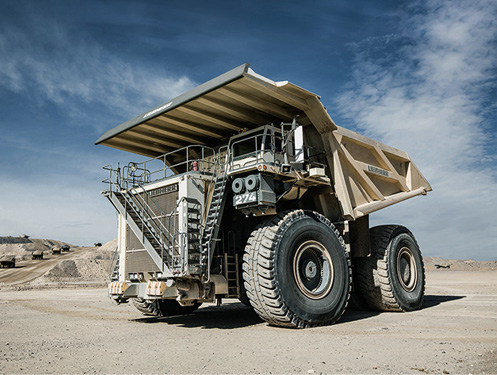 Liebherr has added to its hardware power with its newest truck, the 305-tonne-capacity T 274, which will be available with the company's trolley assist system to aid customers in reducing fuel consumption and CO2 emissions.
The OEM said the new truck will serve to bridge a gap between its 363-t model T 284 and its newly upgraded 240-t model R 264. In fact, it said, the design is based on the R 284, which has logged field experience exceeding 20 million operating hours.
It will be able to provide faster cycle times, the company points out, along with higher production rates, lower fuel consumption and a lower cost per tonne.
"The Liebherr T 274 is powered by the most powerful engine in its class at 3,650 horsepower, and the efficient Liebherr Litronic Plus AC Drive system," it said. "With the advanced hydraulic design and fast cycle times, the T 274 moves more material in less time."
The OEM spotlights its speed on grade as well, which is a major contributor to fast cycle times.
"The Liebherr Litronic Plus AC Drive System improves cycle time efficiency by providing continuous uphill speed, differing from traditional mechanical drive trucks that require shifting of gears. Designed with safety in mind, the T 274 is equipped with 4,500 kW / 6,035 hp dynamic braking power to operate efficiently on downhill hauls."
Operators will additionally be offered ergonomic comfort and safety in both hot and cold climates via safety glass windows, an integrated HVAC system and two safe exit routes from the cab. They will have access to a number of options, especially the Liebherr Trolley Assist System, which it has previously said is an "effective first step" for mines seeking the goal of a zero-emission mine site.
Liebherr officials said the truck is a perfect match for two of its mining excavators, the R 9800 and R 9600.
"Pairing the Liebherr T 274 with the Liebherr R 9800 hydraulic excavator provides the customer with a highly versatile and productive fleet," the company pointed out. "The fast swing times of the R 9800 will load the T 274 with four bucket passes ensuring quick loading times that lead to high production rates of both the truck and excavator.
The T 274 is also compatible with the brand-new R 9600, the successor to the thoroughly proven and iconic R 996B."