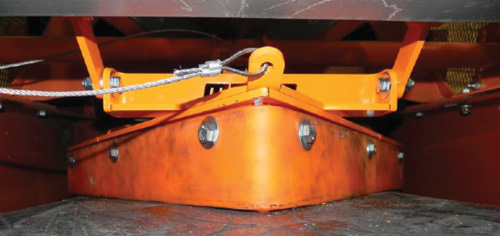 Martin Engineering has redesigned one of its most popular tail protection devices to be a lighter weight, modular unit delivered in a compact package for improved safety and convenience. The re-engineered Martin V-Plow HD achieves the gains with no compromise in performance.
"The heaviest section of the previous design was about 21 lb. (9.5 kg), while the new modular unit's heaviest component is just 13 lb. (5.9 kg), a reduction of about 48%," explained Conveyor Products Manager Dave Mueller.
While the previous welded design's largest dimensions were 17.5 in. wide x 38 in. long (445 x 965 mm), the new modular design's widest component is less than 8 in. (203 mm) and the longest is approximately 31 in. (788 mm).
Engineered for belts as wide as 120 in. (3,048 mm) with speeds up to 900 fpm (4.6 m/sec), the Martin V-Plow HD redesign has made the equipment modular, segmented into a few pieces that are arranged in a box that fits almost any form of delivery transport. This also makes the equipment easier and safer to carry to the installation area.
With easy-to-understand instructions for the tongue and groove assembly, the rugged painted steel parts can be snapped and securely bolted together in minutes, creating a strong structure. The time saved on delivery to the facility and the work area more than makes up for the few minutes of assembly time.
Mounted to hanger bars by clamps or welding, the unit glides on the return side of the conveyor belt using hinge system, deflecting any fugitive debris off of the belt. The assembly holds an easily replaceable 4 in. (100 mm) wide, 1 in. (25 mm) thick blade, which provides 2 in. (50 mm) of wear life. Blades are available in 60 Shore A durometer nitrile rubber or long-wearing 90 Shore A durometer urethane and can be ordered with specialized blades that are chemical resistant or designed for high temperature applications.
"What makes the Martin VPlow H-D a popular choice is the safety and performance, but the ease of installation and maintenance are an added benefit," Mueller concluded. "I think one of the traits operators are most surprised by is how competitively priced they are, which further improves the return on investment."