This issue's Women in Mining spotlight is Ashley Chancellor, environmental affairs manager for Sibanye-Stillwater's U.S. PGM operations as well as national president for Women in Mining USA (WIM USA). She is proving that it is certainly possible to be a mentor to multiple generations of mining's women while also leaving a legacy for how mining can and should be performed in the best interest of communities.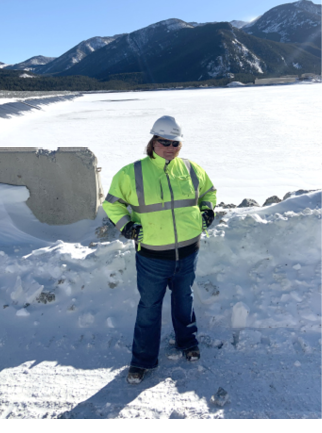 Is it possible to make an impact on mining for today and tomorrow simultaneously? Absolutely, as evidenced by Ashley Chancellor. A veteran metallurgist and with a commitment to environmental considerations, the Colorado School of Mines alum was not originally destined for mining – her first love was aerospace, following in the footsteps of her father and grandfather.
After graduating university with an engineering degree during the economic downturn of 2008, she and her husband, a mining engineer, went to work in the gold mines of Nevada and fell in love with the industry and its people.
Chancellor, now over 15 years into her industry career, is the first to tell you with pride that she is fortunate to be a part of mining, and has much appreciation for the opportunities it has afforded her education and growth.
Read on for more about this unique – and busy – woman in mining.
What has been your biggest achievement in your career to date?
One of my proudest achievements in my career to date was representing my hardworking team with WIM USA in signing a formal Alliance Agreement with the Mine Safety and Health Administration (MSHA) in Washington D.C. this past March. The agreement is designed to provide WIM USA members, as well as the Education Foundation of WIM USA with access to information, technical assistance, guidance, and training resources that will help them promote diverse, equitable, and inclusive workplace practices. It will also aid in protecting miners' safety and health, a critical aspect of the mining industry.
Tell us a little more about your involvement with WIM USA, and a little about the group for those not familiar.
Women in Mining National (WIM USA) is a nonprofit organization with members that include people employed in, associated with, or interested in the mining industry. Our ambition is to build a reputation as a trusted partner for cultivating a community in the mining industry that fosters trust and respect, and making progress toward industry attraction and retention goals. Women in Mining was founded in 1972 in Denver, Colo., and has grown from humble beginnings to a membership of over 1000 individuals with over 30 Corporate and Sustaining Sponsor organizations. WIM USA currently have seven Local/State Professional Chapters and eight Student Chapters in universities across the US.
I became involved in Women in Mining though the Nevada Chapter in 2015, serving as the national representative to the WIM USA board from 2017-2019. In 2019, I was elected treasurer of WIM USA helped oversee the implementation of our Corporate Membership Program during an amazing period of growth for the organization under the leadership of our past president Anita Bertisen. After being elected in 2022, I am now serving a second term as president of Women in Mining USA and am excited to continue to help grow the organization and empower all of our members to change the future of the industry.
Where do you think mining is in terms of DEI? Where are our biggest challenges and most significant opportunities?
Overall, I believe that within today's mining industry there is a desire and drive to see more under-represented groups, including women, and their allies become part of the mining industry to aid in ensuring its sustainability. Currently, I see one of the biggest challenges is with the availability of tools to ensure the successful implementation of Diversity, Equity and Inclusion policies and strategies. Many organizations, including WIM USA, are working together with companies, universities and government organizations to gather best practices and resources to share more broadly with the industry as a whole to assist in closing this gap.
Mentorship is a crucial theme within the community of women in mining. Why is this, in your opinion?
Mentorship is vital to both supporting and empowering the next generation of leaders within the mining industry. As more women are coming into and advancing within the industry, there has been the recognition that mentorship is essential at all phases of their careers on issues such as: balancing family and career, prioritizing professional and personal goals and non-traditional/career changes, just to name a few. Every mentor/mentee relationship is going to be different depending on the people and topic and, if done well, can help both parties learn and grow both in their careers and as individuals.
What are the changes you foresee in mining in the years to come?
In my opinion, this is a very exciting time to be in the mining industry. According to an article 'Why women are leaving the mining industry and what mining companies can do about it' published by McKinsey & Company in 2021, it was cited that women represent 8-17% of the global mining workforce overall a number that has remained largely unchanged for many years. I believe that in order to truly achieve a step change on this statistic, it is going to take the collaboration of: industry, academia, and government to promote and encourage diversity, as well as to build an inclusive environment where everyone can thrive.
Overall, I am seeing more and more of this collaboration across the industry and excited to see it continue to strengthen as we learn from each other. I am also personally excited to see the roles that leverage technologies like virtual reality, artificial intelligence and machine learning will play in making the mining industry more accessible and inclusive.
HIGHLIGHTS OF ASHLEY'S RESUME:
EDUCATION:
B.S. Chemical Engineering,
Colorado School of Mines, 2008
PROFESSIONAL EXPERIENCE:
SIBANYE – STILLWATER US PGM OPERATIONS
Environmental Affairs Manager – East Boulder Mine, MT
Prior: Environmental Systems Engineer and Sr. Metallurgical Engineer – Columbus, MT
NEWMONT USA LIMITED
Sr. Metallurgist – Battle Mountain, NV and Carlin, NV 
Project Engineer – Carlin, NV
PROFESSIONAL AFFILIATIONS
WOMEN IN MINING (WIM) USA
– 2015 to Current
National President – April 2022
– Current
National Treasurer – April 2019
– April 2022
WIM Montana – Co-Founder – 2021; National Representative – Current
INTERNATIONAL WOMEN IN MINING (IWIM) ALLIANCE
WIM USA Alliance Representative, 2021 – Current
Co-Lead – Global Inclusive Workspace Design Working Group
SOCIETY FOR MINING, METALLURGY
AND EXPLORATION – Member – Current
2022 Mineral Processing Division
(MPD) Student Design Competition Judge
PUBLICATIONS/PRESENTATIONS
Chancellor, A., (2023). "Building an Inclusive Workspace for the next Generation of Miners". MINEXCHANGE 2023 SME Annual Conference, March 2023
Chancellor, A., (2021). "An Inside Look at Sibanye Stillwater's Base Metal Refinery in Columbus Montana". 70th Annual Meeting of the Colorado SME Section, Mineral Processing Division
O'Conner, L. Chancellor, A., (2021). "Looking to the Future: Introducing Diversity & Inclusion Initiatives into a Shifting Culture during an Expansion at the Sibanye-Stillwater Montana Operations". MINEXCHANGE 2021 SME Annual Conference, March 2021
Chancellor, A., Arthur, B., (2015)."Emigrant Mine Feasibility and Ore Characterization". 3rd International Conference on Heap Leach Solution