Back on its home turf in Denver, the Society for Metallurgy, Mining and Exploration (SME) is ready to welcome thousands of guests and more than 750 exhibits once more to the Colorado Convention Center for the 2023 SME Annual Conference and Expo.
By Donna Schmidt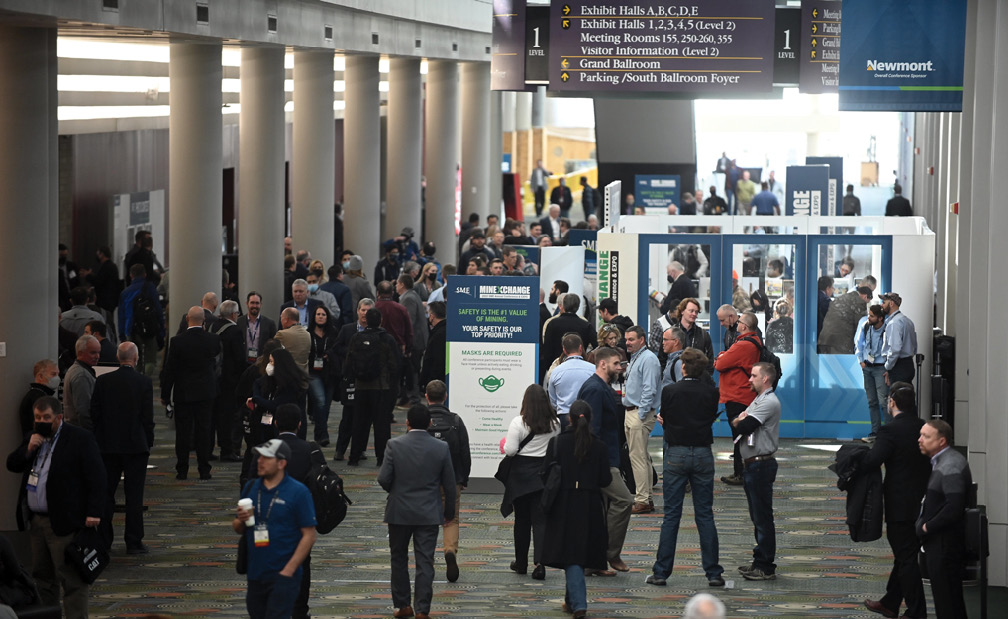 Welcome back to Denver for the 2023 SME Annual Conference and Expo.
The gathering, set for February 26 to March 1, will once again be formally known as MINEXCHANGE and will be held alongside the Colorado Mining Association (CMA)'s National Western Mining Conference. There will be a strong focus on powering the global green economy, environmental, society and governance (ESG) topics and exciting advances in artificial intelligence (AI) along with crucial ideas for a sustainable future.
An exhibit hall reception will open SME 2023 beginning at 4:00 p.m., also when the exhibit hall will welcome attendees. Hours for the show floor at 4-6:00 p.m. on Feb. 26, 11:00 a.m. to 5:30 p.m. on Monday, Feb. 27, and Tuesday, Feb. 28, and finally from 9:00 a.m. to 1:00 p.m. on Wednesday, March 1. Technical sessions will be held all three days, both in the morning and afternoon.
This year's keynote session will kick off on Monday, Feb. 27 at 8:30 a.m. with "Embracing ESG to Build Trust in Mining Investments – A Panel Discussion" and will feature several speakers moderated by Newmont Global Tailings Management, Technical Services Senior Director Kim Morrison and Mining, Metals and Minerals Vice President Kelly Ward.
The panelists scheduled to speak include Ryan Bond, head of Climate and Sustainability Insurance Initiative, Marsh; Aidan Davy, chief operating officer, International Council on Mining and Metals (ICMM); Daniele La Porta, global head of Sustainability and ESG, Gerald Group; and Casey Nault, senior vice president, general counsel and chief ESG officer, Coeur Mining.
"ESG – environmental, social, governance – and the issues it encompasses has come to the forefront of the mining industry. External influencers such as institutional investors are demanding increased attention on ESG drivers and looking beyond financial performance, while insurance companies also consider ESG performance in their coverage pricing and terms," the organizer said of the event's core focus.
"Further, new standards and frameworks have been introduced against which mining companies are being measured. Against this background it can be difficult for mining companies to navigate what is important and how best to report their performance, with numerous issues on the ESG agenda for the industry including tailings management, climate change and resiliency planning, mine closure, human rights, stakeholder engagement, and transparency, among others. This panel discussion dives into these issues from the perspectives of the mining, investment, and insurance communities."
Additionally, the Murray Innovation Award Lecture for 2023 will be offered by Phillip Baker Jr., who services as CEO and president of Heckla Mining, and Lucky Friday mine operations head Chris Neville.
"The most recent large innovation manages the seismicity at the United States' deepest underground mine with a new patent–pending mining method called Underhand Closed Bench. As a result, the 80-year-old Lucky Friday mine is mining the most tons and will produce the most silver ounces in its history. This presentation will tell how Hecla approaches innovation and how the new method works," SME noted.
Those seeking to review the technical sessions for SME 2023 can review an updated program.
Exhibit floor information can be found here.