North American Mining recently took an exclusive look at Caterpillar's Tinaja Hills and Tucson Proving Ground complex in southern Arizona, gaining some remarkable insight into the OEM's research and development and training efforts
By Donna Schmidt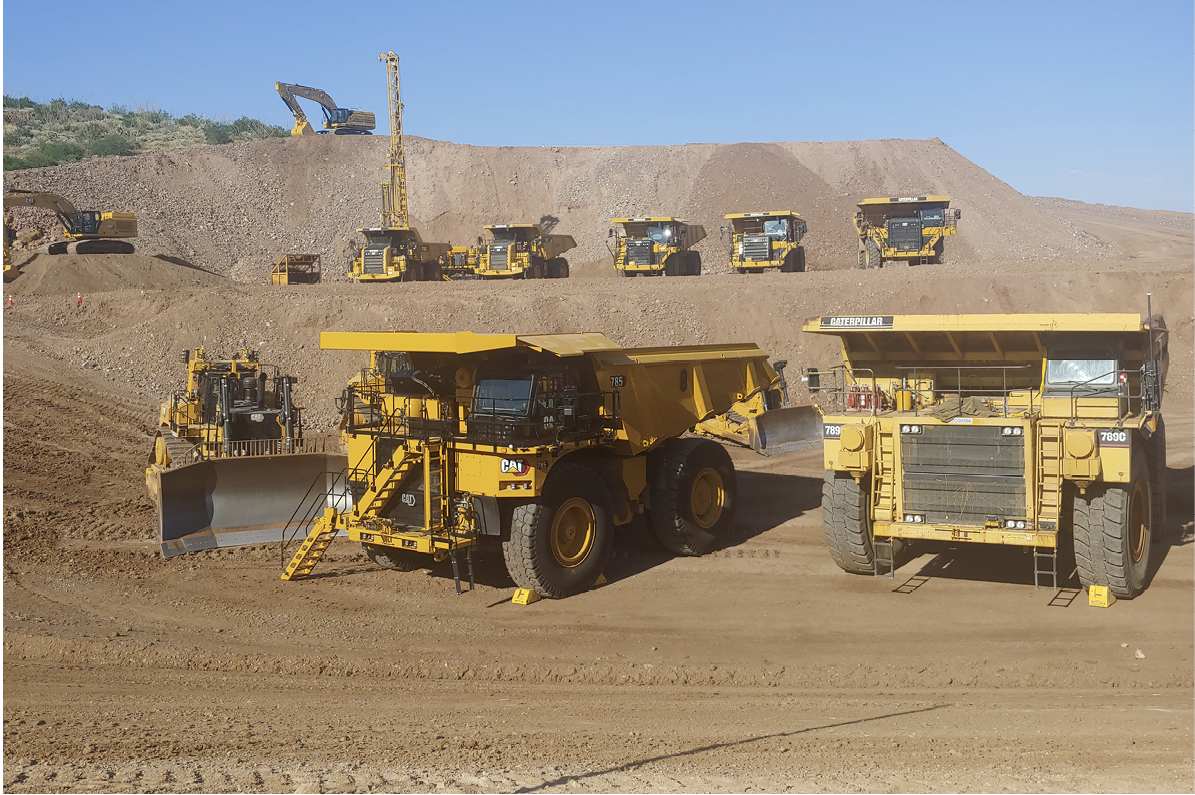 Just north of the U.S.-Mexico border, overlooking a beautiful yet vast swath of one of the most beautiful desert areas of the American Southwest, is Caterpillar's Tinaja Hills and Tucson Proving Grounds.
The 6,500-acre complex was designed for the OEM's research and development and testing functions as well as the customer-facing marketing and product promotion and training functions at the Tinaja Hills Demonstration and Learning Center (THDLC) – and, as NAM learned, much more.
The campus, opened in 1990 on what had been open-range land, is highly comprehensive in its application, open to dealers, internal business partners, employees, customers, trainees and, on this occasion, the press, with six areas of buildings.
The first is the Hacienda, an administrative space with warehouses, office space, a VIP office, a main office and receptions area, and men's and women's restrooms and locker rooms. It also includes a dining hall, auditorium and various conference rooms.
A second building, focused on shop areas, also has conference areas but additionally includes the East and Center indoor bays for conferences and training. There also exists an outdoor and indoor bay for service technician use; and the Command Technology demonstrations and training.
The campus' generator building is the beating heart of the complex, with a trio of C15 Caterpillar engines powering Cat generators, which supplies the prime power to the entire Tinaja Hills Campus. The MineStar Command Center is used for Command for Hauling (autonomous trucks) virtual and live demonstrations, as well as system training.
Nearby is the Command for Underground (UG) Center, the Command for UG operations control room and operator station room; and the Command for Dozing and Drilling operator station room.
Finally, for paving operator and technician training sessions, there is a paving modular classroom educational space. Staff at the campus points out that all of its training/conference spaces are flexible, moving easily from a theater-style configuration for visual presentations to classroom-style seating or roundtable designs.
Even with extensive indoor space, the complex's outdoor capabilities are just as broad. At the center of that is the General Line Demonstration Area with fixed grandstands that can seat up to 400; it is most often used for demonstrations, operator training, special events, shows for dealers and Cat attendees, customer view and operate sessions, and specialty demonstrations. A paving demonstration and operating training area has its own grandstand capacity of 250, and a quarry/mine site demonstration area has two sets of mobile grandstands with another 400 seats; it is also used for operator and product training, Minestar Command for Hauling (Autonomous Hauling systems) live demonstrations/training and special events such as MINExpo, Quarry Days and more.
Nearby is a tractor field for training, viewing and operation sessions and spring training for dealers, a motor grader field, a 2.5-mile haul road loop for operator/supervisor/product and application training for construction, maintenance and repair of a haul road.
The outside command site, which is utilized for machine operation under semi-autonomous Command Technology, allowing operators to control a D5 track-type tractor, a 930 wheel loader or a 320 hydraulic excavator with an Universal Remote Operating Station anywhere across the globe with a network connection.
Finally, Cat has a new site under construction for operator/supervisor/product/application training as well as Command technology. Still, as Tinaja Hills grows, so do its proficiencies.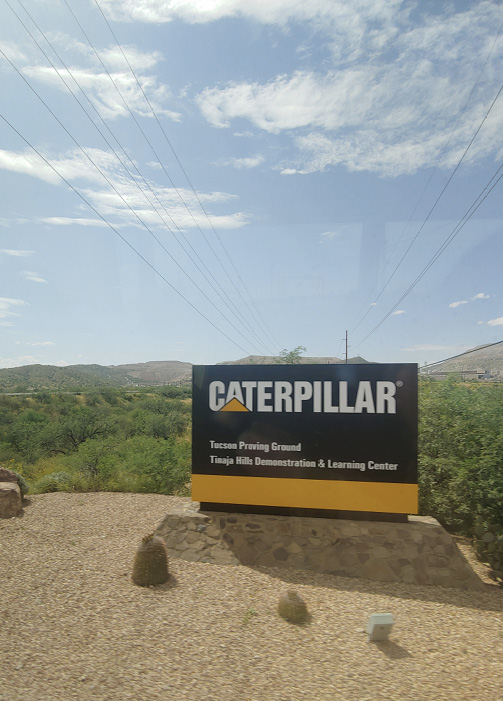 Tinaja Hills takes things underground
A fairly new addition to the campus is the underground portion of its outfit, the Underground Track and Demonstration stage. Built just about three years ago and unveiled in late 2021, the capability was added to expand the customer experience for both Cat Mining and Cat MineStar Solutions – a mission it has taken on over the past several years.
In addition to more equipment on the ground and more technologies on display, it also provides a more comprehensive and professional program for customers.
"This demonstration brings MineStar for underground into the light, making it possible for visitors in the stands to see underground mining machines at work," center facility manager Marty Dains said. "The track is also used to test and validate our current and expanding technology offerings."
One of those demos is one of the most complex Caterpillar has ever developed – viewing a Jumbotron screen while watching machines and technologies work the track, which offers a number of different camera angles of each machine on the move.
Additionally, during the demo event, different sections of track can be used to showcase different mining methods, with the narration from team members on how MineStar technology can help with that particular application. Over the course of about 25 minutes, viewers can get a first-hand view of all MineStar's abilities and how they can serve an underground customer.
From the ground up
Tinaja Hills has come a long way from its opening three decades ago, and as noted by Dains, it emerged from humble beginnings. Previous home to open-range cattle, the site lacked all infrastructure when Caterpillar arrived, including access.
"[We] built everything from the ground up," he said.
Today, it is used for the capabilities for which it had always been designed: customer programs being the most significant, followed by seminars; new product demonstrations; specialty in-the-iron events for guests, customers, dealers and internal business partners; supporting large customer marketing events; customer and dealer service technician training and certification sessions; sales promotion photo and video shoots; and customer viewing and operations events for potential clients visiting alongside dealer reps. Its ultimate goal, he said, has been "to provide an exceptional customer experience with each visit" while offering the best in support and training to its dealers.
"The only thing that has evolved from the original plan is the number of planned events and number of visitors that we host annually," he added – a number that, of course, has spiked as sales demand has risen.
Further expansion is certainly the plan for Tinaja Hills, said the OEM.
"We want to expand our technology capabilities to include the full campus, which would allow us to demonstrate and train on the latest technology at every site on campus," Dains added.
"For example, having the ability to demonstrate and train on the use of the Command technology from the general line and quarry/mining demo areas, as well as have reliable and consistent Wi-Fi access and cellular coverage around the campus sites."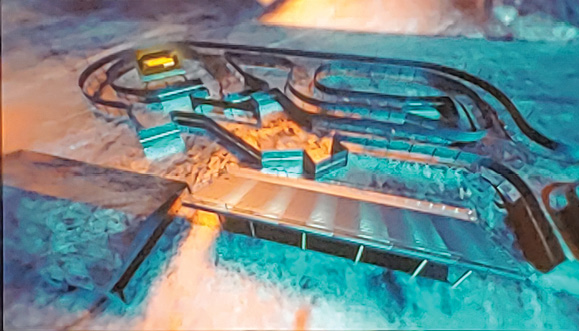 More than meets the eye
Caterpillar is staunch in its word that Tinaja Hills is more than just a sales tool. Dains said, "In fact, one of the biggest misconceptions is that all we do is demonstration events when in fact they only make up about 5% of what the campus does." In reality, about 30% to 40% of its time and abilities are focused on training. Customer training can be conducted at Tinaja Hills, or the demonstrator instructor will travel to a dealer and/or a customer location to perform the training.
Beyond that, another 30% to 40% of its resources are dedicated to large events, such as the ones it conducts for ConExpo-Con/Agg, MINExpo, Quarry Days, Mining Forum, and its dealer sales and product spring training gatherings.
Many may also be surprised to learn that Tinaja Hills is one of three global demonstration and learning centers Caterpillar operates; the others are in Edwards, Ill. and Malaga, Spain. The Tucson location, however, is the only one that has large mining equipment for customers to view and operate.
So, why Arizona? It all came down to two main objectives: proximity and accessibility.
"The Arizona Proving Ground (APG) was located west of Phoenix … and the expansion of the city began to encroach on the facility and campus," Dains explained.
"With the IP proving ground, and the increased demand for more customer programs, Caterpillar made the decision to move to another location which would be secluded yet accessible. Caterpillar also wanted to stay in the region close to our mining customers."
It is also worth noting that community relations is crucial to Tinaja Hills and its staff, as exemplified by its many local efforts. It has long been a focus, Dains said, for the One Tucson Team, which consists of employees from the Tucson Mining Center in downtown Tucson, the Tucson Proving Ground and the Tinaja Hills DLC.
"The Caterpillar One Tucson Team supports many initiatives in and around the communities we live and work in such as Junior Achievement, Tucson Children's Museum, Tucson and Green Valley Chamber of Commerce, United Way of Southern AZ, Habitat for Humanity, and the Pima JTED program, just to name a few," he outlined.
Some examples of its community relations/support and involvement include road clean-up days in Tucson and on Duval Mine Road, where the campus is located, as well as its hosting of an annual United Way drive-through or car show event and the Dirt-Dash 5k run at Tinaja Hills. Additionally, in partnership with the local Cat dealer Empire Cat, it hosts 30 to 40 high school students in the Pima JTED heavy equipment operator courses for five hours learning to operate Cat equipment and learning tips and techniques from the Cat and Empire instructors.
Tinaja's outlook
Currently, Tinaja Hills trains about 880 customers and dealer students each year, including those at customer sites. For its training events, including sales, product support, new product introductions and technology, it hosts about 5,000 to 6,000 per year. Its visitor count in all is, on average, 5,720 annually.
As it looks ahead, digitization and automation will continue to be arterial areas of concentration and commitment for Caterpillar. Tinaja Hills hosts multiple automation training events on-site for customers, dealers and internal business partners.
A key area under that umbrella is the MineStar Command Center for Surface Mining Operations, which is located at the quarry/mine site demo area and is crucial to demonstrating and training for solutions such as Command for Hauling, Command for Dozing and Command for Drilling. With the support of Caterpillar's Mining Technologies Enabled Solutions team members, Dains said, Tinaja Hills hosts six to 10 Command for Hauling training sessions annually.
Regardless of how extensive the borders and capabilities of the Tinaja Hills campus becomes, Dains noted there will always be sizeable advantages to its customers, and to the mining industry at large, to having such a resource. With a fleet of more than 70 machines on hand at the site, every major industrial application of the models is addressed – a benefit to its dealers, as one example, which do not have to keep every item in inventory (or have an open surface space for showings) and thus can better manage costs.
Another advantage is Tinaja Hills' "demonstrator instructors" who have a minimum of 10 years of real-world operating experience and can not only properly train on machines, but also put the technology that is on-board to use – and explain it all to anyone on any level of any company from an operator to a technician to a purchasing manager to a CEO.
"Our instructors receive training in adult learning fundamentals and techniques on how to deliver/conduct training sessions using curriculum in the classroom as well as in the field on the machines," Dains said.
As for the long-term future, aside from the expansion of Wi-Fi at the campus, Tinaja Hills will retain one of its core objectives in mind: safety, in whatever form that takes.
"Once we have the infrastructure in place for expanded technology, we will start increasing the offerings for Command systems for demonstrations and training by having a more dedicated area – which is easier to control access in and out making it safer for all involved," Dains explained.