Organizers for the Bluefield Coal and Mining Show in West Virginia remain hard at work finalizing details for this year's event, set for September 14-16 at the Brushfork Armory, and are ready to welcome 27 new exhibitors to the show.
Chamber official Debbie Maynard told Miners News and North American Mining magazine that there are now 150 exhibitors on the vendor list for the event, and they are ready to welcome attendees from 21 U.S. states along with Canada and Poland.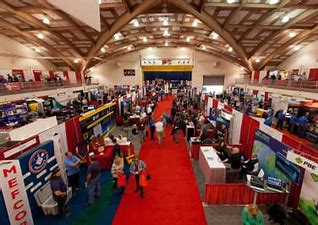 Show hours have also been released, Maynard confirmed; following a media and exhibitor breakfast the official start of the event will be 10 a.m. on Wednesday, Sept. 14. The show for that day will close at 6 p.m.
The following day has the same hours, and Friday, Sept. 16, the show will run from 9 a.m. to 2 p.m.
For those attending the show as guests and attendees, parking will be available at Mitchell Stadium (1780 Stadium Dr., Bluefield) with shuttle buses running all day on a continuous basis through all three days of the event. The chamber reminds guests that no on-site parking will be available at the armory, and directional signage to the stadium will be available.
Plans are still in process for a special night of entertainment. An auction and raffle are among the highlights of the night, Maynard noted. More details will be confirmed once everything has been finalized with the event's venue.
If you are interested in being a part of the event as a sponsor or vendor, the Chamber of Commerce is still accepting reservations and advertising. More information is available at www.coctwovirginias.com.
Keep watching Miners News for more information on the Bluefield Coal and Mining Show as it becomes available. Also check out the organizer's new Facebook page for the show at https://www.facebook.com/TheBluefieldCoalAndMiningShow.