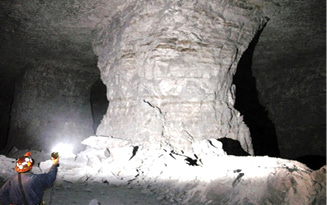 In November, MSHA announced a pillar collapse program that has spotlighted limestone mines but could also have an impact on other commodity operations.
The agency noted that, since October 2020, four massive pillar collapses have occurred in limestone mines. Each was accompanied by a powerful air blast and the formation of a large surface sinkhole.
Fortunately, no injuries were reported from any of the events, though one other in 2015 did result in three serious injuries stemming from the air blast.
"All of these collapses occurred where floor mining, or benching, had substantially increased the height of the pillars. Three of them occurred in 'legacy' areas where mining was completed many years ago," MSHA Said.
The agency has resources available to raise awareness and avoid these accidents at underground mines, particularly limestone mines, that can result in areas where benching has occurred.
The last of four pillar seminars, focusing on pillar safety, has been scheduled for Dec. 7-8 at the Louisville Marriott Downtown in Louisville, Ky.For questions regarding this initiative, or to register for the seminar, please contact [email protected]. Seminars are being scheduled in coordination with MSHA Enforcement District offices.