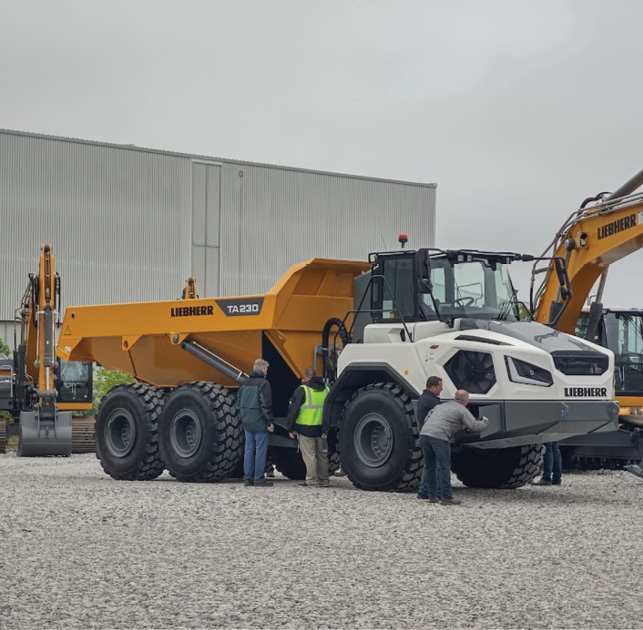 With the introduction of the new generation of articulated dump trucks, Liebherr now offers a full line of earthmoving products. Apart from a comprehensive product portfolio of earthmoving machines for diverse applications, the new TA 230 articulated dump truck is now available to customers in the U.S. market.
The extremely robust, powerful and all-terrain machine is primarily designed for overburden transport and for the mining industry. The articulated dump trucks are also a useful assistant for larger infrastructure projects. Thanks to their optimal structure gauge, they can also be used for special applications, such as tunnel construction.
Maximum performance in challenging off-road applications. The new TA 230 Litronic has a clever machine concept, which has been developed specifically for challenging off-road applications. New designs in the front-end area create maximum ground clearance for superb off-road performance. For example, in the TA 230 Litronic the powershift transmission is positioned safely and compactly under the operator's cab and the exhaust gas aftertreatment is safely installed behind the operator's cab in a space-saving manner, whereby a large slope angle could be generated.
The newly designed, solid articulated swivel joint creates excellent off-road capability: It allows independent movements of front and rear end, thus ensuring maximum maneuverability. The robust and positive-locking swivel joint with tapered roller bearing is perfect for the shear stresses arising during use, withstands maximum loads and provides optimal force distribution.
The front and rear axles of the machine are secured via sturdy A-rods at the articulated swivel joint and at the rear end. The focus here was on maximum ground clearance in the development: Both the front axle suspension with A-rods and shock absorbers at the articulated swivel joint and the position of the separate and oscillating A-rods of the rear axles at the rear end provide maximum ground clearance.
Superb driving performance and combined pulling force. A powerful 6-cylinder construction machinery engine with a displacement of 732.3 cu. in. and 265 kW (355 hp) is installed in the new TA 230 Litronic, which complies with the requirements of exhaust emissions stage Tier 4f. A robust and efficient drivetrain with automatic 8-speed powershift transmission ensures optimal force distribution.