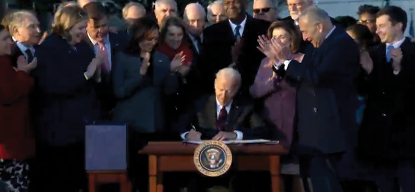 The Infrastructure Investment and Jobs Act (IIJA), passed Nov. 5, is the most important piece of transportation legislation since the Federal Aid Highway Act of 1956. At the core of the legislation is a five-year, $304 billion reauthorization of surface transportation programs. The bill also includes an additional $550 billion in new funding that is disbursed for building hard infrastructure. The new funding is paid for by revenue offsets, like reutilizing Unemployment Insurance funds."
But there is something in it for mining too.
The IIJA makes historic investments to plug orphan wells and reclaim abandoned mine lands, which will help communities eliminate environmental conditions caused by past coal mining and legacy energy development.
"The Interior Department is committed to helping working families, often in rural and Tribal communities, who face hazardous pollution, toxic water levels and land subsidence both during mining and long after coal companies have moved on," said Interior Secretary Deb Haaland. "The IIJA's historic investments will help revitalize these local economies and support reclamation jobs, all while addressing environmental impacts from these legacy developments."
The bipartisan infrastructure deal includes a $16 billion investment in legacy clean-up funding, including:
$11.3 billion for abandoned mine land and water reclamation projects. These funds support vitally needed jobs for coal communities by funding projects that close dangerous mine shafts, reclaim unstable slopes, improve water quality by treating acid mine drainage, and restore water supplies damaged by mining.

$4.7 billion for orphaned well site plugging, remediation, and restoration activities. Orphaned oil and gas wells jeopardize public health and safety by contaminating groundwater, seeping toxic chemicals, emitting noxious gases, and harming wildlife. These funds will invest in an Energy Community Revitalization program to help plug and restore these abandoned sites.
Millions of Americans live within a mile of the tens of thousands of abandoned mines and oil and gas. In addition to addressing this, these investments build the foundation for additional jobs in the future once sites are cleaned up and can support new economic development opportunities.
In 2021, the Interior Department invested over $260 million for state and Tribal reclamation efforts through the Abandoned Mine Land (AML) and Abandoned Mine Land Economic Revitalization (AMLER) grant programs.
"The Abandoned Mine Land grant programs provide an important opportunity to revitalize local economies, support jobs, and address environmental impacts to communities from these legacy developments," said Principal Deputy Assistant Secretary – Land and Minerals Management Laura Daniel Davis. "The job of cleaning up our lands and waters and revitalizing our communities doesn't end with this round of grant announcements – or the next. We look forward to working with Congress to ensure that we can make the needed investments to clean up abandoned mines, as well as orphan oil and gas wells, across the country."
"It cannot be forgotten that West Virginia coal miners powered our country to greatness, and I am pleased that West Virginia will receive $18.9 million to reclaim abandoned mine lands in those coal communities," said Sen. Joe Manchin (D-W.Va.), chairman of the Senate Energy and Natural Resources Committee. "While over $8 billion has been disbursed to states for AML reclamation projects since the passage of the Surface Mining Control and Reclamation Act of 1977, there is still much more work to be done to clean up damage to the land and water in those communities. I will be reintroducing legislation to extend the AML fee, which is currently set to expire in September, to ensure this important reclamation work can continue without interruption.
"I am also glad that West Virginia will receive $25 million through the AML Economic Revitalization grant program, which provides additional funding for economic development projects on abandoned mind lands. I thank President Biden for his strong support for these much-needed programs and I look forward to continuing to work closely together to ensure these hardworking communities are protected and given new economic opportunities," said Manchin.
Interior's Office of Surface Mining Reclamation and Enforcement (OSMRE) provides AML grants to the 25 coal-producing states and three Tribal AML Reclamation Programs according to a congressionally mandated formula. Based on past and current coal production, and funded in part by a fee collected on all coal produced in the United States, the AML grants help the eligible states and Tribes to eliminate conditions caused by past coal mining.