Check Out More About The Show, Impressive Turnout, And Read Over Several Of The Products, Services And Announcements Made During This Year's Event – Five Years In The Making.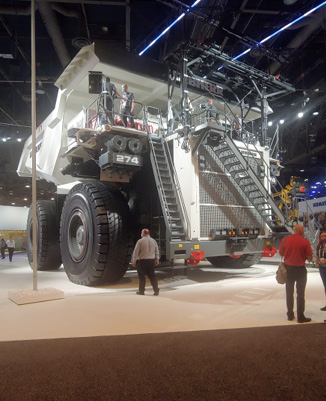 MINExpo International returned to Las Vegas, Nev., from September 13-15, after last being held in 2016 and being postponed in 2020 due to the global coronavirus pandemic. Back at the Las Vegas Convention Center, the much-anticipated event showcased the mining industry's best.
Mining professionals around the world had the opportunity to get up close to cutting edge equipment, technologies and global solutions – and talk to industry experts about today's top products.
The dominant theme of the show was a celebration of the technologies on display at MINExpo. Paul Lang, president and CEO of Arch Resources, commented on the huge advances in innovations and safety during the last several years.
"The ability now to put somebody in a remote station and operate three, four or five tractors just as efficiently or more efficiently than they used to operate one is an amazing change for all of us," Lang said.
"We can also take a person from a place of high risk and eliminate that completely with remote technology."
Opening Session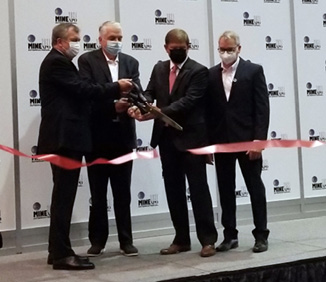 After the ribbon-cutting ceremony with Nevada Gov. Steve Sisolak, the show's opening session powerfully covered a range of topics, including thoughts on post-pandemic lessons learned, challenges associated with recruiting talent for the future, diversity and inclusion and technology breakthroughs that promote safety.
Moderated by journalist A.B. Stoddard, the opening session panelists featured Mark Bristow, president and CEO, Barrick Gold; Jimmy Brock, president and CEO, CONSOL Energy; Jeffrey Dawes, president and CEO, Komatsu Mining; Denise Johnson, group president for resource industries, Caterpillar; and Paul Lang, president and CEO of Arch Resources.
Environmental, social and governance (ESG) was a major topic. Komatsu's Jeff Dawes discussed the new, collaborative relationship that now exists between equipment manufacturers and producers, partly as a result of ESG.
"We're going away from the transactional relationship that existed 10, 15 or 20 years ago when we just sold them machines and parts," he said. "Now we're collaborating together to solve problems of the future."
The panel ended with an in-depth discussion of talent and how the industry can harness the challenge and excitement of a mining career to build the next generation of leaders.
If you didn't make it to MINExpo and would like to see the opening session, visit www.facebook.com/watch/live/?ref=watch_permalink&v=236268138509235.
Education Sessions
Just like the opening session, the education at MINExpo delivered in-depth analysis on topics from safety and environmental concerns to the power of artificial intelligence (AI) and safety best practices. A session on technological advances – many of which were on display on the show floor – provided an interesting view of how today's innovations help companies accomplish more in terms of safety, environmental responsibility and productivity.
NMA has made all of the sessions available to watch (or watch again) at minexpo.com.
Sentinels of Safety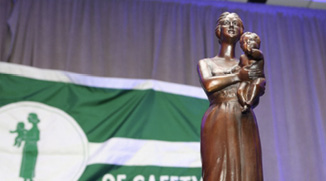 Continuing the trend of awarding safety and encouraging progress, the National Mining Association presented its Sentinels of Safety Awards and the U.S. National Institute of Occupational Safety and Health's (NIOSH) Mine Safety and Health Technology Innovation Awards. Honoring outstanding achievements in mine safety and technology, awards were bestowed on 40 mining operations.
A full list of winners for both the Sentinels of Safety and the Technology Innovation Awards can be seen at https://minersnews.net/nma-hands-out-sentinels-of-safety-awards.
NMA has also offered the industry a 12-month opportunity to access the show's online directory. It is available at minexpodirectory.com/directory.
---
MINExpo Announcements
The team from North American Mining and sister publication Rock Products were present at MINExpo International 2021, and enjoyed seeing many of the estimated 25,000 attendees on the show floor.
During that time, we attended a number of demonstrations, press conferences and other events at the LVCC, and have compiled a number of announcements from attending companies below.
Released a product, service or technology at the show and don't see it here? We'll be talking about newly released products throughout 2022. Send us a message with your announcement.
---
Sandvik brightens product line-up with battery-electric additions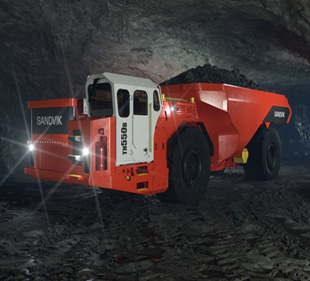 Sandvik's new release at the MINExpo 2021 event was actually a number of new releases, the highlight being its new TH550B 50-ton battery-electric truck.
The new model features a self-swapping battery system, including the AutoSwap and AutoConnect functions, and is powered with third-generation BEV technology.
"Based on the philosophy of rethinking the equipment rather than the mine, the truck is simple to implement in any underground hard rock operation," Sandvik officials said of the TH550B. "Infrastructure needs are minimal, with no requirement for overhead cranes or other heavy handling equipment. All that is needed is a battery bay with an electric connection."
The OEM said the new machine produces no underground exhaust emissions, and has significantly less heat than traditional technologies so it may reach its sustainability targets by means of reduced CO2 emissions. It also on a practical level reduces underground ventilation requirements.
Sandvik has also spotlighted the new release's operator environment; TH550B cabins are ROPS and FOPS certified, sealed for noise resistance and fitted with dust resistant upholstery materials.
In addition to the new truck, Sandvik also selected the show to virtually release its Toro LH514BE, an AutoMine compatible cable-electric loader now boosted with battery technology. It also showcased its Sandvik LH518B – the industry's largest battery-electric loader – and launched the Sandvik DS412iE, its first battery-powered rock bolter – it completing the company's first full zero-emissions offering for all underground drilling applications.
New Sandvik Tools
Those at MINExpo on the hunt for new technology tools were also in luck; Sandvik launched several new rock tools including the Tundo RH650 DTH hammer that reduces fuel consumption by up to 15% and ups penetration rates by up to 20%. Its heavy-duty top hammer drill bits, the new Autobit and its Charger RR450 rotary drill bit, were also unveiled. The latter can achieve up to a 90% increase in bit life compared to other premium sealed bearing bits.
Sandvik's Remote Monitoring Service was center stage at MINExpo and, on the surface drilling side, Sandvik put its DR410i rotary blasthole drill rig, the Leopard DI650i down-the-hole drill rig and Pantera DP1600i top hammer drill rig, part of the Top Hammer XL system, on the show floor.
The OEM has made a microsite available to view all new releases at https://rocktechnology.sandvik/minexpo.
---
Rolls-Royce, Flanders run hybrid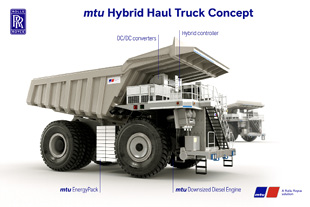 Rolls-Royce has teamed with Flanders Electric to unveil a retrofit concept to hybridize haul trucks and reduce emissions by up to 30%.
The design integrates mtu engines, batteries and hybrid control systems alongside drive train solutions from Flanders.
The companies' memorandum of understanding (MoU) announced during the show covers the development of the unit for wide range of mining applications via a scalable retrofitting kit.
"The mining truck hybrid concept recovers braking energy, using the mtu EnergyPack battery system … [with] energy … then fed back to power the wheel motors, allowing the diesel engine to be downsized," Rolls-Royce said.
"The smaller engine reduces fuel consumption and C02 emissions by up to 30%, helping mining customers to achieve their emissions reduction targets, while optimizing their operations."
The company said the hybrid concept also includes the DC/DC converters which interface the battery system with the DC link of the truck.
The modular system has the capability to be scaled and utilized anywhere in the world.
Mining, Oil and Gas Business Division Vice President Scott Woodruff noted both companies will be leveraging their extensive experience of hybrid solutions that aim to save fuel and reduce the C02 footprint of mining trucks as well as optimizing vehicle power performance and efficiency, enabling more climate-friendly and safer mining operations.
"We are excited to shape the mining industry's sustainable future together with Flanders and further leverage our advanced hybrid technologies, which are already proven in the rail industry. Together we will offer our customers integrated, future-oriented, hybrid solutions," he said.
Added John Oliver, CEO and board chairman of Flanders: "Improving our customers' operations, lowering their costs while enhancing their energy footprint, is a win for the mining industry and for the environment as a whole."
Rolls-Royce said hybrid solutions are already part of the mtu portfolio; the mtu Hybrid PowerPack will soon enter rail service in the UK, and the drive solution and its mtu batteries – which can also be used on hybrid mining trucks – offer safety and high performance as well as reliability and maintenance friendliness.
---
Liebherr, Hexagon form global alliance for next-gen automation
OEM Liebherr and the mining division of Hexagon announced at MINExpo the morning of September 14 that they have formed a global framework deal that will advance the respective companies' goals for the next generation of mining automation.
Andrew Crose, vice president of autonomous for Hexagon Mining, noted that the two share visions of what the autonomous future will look like, and are envisioning an autonomous mission management system that can orchestrate an autonomous fleet and the movements of unmanned traffic at a mine site for optimized autonomy of haulage.
Hexagon noted it has been fully integrated with its fleet management system and enterprise analytics as well as its reporting portfolio products.
"Integration of Hexagon's technologies enables Liebherr to provide autonomous mining solutions, consistent with our vision of open architecture next generation mine automation," said Scott Bellamy, head of product management – Mining Trucks, Liebherr Mining.
---
Hexagon to equip Volvo OTRs with autonomous safety
Part of what proved to be a busy week for Hexagon at MINExpo 2021 was the announcement that it has inked a deal with Volvo Construction Equipment (Volvo CE) that will put Hexagon Level-9 intervention technology on the OEM's off-road mining vehicles.
The companies said the newly announced arrangement will empower both of its customer bases to fast-track their goals of zero harm. Hexagon's Mining Division President Nick Hare added that its HxGN MineProtect Vehicle Intervention System, or VIS, is a key enabler of autonomy in its drive toward a truly autonomous mining environment.
The independent, interoperable VIS provides brake and drive-by-wire technology, which can automatically assume control of a truck's propulsion system in defined situations, should the operator not do so.
VIS is currently being deployed on three continents across 20 mines. Hexagon is expecting the Volvo trucks will be deployed by the end of 2022.
"We are thrilled to have this agreement with Volvo Construction Equipment, who share Hexagon's belief that the most important assets coming out of a mine are the people who make mining possible," said Hare said.
---
Loadscan launches Mine Payload Scanner in Vegas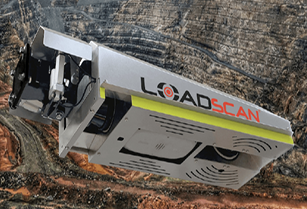 Loadscan, producers of the LVS Load Volume Scanner, chose MINExpo 2021 to unveil its newest product: the Mine Payload Scanner.
The volume measurement scanner designated also as MPS, the new release is a "'ground-up"' redesign of the LVS; this unit is the result of close collaboration with numerous international mining customers, according to CEO Carey West.
"Our customers have been asking us for specific features for their mines and we have responded by developing the brand new MPS unit, which sets a new standard for payload scanning in the mining industry."
The MPS can accurately scan small underground trucks right up to the largest 400-t rigid dumpers, with a certified accuracy of +/-1%. The new MPS incorporates advanced visual alert functionality that provides load status alerts to drivers and operators in real time, enabling immediate corrective action to be taken.
Its load status alerts include underload, overload, load OK, carryback and off-center load. With an IP67 ingress rating, the unit can operate in temperatures ranging from -40°C to +60°C (-40°F to 140°F).
---
Strata inks distribution deal with Biomarine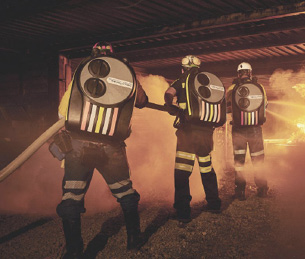 Strata Worldwide kicked off its time at MINExpo 2021 by confirming the growth of its partnership network, announcing it is now an official distributor of the Biomarine BioPak 240 closed-circuit self-contained breathing apparatus (SCBA).
Strata's distributorship comprises mining, tunneling and general industry applications in most of the U.S. as well as Canada and select Central and South American countries. Biomarine noted it will be providing additional support to Strata and its customers via dedicated product specialists.
Biomarine VP of Operations Tom Johnston said the collaboration will allow the company to offer a full portfolio of products from production to emergency response.
"Having long served these industries, it was a natural match for Strata and Biomarine to team up and offer improved reach along with superior service and support," he added.
Strata Safety Products General Manager David Maust pointed out that the 240R product line from Biomarine is already a highly respected and reliable unit.
"It's a perfect complement to the existing family of safety products and services we offer," he said.
---
Dana unveils underground e-powershift transmission
Dana Inc. has debuted a modular, high-efficiency, flexible two-speed electrified transmission for underground mining vehicles.
The new Spicer Electrified e-Powershift transmission offers functionality of power take-off (PTO) for an electrified mining machine, and within a compact package.
The dual-motor version of the e-Powershift transmission supports continuous power outputs up to 322 horsepower (240 kW), while the single-motor configuration is engineered for 161 hp (120 kW) of continuous output.
It is equipped with Dana TM4 high-voltage motors from 350 to 800 volts, which serves to improve efficiency, reduce total package size and provide redundancy where needed.
The e-Powershift transmission also offers efficient shifting through a patented wet clutch and synchronizer; the turnkey solution can be configured with four-wheel-drive disconnect and a PTO that eliminates the need for an additional motor and inverter.
"Its flexible, power-dense design makes it ideal for a wide range of applications, including small- to medium-sized loaders and trucks used in underground mining, as well as construction wheel loaders, large lift trucks, and terminal tractors," Dana Senior Vice President, Off-Highway Drive and Motion Systems Jeroen Decleer said.
"The highly efficient dual-motor configuration shown at MINExpo delivers the optimal tractive effort in every duty cycle without torque interruption."
The company is aiming to make the Spicer transmission available for prototype testing by OEMs by the end of this year.
Ohio-based Dana can be found in 33 countries on six continents.