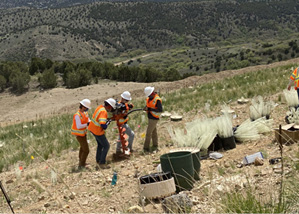 Rio Tinto's Kennecott and one of the state's schools, Brigham Young University, are collaborating together to look for ways to establish more sustainable reclamation techniques at the miner's Bingham Canyon operation outside of Salt Lake City, Utah.
In June 2020, students and professors from the BYU Department of Plant and Wildlife Sciences and the Department of Chemistry and Biochemistry broke ground on four research projects on land areas surrounding the mine. The goal: to increase plant diversity and stability, along with enhancing the aesthetics of areas visible from the surrounding Salt Lake Valley.
"This partnership is helping Rio Tinto Kennecott to continue improving the quality of its reclamation efforts and give our students the opportunity to learn skills that will benefit them in their future employment," BYU Associate Professor of Plant and Wildlife Sciences Matt Madsen said. 
"The restoration we are doing in these areas can benefit Utah's land and community by bringing back native vegetation, improving the site for wildlife habitat, air quality and the viewshed here in Utah."
Rio Tinto Kennecott MD Gaby Poirier noted that the collaboration is a crucial step for both in a mission to advance sustainable outcomes.
"Joining forces with BYU professors and students to apply the latest environmental research to further improve our effort is extremely rewarding. This joint project is mutually beneficial for Rio Tinto Kennecott, BYU and our surrounding communities, and we hope this project will be a stepping-stone for future collaboration that helps improve reclamation work at other locations in Salt Lake City and more widely."
Under the partnership, 12 students will be employed on six different projects for the next three years; all are tied to land reclamation. Some objectives include engineering seed coatings to increase seeding success, understanding the vital role of Curlleaf Mountain Mahogany, more effectively establishing perennial grasses and another to improve the viewshed of waste rock areas.