In June, Fatigue Science launched Supervisor Fatigue Alerts as part of its Readi fatigue management platform.
Developed for mining, heavy industry and the military, Supervisor Fatigue Alerts provide real-time alerts to supervisors when their operators approach critical fatigue levels. Fatigue alerts can be delivered directly to mobile phones.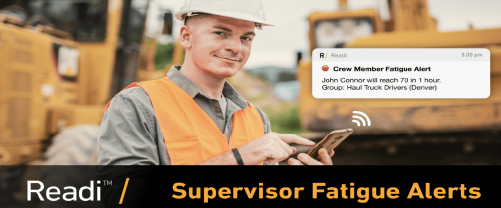 Following the launch of Fatigue Intervention Tracking and Fitbit-based Operator Fatigue Alerts on the Readi platform, the company said the new functionality enhances the world's leading Fatigue Management Information System (FMIS).
"While predictive analytics and objective fatigue data are at the core of our solution, it is also critical to provide these insights in the right place, at the right time, and to the right audience," said Robert Higdon, SVP product and marketing for Canada-based Fatigue Science.
"With Supervisor Fatigue Alerts, a busy supervisor can now receive the most critical information right on their phone – with real-time notifications about their crew's fatigue levels."
Supervisor Fatigue Alerts are based on a ReadiScore, a scientifically validated predictor of fatigue's impact on an operator's reaction time, mental effectiveness and the likelihood of microsleeps on duty.
Supervisor Fatigue Alerts functionality is available today to all industrial customers of the Readi FMIS.
Fatigue Science, fatiguescience.com