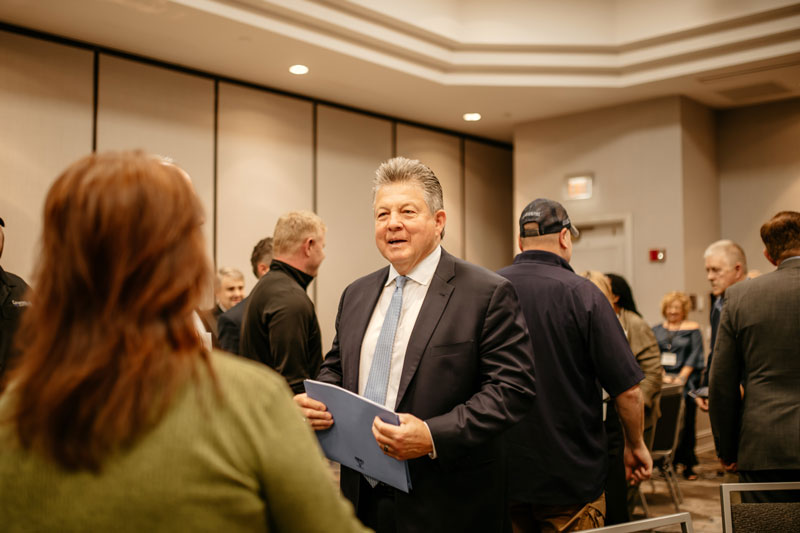 North American Mining magazine, SEMCO Publishing and the West Virginia Coal Association (WVCA) are excited to announce a collaboration for the development of the inaugural West Virginia Coal Show, set for March 26-28, 2024, in tandem with the West Virginia Coal Association's 50th annual Mining Symposium.
The trade show and conference, hosted at the brand-new Charleston Coliseum and Convention Center in the state capital, is set to be an unparalleled gathering for the coal community in the heart of Appalachia and its plethora of coal mining operations.
NAM editor Donna Schmidt sat down with WVCA president Chris Hamilton about the industry, the exciting new event, and what it could all mean to coal mining both in the region and nationwide.
NAM: Please talk a little bit about the West Virginia Coal Association and what your 50th anniversary means to you, the association overall and the industry as a whole?
Hamilton: The association is extremely proud of sponsoring the annual Mining Symposium since the early 1970s, and using it as a forum to bring all aspects of the industry together to review major policy changes as they occur along with new mining techniques and enforcement programs. The 50-year anniversary in March 2024 underscores the endurance of the industry and its ability to adapt to international market forces and technological change.
For those readers that may not know, can you offer a brief history of the WVCA? 
The West Virginia Coal Association was formed in 1915 and is reflective of the state's leading industry parlaying resources to maximize its voice and presence in state political and government affairs. No other state business or industry has been impacted by government actions or its regulation or has been taxed as the coal industry has over the years. It's imperative the industry joins together to consistently and routinely participate with government leaders in all aspects of government.
In a recent op-ed, you mentioned a number of interesting and insightful facts about coal and its use (see below). Do you feel that these figures are steady, improving, or in danger? What are the drivers behind that? 
Current and future opportunities for coal are very real as growth and development around the globe increases their reliance on West Virginia coal. Whether it's within the European nations, where interest grows to break the grip of low cost fuels from Russia, or the foreign countries interested in higher baseload power for reliable electric generation, or countries desirous of the highest quality of met coals for steel making and infrastructure build out, West Virginia coal is the leading coal supply state.
With that said, coal's threats are well publicized, and are very serious and potentially threaten all the good that could be sustained over time. It's unfortunate President Biden and his EPA and administration are so zealous and unrealistic in their quest to a zero-carbon economy.
It's really exciting that there has been so much investment in operations in West Virginia – some $8 billion, according to statistics you recently presented. What impact will that have on the coal industry as a whole, and also the state in particular?
West Virginia's coal industry has always been a primary driver behind our state's economy in terms of supporting an array of goods and services, payroll dollars, investment and variety of taxes. Although we only mine in a third of our state's 55 counties, coal severance dollars collected from coal producing counties are returned to all 55 counties to fund local education, emergency services and programs for seniors and the less fortunate.
Today's investment in new coal operations and upgrading or expanding existing operations will serve to sustain this fiscal infusion of dollars into local and state economies for many years to come. Our industry supports over 50,000 jobs ranging from the direct mining to transportation to coal handling to equipment repair and manufacturing to mine reclamation. These men and woman work with a great deal of pride and go about their jobs very quietly day in and day out so the rest of the country enjoys their liberties, 24/7 household power and a great quality of life.
What do you see in your mind's eye for the West Virginia Coal Show and Symposium? What will be the biggest opportunities for those involved, and those attending? What impact do you feel this combined event could have on our coal community? 
We are excited to add the equipment and products dimension of our industry with our Mining Symposium, which hopefully will draw a broader, more diverse cross section of the industry together. Just as the times require everyone in the business to band together and stand up and be counted, this show has the potential to provide the forum for that to occur and for a larger segment of the industry to participate and contribute to a more secured industry going forward.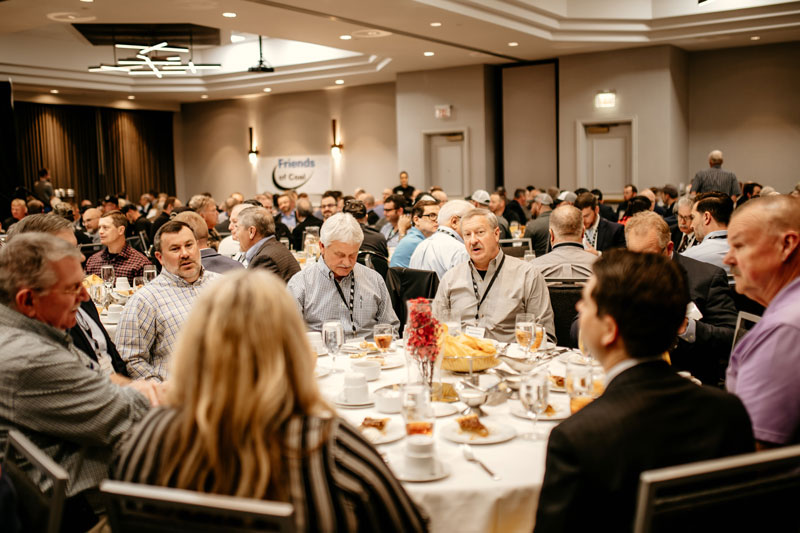 Coal continues to drive West Virginia economy
Hamilton presented the following in a July op-ed that appeared nationwide.
Throughout our state's 160-year history, the coal industry has been a major driver behind West Virginia's economy, and billions of dollars of new investment will ensure that similar benefits are generated for the next 160 years.
Despite all the hype you hear about a zero-carbon economy and transitioning to renewable, or intermittent energy forms, West Virginia's metallurgical and thermal coals will continue to drive our economy while remaining a stable component of our state and nation's energy mix.
John Deskins, the state's leading economist and director of West Virginia University's Bureau of Business and Economic Research, recently concluded that West Virginia coal and coal-fired power generators account for over $14 billion in annual economic activity for our state and supply 24/7, baseload electricity for our state and the PJM region.
Despite the decade-long downturn, coal continues to sustain 50,000-plus West Virginia jobs, provide record level severance tax collections, and places food on the table for Mountain State families.
Here's a few additional facts we thought you should know:
World coal use is growing with over 8 billion tons consumed in 2022
Coal accounts for over 50% of West Virginia's total export product
West Virginia-produced coal accounts for over 40% of our nation's total coal exports
Forty countries and 30 states rely on West Virginia coal to power their energy needs
West Virginia produces the highest quality metallurgical coal found anywhere in the world and 69% of the base fuel for domestic steel making
Remarkably, there's been over $8 billion dollars in new investments in West Virginia mining operations over the past several years, including approximately $2 billion in 2022-2023. This important industry will continue to thrive and provide the jobs, taxes, incomes, and spending power our state so desperately needs.
A more recent study by Deskins and his team of economists valued West Virginia metallurgical coal used in the domestic steel manufacturing process at $186 billion, while providing 547,000 American jobs throughout our country. West Virginia Coal Association members account for the lion share of all metallurgical coal produced in West Virginia.
Our state's thermal and metallurgical coal producers stand united in support of good public policy to promote and sustain the growth of our extractive industries in West Virginia. We oppose the woke and liberal dimensions of state and federal governments desiring to see this amazing economic engine and honorable profession diminished or removed from our great state.
We invite you to join us as a "Friend of Coal" and take an active role in standing up for miners and their families, this great American industry, and benefits it provides to all West Virginians.
To join Friends of Coal, or to learn more about the group's efforts, visit www.friendsofcoal.org/join.