NAM recently visited Milwaukee, Wis., for an exclusive tour of Komatsu's new South Harbor corporate campus near Lake Michigan. Check out more about the innovative features of the property, its commitment to sustainability and how it all will pave the path for the OEM's future.
By Donna Schmidt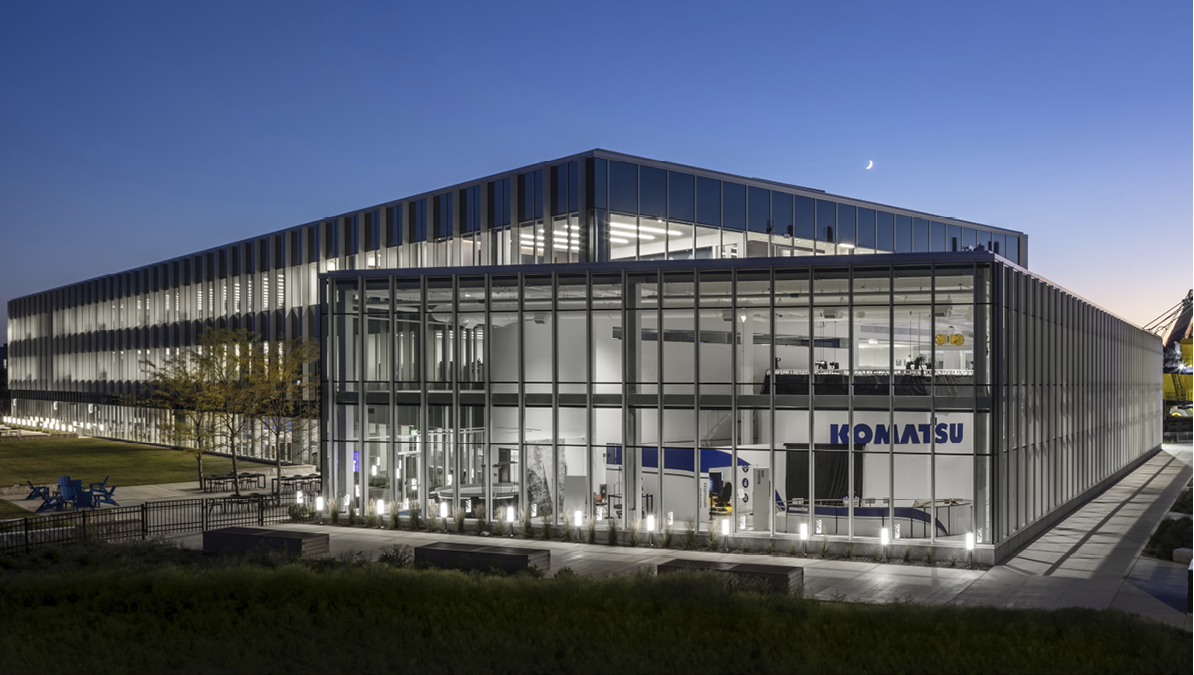 It is said that good things come to those who wait. With a history spanning more than a century, it seems Komatsu has certainly been patient. In Milwaukee's Harbor District, on a 58-acre tract of land that looks over the water, now sits the company's three story and 600,000-plus-square-foot campus.
Even with such a massive facility, it is not the structure you see first. What better – and more fitting – adornment for the beautiful campus than a massive shovel and truck monument featuring a 60-foot-high, 2.5-million-pound 4100A electric mining shovel and 850,000-pound, 2,500-horsepower 830E electric drive truck.
The South Harbor space, at a cost of $285 million, took more than two years to construct. It now houses Komatsu employees within a 180,000-square-foot office space and an attached 430,000-square-foot manufacturing building, with the goal to create new family-sustaining jobs so that the manufacturer's total employment in the area reaches approximately 1,000.
Operations were previously housed in the historical space on National Avenue in West Milwaukee.
The new manufacturing space continues to produce major components of large mining machines for everything from blasthole drills and hybrid shovels to electric rope shovels and draglines. The location serves as the large gearing center of excellence and the large fabrication and machining center of excellence for Komatsu's global mining division. Also included within the facility's walls: advanced technology, robotics, engineering and R&D labs; training facilities, a data solutions center; and a customer experience center.
"Today, all business organizations are responsible for being good environmental stewards," the company noted when the campus was dedicated and opened in June 2022.
"When the decision was made several years ago to move from Komatsu's existing National Avenue facility to a new location in the South Harbor area of Milwaukee, sustainability was top of mind. The result is an innovative building and dynamic campus that delivers sustainable solutions, energy efficiency and opportunities to learn about the past, present and future of the mining industry."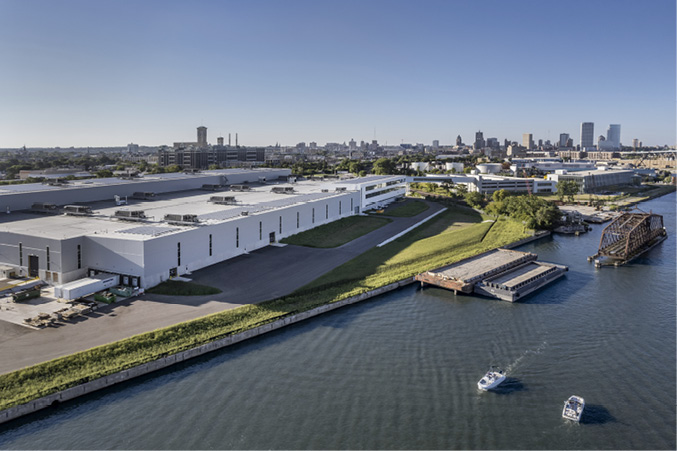 Getting smart
The new campus began with some pre-construction work in 2019 to prepare for land redevelopment, but officially broke ground in September 2020. Komatsu retained general contractor Hunzinger Construction, architectural firm EUA and engineering firm GRAEF for the project with the mission to incorporate a vital element: smart construction technologies to harness technology for accurate data, comprehensive reporting and remote capabilities.
A second prong of its mission-critical infrastructure for South Harbor was having cutting-edge sustainability technology that is key to its long-term, company-wide goal for the company of achieving carbon neutrality by 2050.
The first is LEED Gold certification. The office building has already earned a LEED v4 Building Design & Construction (BD+C) Gold certification from the U.S. Green Building Council. As Komatsu noted, the South Harbor office building is the only LEED v4 BD+C New Construction (NC) Gold project in the city of Milwaukee at this time, and is the highest-rated LEED v4 BD+C in the state of Wisconsin.
One design choice that is immediately noticeable is the campus's use of LED lights, which are designed to be 90% more efficient and have a longer lifespan than traditional lights. In the campus's office spaces, the LED lights are programmed to adjust the amount of light emitted based on the amount of natural light coming into a room. For example, as the office spaces partially face the bright sun along the water for part of each day, those spaces automatically adjust in kind.
The facility also has a building automation system (BAS), which collects data to monitor the various systems of the building, including heating, air conditioning, ventilation and lighting. The result allows for Komatsu to see its energy consumption and make adjustments as needed to reduce it.
Outside, there are wind spires atop its employee parking structure as part of a test of the use of wind power to generate energy at Komatsu facilities.
The two spires are designed to power all the lights in the South Harbor campus's parking structure. Inside the parking deck, there are seven electric vehicle charging stations with the availability to serve 14 vehicles.
On the manufacturing building, there is an array of solar panels that are the largest solar panel system used at a Komatsu mining facility to date – more than a football field in size. The 1-megawatt system production will be used to help power the campus.
Other features are water conservation, the center of which is a 25,000-gallon underground tank for roof rainwater that is treated and pumped back into the building for toilet use, and a water cooling and heat-treat system at its manufacturing facility that is closed-loop, saving an Olympic-sized pool's worth of water weekly versus water usage at the company's legacy facilities.
Even the campus's landscaping was designed with an eye toward sustainability. Nine bioswales carved into the grounds were installed to manage and naturally filter rainwater. And all of the planting beds scattered throughout the campus were planted with native perennials, bushes and trees, a strategy designed to eliminate the need for watering.
Manufacturing space
According to Jill Rick, company representative, some of the best changes are within the walls of its manufacturing facility.
Olson noted the plant was designed for future manufacturing needs, and the evidence of that can easily be seen over a short trek across the plant-wide catwalk that extends throughout.
The process of designing the manufacturing space started with detailed internal reviews of the company's processes and equipment; the findings from those reviews were ultimately used to guide design of the space.
Ultimately, the company was able to reduce the million square feet in use at its legacy National Avenue facility in West Milwaukee to less than a half-million square feet at South Harbor, while improving efficiency in the process. Due to the much more efficient design, Komatsu was able to reduce the distance between steps in the manufacturing process by as much as 70%.
What's more, the new plant sits directly adjacent to port space and rail transport, a spur for which was being completed during NAM's visit. An interstate highway is just a few minutes away.
The new design has had a significant impact on workflow improvements as well, bringing together the needed workers in a more efficient order for performance and collaboration.
The design of the manufacturing space helped reduce workflows by precisely location machine tools in locations that correlate with the company's shaft, gearing and large structure finishing processes.
One example would be one of Komatsu's large shafts, measuring over 20 feet, which can now be cut on one machine and finished within a couple hundred feet, vs. being cut on multiple machines and finished traveling over a mile across multiple buildings at the company's National Ave. facility.
Additionally, there are no step-ups or step-downs, which will most certainly impact safety long-term for its workers, and its machine tools were designed and installed with both safety and ergonomics in mind; additional machine guarding helps ensure that safety.
Komatsu has invested time and much effort to a design element that lowers equipment into the ground, eliminating the need for employees to climb up and down while working on larger machines.
Komatsu confirmed that, in the plant, one-third of the equipment is new, while another third of the machine tools were relocated from National Avenue. The remaining were re-shored from China.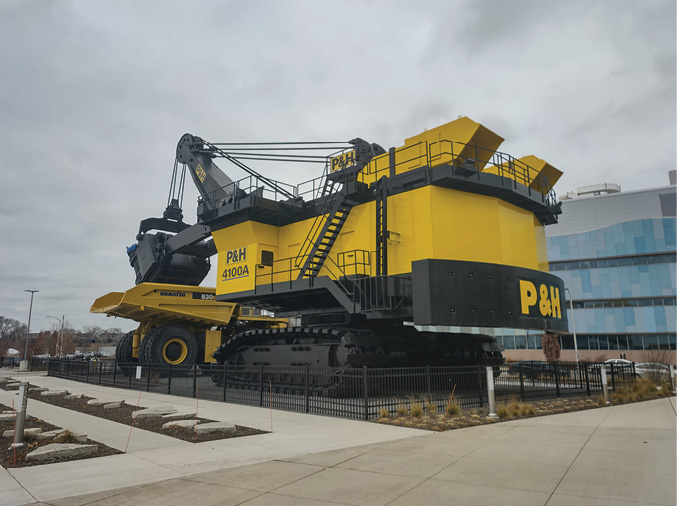 The Safety Dojo
Just across a skywalk from the manufacturing plant is the Komatsu Safety Dojo, a segment of the building devoted to training, refresher reviews, and sharing ideas.
Nick Robinson, senior manager for EHS at South Harbor, said the dojo – filled floor to ceiling with video equipment, machine models, personal protective equipment (PPE), computers and more – has a little bit of everything for employees, but also for customers and guests to campus.
"We run every manufacturing visitor through the dojo to view the visitor safety video and get the required PPE for the shop floor," he explained.
"New employees and contractors also received site safety training in the dojo (instructor-lead, computer based, and hands on). All shop/manufacturing employees go through the dojo annually to review key safety items as well as new updates."
The room is open for all, permitting employees to visit anytime and make use of the self-guided capabilities of the dojo and brush up on procedures. The EHS staff, however, also provides tours and assistance.
Automation Lab
A large space on the main floor of the campus office space is the Komatsu Automation Lab, headed up by Matt Reiland, who serves as director of advanced automation. 
The lab has a futuristic aura, and for good reason – it is the place where the OEM tests its future technology and the ideas its teams are seeking to perfect to be able to bring to market.
Drill robots can map out autonomous path planning, which occurs just outside and adjacent to the lab. Shovel robots feature motion testing at scale prior to the release of software, and an immersive shovel trainer is available for a number of projects Komatsu engineers want to toss its way for experimentation.
One of the most exciting features is the lab's capability to perform non-line-of-sight tele-op control of the drill at its Arizona Proving Grounds (AZPG) outside of Tucson.
The second-floor labs contain very high fidelity hardware-in-the-loop simulators that assist in high-quality software releases, and just downstairs is an additive manufacturing lab that brings its in-house capabilities full circle.
"We're currently using our largest build volume 3D printer to print a 1/24 scale robotic shovel for our Customer Experience Center," Reiland noted.
"The total cost of the printer itself plus the plastic used to print that shovel is about a tenth of the price that it would have cost to get the shovel printed professionally. A professionally printed shovel would probably be finished quicker due to the vendor having more than one machine, but the big cost savings we're able to achieve on a project like this makes it worth the wait for us."
Milwaukee at heart
Rick noted that, in its search for a new space on which to build, keeping it within Milwaukee was a priority for the Japanese-owned OEM.
"Milwaukee is an excellent manufacturing town and very important to our company's history," she said. "We wanted to stay in the area because of our long history here and connection to this community.
"We are very excited to be just blocks from where the P&H mining brand – the oldest brand in Komatsu's mining portfolio – was founded. Not only do we have a long history in Milwaukee, but our network of key heavy manufacturing suppliers is also located here in southeast Wisconsin. Our new campus reaffirms our commitment to this area for future generations, and reflects our goal of providing family-sustaining jobs for the Milwaukee area for years to come."