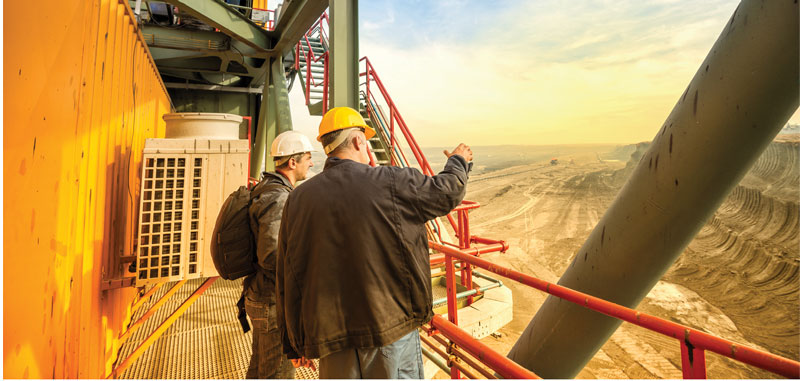 It's award season for many as the year comes to a close – but hearing about award-winning technology is always especially interesting, as many serve as a barometer for trends we as an industry will later see.
One of the newest groups of awardees come from the National Institute for Occupational Safety and Health (NIOSH) Mining Program, which recently announced the honorees for its 2022 NIOSH Mine Safety and Health Technology Innovations Awards.
NIOSH, in conjunction with the Essential Minerals Association, the National Mining Association (NMA) and the National Stone, Sand & Gravel Association, recognized four organizations in their respective industry sectors, some for developing new safety equipment and systems, and others for employing new technology or for cleverly reconfiguring a worksite to gain health and safety advantages. The four award categories were industrial minerals; coal; metal; and stone, sand and gravel.
In the coal category, CONSOL Energy and Simmons Equipment Company won for collaborating to design and implement an innovative scoop bucket. The S360 bucket can lift and lower rather than merely tilt up or down, which offers a combination of operational and safety benefits. With this new bucket, a scoop operator can quickly change between attachments and gain better visibility to navigate safely around nearby workers and obstacles. CONSOL is currently replacing its fleet of scoops with the new S360 bucket.
In the metal category, Emesent won for incorporating specialized drone autonomy technology at the Glencore Kidd Mine to map inaccessible underground areas and thereby remove personnel from areas at risk of ground falls. Rather than depending on mining engineers and surveyors to map unsupported voids, Emesent now deploys a drone system that uses LiDAR data and advanced algorithms. The drone and mapping technology generate accurate 3D point clouds of the scanned environment, capturing critical visuals in places such as stopes, drawpoints, ore passes, and drives, all while keeping personnel away from unstable ground.
Genesis Alkali won the industrial minerals award for developing an improved extraction well system that utilizes a well casing and an extension casing to ensure isolation of electrical components from potentially hazardous mine gases. Invented by Genesis Alkali's engineers, the technology provides an extra layer of protection to ensure the electrical components are isolated from the mine atmosphere while still allowing water to enter the pump intake. Permit applications are pending that will allow the company's Westvaco mine to implement the technology.
And in the stone, sand, and gravel category, Peckham Industries won an award for its implementation of a strategic stope hole at its Wingdale, New York, underground aggregates operation to deliver rock mined in the surface quarry down to the underground operation close to the primary and secondary crushers. In doing so, the mine brought more workers above ground to safer conditions, eliminated excessive transport time needed to move the crushers, and addressed community concerns about noise, dust, and visual impacts of the mine.
Using the stope hole has also allowed the mine to eliminate long haul distances on steep grades, leave a scenic ridge untouched, and realize efficiencies in equipment, fuel, and time.
"It is a benefit to the entire mining industry to have such innovative approaches tackle both new and persistent challenges," NIOSH associate director for mining Jessica Kogel said.
The NIOSH Mining Program invites nominations throughout the year for its awards series, which offers awards in four different mining industry sectors.