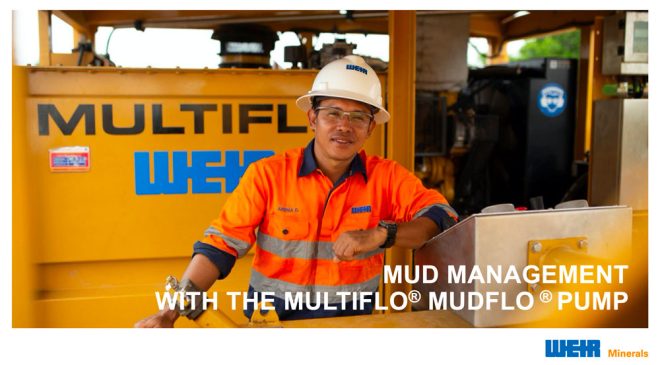 The ASIA Miner and North American Mining magazine recently hosted Weir Minerals Australia for a free educational webinar, "Mud Management with the Multiflo Mudflo Pump."
The webinar, which ran approximately 45 minutes, was held live on Thursday, October 13 with a global audience.
The featured speaker was Weir Minerals Australia Applications Engineering Business Manager Aaron Schot, who discussed diverse problems dealing with mud, sludge and spoils in mining and how they can be transported safely and efficiently across sites continuously without impacting machinery – and while minimizing personnel involvement in that process for greater miner safety.
The audience heard more about the Multiflo Mudflo solution, its history, and how the pump can be integral to an advanced sites' dredging plans.
Schot, business manager for Applications Engineering at Weir Minerals Australia, has held multiple roles within the company primarily with the Multiflo product, specializing in formulating the engineering design of electric and diesel dewatering pumping solutions for both Australian and international customers across the mining, municipal and agriculture industries.
During his tenure with Weir Minerals, Schot has also completed a significant amount of work developing and designing new fuel management systems within the Hydrau-Flo brand.
The webinar was moderated by North American Mining magazine editor Donna Schmidt. A Q&A period followed Schot's remarks.
A link to listen to and watch the webinar anytime is available at www.bit.ly/3MU9HNs.