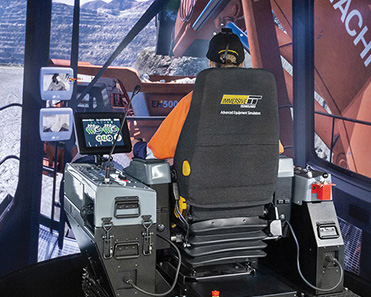 Mining equipment simulator supplier Immersive Technologies has announced a consolidated long-term agreement for five years with Hitachi Construction Machinery Co.
The exclusive partnership agreement, which combines technical license and partnership agreements that have been in place since 2007, enables the companies to collaborate in the development of simulator equipment solutions to meet mining industry demand and requirements.
"With 20 years of delivering the most accurate Hitachi advanced equipment simulators for mining customers, Immersive Technologies has a long history of providing quantifiable return on investment to Hitachi mining equipment owners, something no other simulator provider can evidence," said Immersive Technologies. 
The company's Conversion Kits have provided the ultimate in Hitachi simulator training realism for mines focused on increasing operator safety, improving productivity and reducing levels of unscheduled maintenance. The kits are interchangeable equipment modules that fit onto base simulator platforms allowing a range of different equipment to be simulated including haul trucks and hydraulic shovels and excavators.
Mines utilizing Immersive Technologies' Hitachi simulators for mining equipment have reported a 4% reduction in fuel consumption and 39% reduction in haul-truck load times (based on fleet management data).