Global mineral processing solution company Gekko Systems has announced a triumphant trial of the OnLine Gold Analyser (OLGA) on a flotation feed stream, representing a significant milestone in the ability to read gold grades in real-time.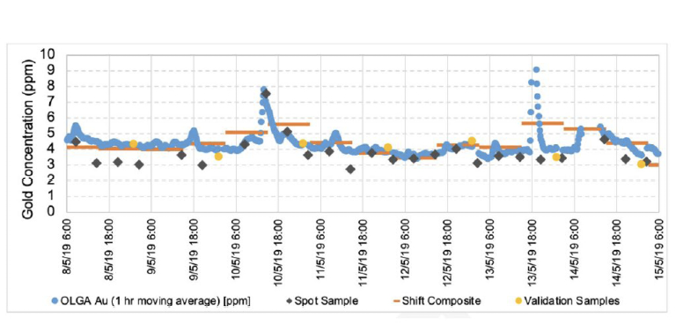 The fully self-contained OLGA module technology was developed by the Commonwealth Scientific and Industrial Research Organisation (CSIRO), an Australian government agency responsible for scientific research. The technology, which is the first onstream analyser designed to read gold in slurries and solutions, is being brought to market by Gekko.
OLGA provides insights into process performance that are unobtainable with assayed sample sets by delivering an updated sub-parts per million (ppm) gold measurement every 10 minutes. During the trial, continuous operation and monitoring of OLGA was ongoing with daily validation samples collected and assayed to build a database.
The figures show a seven-day timeline of the hourly moving average OLGA measurements, with shift composite assays and instant grab samples overlaid. Based on the graph, Gekko said there are discrepancies between the spot (grab) and shift composite samples, and that OLGA tracks small changes in the flotation feed grade with better resolution than the spot samples while remaining consistent with the shift composite samples.
Gekko said further testing is underway to validate the simultaneous measurement of copper and arsenic in targeted streams. "From this excellent start, further advancements to the technology are being made to increase the mineral suite, simplify the mechanical components, and to optimize the operating system."