At the recently held Liebherr Customer Day 2022 at the company's new Newport News, Va., campus, the OEM revealed that its fleet of mining dozers with operating weights ranging between 78,044 and 161,354 pounds can now be teleoperated via remote control using the Liebherr Remote Control (LiReCon) technology.
The PR 776, which Liebherr said is the world's biggest hydrostatic dozer, was first released in 2016. It, along with the PR 766 G8, introduced at the beginning of 2021, and the smaller PR 756 G8, can now be safely operated in dangerous areas and maintain comfort and productivity thanks to LiReCon availability on the machine.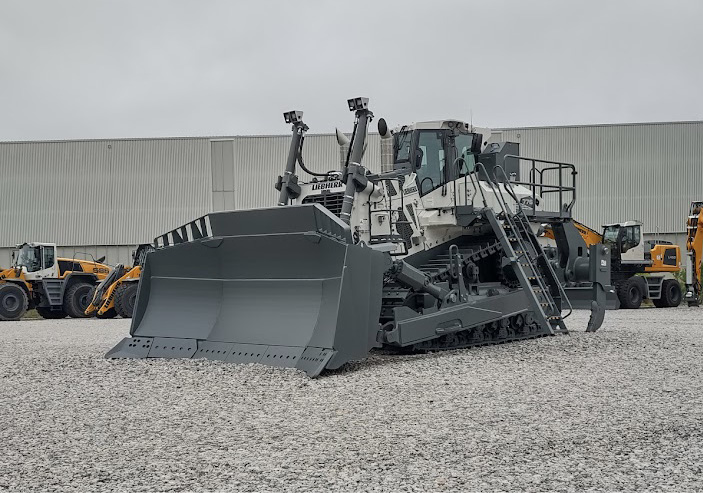 Ultimate efficiency: Proven hydrostatic drive concept
Powerful Liebherr diesel engines in combination with the standard ECO mode, allow operators to choose between high performance and maximum efficiency at any time.
"With more than 140 PR 776 dozers in operation and an average of 37 liters of fuel burnt per hour, Liebherr's flagship of the line has set a new benchmark regarding efficient dozing in the mining industry," the OEM said. 
Various commodities and extreme applications
Liebherr mining dozers are mainly supporting the extraction of a broad range of commodities. To withstand the ambient temperatures in the different regions, ranging between -56.2 Fahrenheit and +114.8° F, the PR 776 dozer can be optionally equipped with an arctic package. In addition, a special high-altitude package has been developed by the Liebherr R&D department to handle the oxygen saturation of only 50% in a copper mine in Maizhokunggar, Tibet – situated nearly 5,500 meters (18,044 feet) above sea level.
Customers appreciate the high levels of productivity, efficiency and safety
Multiple customer success stories and competitive comparisons have shown that Liebherr's hydrostatic dozer cannot only keep up with other 70-tonne (77 US ton) dozers in terms of pushing performance; it even outperforms them in tonnes per liter pushed.
Liebherr mining dozers provide first class cab comfort. Operators appreciate the convenience and simplicity of a single joystick. Safety is enhanced via 360-degree blade and ripper visibility, provided by large panoramic windows and integrated ROPS / FOPS in the cab structure.
In order to carry out daily maintenance and service work quickly and, above all, as safely as possible, ground level service stations are available for the Liebherr PR 766 G8 and PR 776. This option, on the side of the electronics of the dozer, contains an access light switch, an emergency stop button and a ground level lockout switch. On the side of the fluids, the following features increase work safety by preventing unsafe climbing on the dozer: three quick-change couplings for the engine, splitter box and hydraulic oil and a quick refueling coupling.
Ready for the future: Liebherr Remote Control for dozers
The LiReCon system is suitable for all dozer applications. It consists of the Liebherr Remote Control teleoperation stand, a state-of-the-art operator workspace with all required controls, and onboard dozer installations: cameras for all different angles and views, microphones for recording machine sounds, radio link receiver and transmitter.
The high-resolution main screen provides complete view on the worksite and around the dozer. The optional active person recognition system identifies people and obstacles in the work area and protects the dozer from damage. Liebherr Remote Control allows fast shift changes between operators and also reduces idle and down time. As the operator is no longer tied to the machine, Liebherr Remote Control also enables customers to open up new extraction areas in danger zones. Thus, extends the range of applications for Liebherr mining dozers.