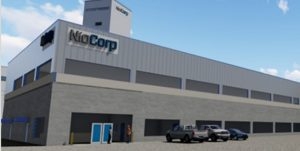 Colorado's NioCorp has received updated feasibility study results for its Elk Creek project in southeast Nebraska confirming the asset to be the second largest indicated-or-better rare earth resource in the United States.
In a newly released update to the report compiled in collaboration with Understood Mineral Resources, Optimize Group and Dahrouge Geological Consulting, rare earth elements were evaluated as a potential by-product to the mining of niobium, titanium and scandium at an estimated 632.9 kilotonnes of contained total rare earth oxides (TREO) in the indicated mineral resource category.
Using U.S. Geological Survey data, that places Elk Creek's mineral resource behind only MP Materials' Mountain Pass deposit in the U.S. indicated or higher classification.
"According to the [new] 2022 Feasibility Study, in addition to relatively high grades of niobium, scandium and titanium, the Elk Creek Mineral Resource contains various amounts of all," the company said, adding there is potential for NioCorp's REEs to be mined, crushed and placed into solution as part of NioCorp's plans for primary niobium, scandium and titanium production.
"Depending upon the outcome of metallurgical testing on REE recovery rates from Elk Creek ore, now being conducted at a demonstration plant in Quebec, and whether necessary project financing is secured, NioCorp could produce separated rare earths as a byproduct, placing it at a competitive advantage vis-à-vis other rare earth projects."
The NioCorp team is presently focusing on the magnetic REE products neodymium-praseodymium oxide, dysprosium oxide and terbium oxide at a purity level that meets current commercial requirements. Officials noted there, at current, is no commercial-scale production in North America of these separated rare earth products from ore mined in the U.S.
The Elk Creek Indicated Mineral Resource includes 632.9 kt of TREO, including individual rare earth oxides: 26.9 kt of praseodymium; 98.9 kt of neodymium; 2.3 kt of terbium; 9.1 kt of dysprosium; 970.3 kt of niobium oxide; 11,337 tonnes of scandium oxide; and 4,221 kt of titanium oxide.
CEO and Executive Chairman Mark Smith called the new study results "very good news" that validates its belief that Elk Creek is one of America's largest indicated rare earth resources.
"With the addition of the magnetic rare earths, the Elk Creek Project will stand out from virtually every other greenfield project in the U.S. in terms of its potential ability to produce multiple critical minerals that are essential to electrified transportation, renewable energy production, green mega-infrastructure projects, and many other applications that are in increasing demand around the world. If we elect to add rare earths to our product offering, the Elk Creek Project will represent a unique critical minerals project once financing is obtained."
The project, formally known as the Elk Creek Superalloy Materials Facility, does not currently have a construction target date but has received all major federal permits. About 10% of its expected production of scandium for the first decade is under contract, along with 75% of its primary product, ferroniobium.
Source: NioCorp