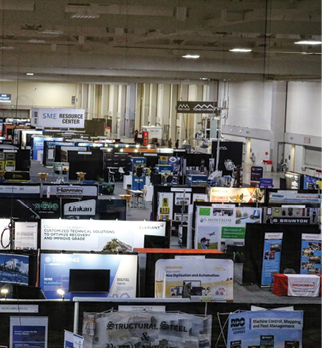 The Society for Metallurgy, Mining and Exploration (SME) closed its annual meeting and exhibition for another year on March 2.
Entitled MINEXCHANGE, the event kicked off with an opening reception on Feb. 27 and, in addition to dozens of technical sessions, welcomed nearly 750 exhibitors to the show floor at the Salt Palace in Salt Lake City, Utah.
The 2021 event was held virtually, so this year's meeting was the first to be held in person in two years. Attendance was healthy, a pleasant surprise from the perspective of the North American Mining team, including domestic and international guests.
The meeting featured a keynote presentation on the topic of telling the positives of the industry's story, and dozens of technical sessions were held on the themes of exploration, coal and energy, automation research, ventilation and many more
Next year's SME conference and expo will return to the society's hometown of Denver, Colo., and will convene from Feb. 26 to March 1, 2023. The event will also include the 125th Colorado Mining Association National Western Mining Conference.
North American Mining and Miners News and its parent company, SEMCO Publishing, were a media partner for this year's SME meeting.