The Mine Safety and Health Administration (MSHA) reported that on February 28, a contract miner died when he was crushed between the rib and a single boom face drill. The victim was alongside the drill using the onboard tram lever controls when the accident occurred because the remote control was inoperable.
This is the eighth fatality reported in 2022, and the third classified as Machinery.
MSHA recommends the following best practices to avoid this type of accident:
Mobile equipment shall be maintained in safe operating condition. Immediately remove mobile equipment in unsafe condition from service.
Always operate mobile equipment from a safe location. Use the remote control or operate from within the operator's compartment if available.
Determine the proper working position to avoid pinch points and Red Zone areas.
Train miners on the safety aspects and safe operating procedures of mobile equipment before use. Review and discuss pinch points and Red Zone locations.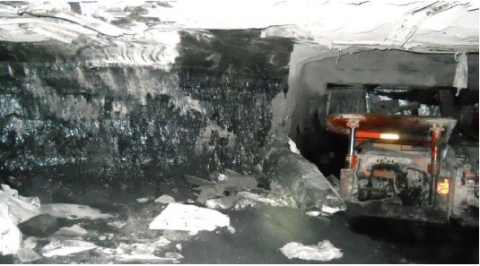 Also, the agency has released its reports for the March 2 death of a miner after an overhang along the mine rib fell, striking the miner and pushing him against the canopy of a twin boom roof bolting machine. The miner freed himself from the fall, but later died.  
In its best practices, MSHA stressed:
Remove overhangs with the continuous mining machine.
Install support of proper length with surface area coverage, on cycle, and in a consistent pattern for the best protection against falls.
Examine the roof, face, and ribs immediately before starting work in an area where people work and travel, including sound and vibration testing where applicable.
Scale loose roof and ribs from a safe location. Prevent access to hazardous areas until you take corrective measures.
Take additional safety precautions when encountering new and changing roof and rib conditions.
Train miners on how to identify hazardous roof and rib conditions.
This is the ninth fatality reported in 2022, and the first classified as Fall of Face, Rib, Side or Highwall.
Source: MSHA