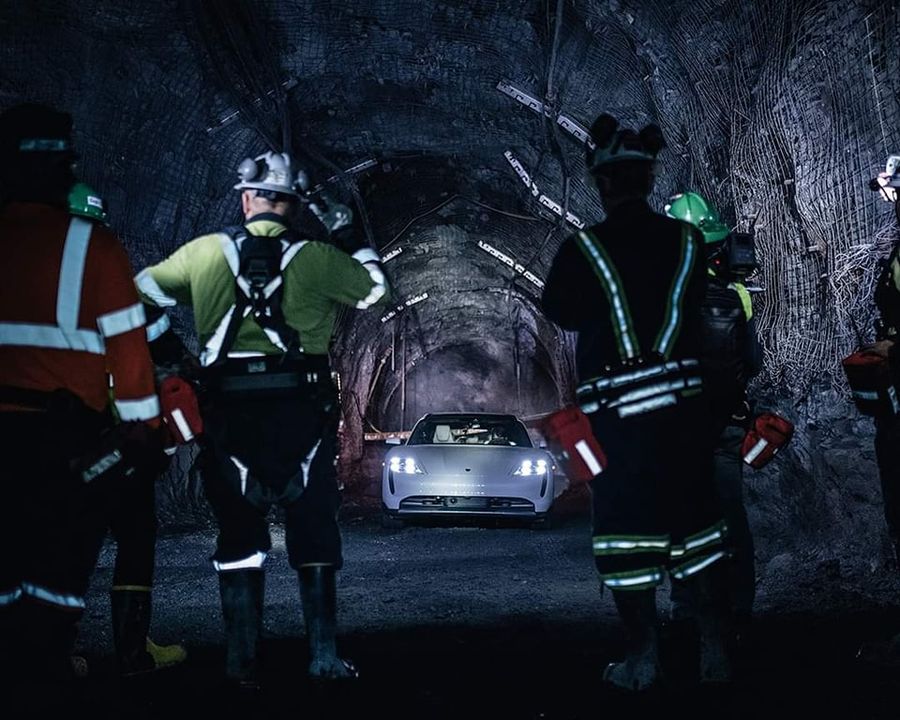 Lundin Mining and its Eagle underground nickel mine in Michigan's Upper Peninsula recently worked alongside luxury carmaker Porsche to set a new Guinness World Record: the greatest altitude change ever achieved by an electric car.
The Porsche Taycan Cross Turismo went from the lowest accessible point, at a depth of 1,774.4 feet below sea level at Eagle, to the summit of Pikes Peak in Colorado, at an elevation of 14,115 ft. – a journey that took the team 33 hours and 48 minutes to make.
"It started as a 'what if?' – a passion project, mixing our love for cars and travel and taking it to extremes," said automotive filmmaker J.F. Musial, part of the traveling team.
"We wanted to drive from the lowest point in America to one of the highest, Pikes Peak – where we've spent countless hours filming the famous hill climb. The project relied on a lot of goodwill, and a car that's pretty much unique in its mix of abilities."
Porsche noted that the lowest point in America is Badwater Basin in Death Valley, Calif., at 86 meters below sea level. Going deeper involves going underground – which is where Lundin's Eagle mine came in. It was the only mine in America where a car could be driven to sufficient depths.
"Due to the Taycan Cross Turismo being a pure BEV vehicle as well as being capable off-road with raised ride height and all-wheel drive, it met Eagle Mine's criteria for being allowed to drive through the portal and into the tunnel itself," Porsche officials said.
"This makes it one of very few cars in the world with the right mix of capabilities to be able to attempt the trip – without any modification and using completely standard road tires. And so, after rigorous safety training, the team were granted access to the very lowest part of the excavation – a depth of 540.8 meters below sea level."
The car's trip crossed six states in rain, snow, ice and sun, during which the team ascended just over 4,842 m, or just over three miles. The mining operation helped with the rest.
Also on-board: separate, sealed GPS devices monitoring for their route and altitude throughout, along with an analogue altimeter and witness logs to satisfy strict Guinness World Records requirements.
Eagle mine management acknowledge it's not every day you get asked to be part of a Guinness World Record attempt and, of course, now successfully achieving the benchmark.
"It was fitting to have the Porsche Taycan drive to the bottom of our nickel and copper mine, as both elements are essential to electric vehicles," Eagle Managing Director Darby Stacey said.
"After numerous risk assessments, safety discussions, and detailed planning, our mine team was up to the challenge. We are proud to have worked with Porsche to safely execute and complete a new world record."
A video of the trip, including coverage of the underground journey, is available to view at https://lnkd.in/dca-HVvq.
Sources: Lundin Mining and Porsche