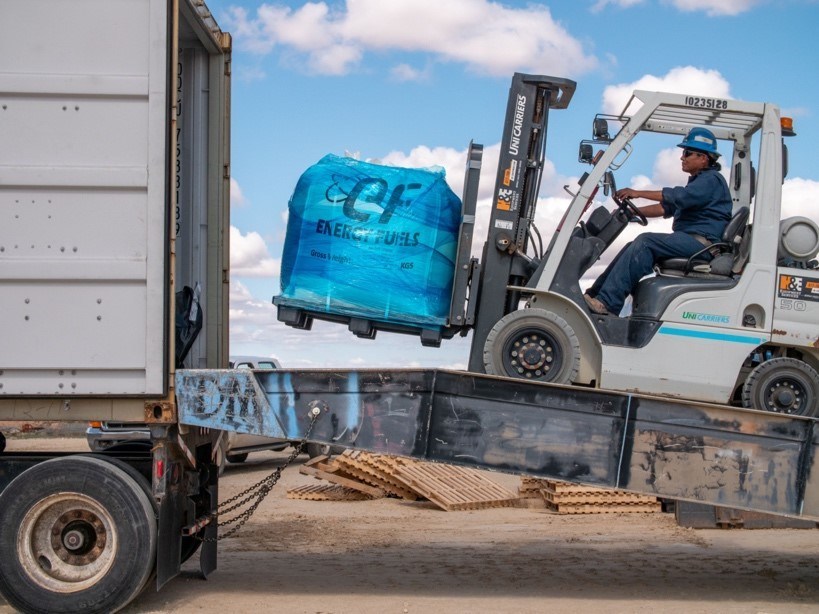 Energy Fuels and Neo Performance Metals announced July 7 that they had launched the first commercial shipment of mixed rare earth carbonate from the former's White Mesa mill in Utah to Neo's Silmet separation facility in Sillamäe, Estonia.
The initial shipment contained about 20 metric tons, and has become a new United States-to-Europe rare earth supply chain. Neo is the only commercial producer of separated rare earth oxides in Europe.
Additional shipments of RE carbonate are targeted, the companies said in a joint announcement, as Energy Fuels continues to process natural monazite sand ore mined in the state of Georgia by Chemours for rare earth elements and naturally occurring uranium. Monazite, a byproduct of existing heavy mineral sands mining, also contains naturally occurring uranium.
"This commercial-scale production of RE Carbonate by Energy Fuels from a U.S. mined rare earth resource positions Energy Fuels as the only company in North America that currently produces a monazite-derived, enhanced rare earth material," Energy Fuels officials noted.
"The physical delivery of this product also represents the launch of a new, environmentally responsible rare earth supply chain that allows for source validation and tracking from mining through to final end-use applications for manufacturers in North America, Europe, Japan, and other nations.
The two companies have also signed a definitive supply agreement under which Colorado-based Energy Fuels will ship all or a portion of its RE Carbonate to Neo's Silmet rare earth separations facility, where Neo will process it into separated rare earth materials for use in rare earth permanent magnets and other rare earth-based advanced materials.
In addition to supplying the RE carbonate to Neo, Energy Fuels is also looking at the possibility of establishing its own separation capabilities at White Mesa in Utah or nearby. If that comes to fruition, it could possibly add metals, alloys and rare earth permanent magnets manufacturing capabilities.
"[We have] hired the French firm Carester SAS, a leading global expert in rare earth separation and supply chains, to produce a scoping study including capital and operating costs for a full rare earth separations capability at the White Mesa mill, which would be the next important step toward fully integrating a U.S. rare earth supply chain in the coming years, in addition to continuing to supply RE carbonate to European markets over the long-term," the company said.
Energy Fuels' ultimate goal is to process 15,000 tpy of monazite.