Liebherr Mining unveiled its new technology portfolio of digital services during MINExpo 2021 in Las Vegas this past week.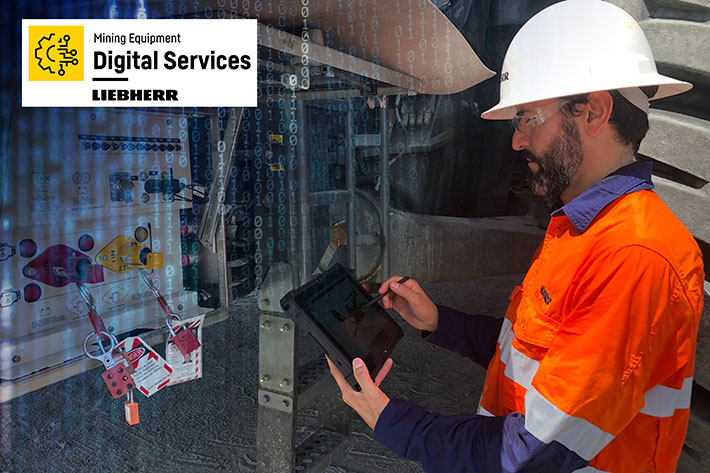 To further support customers with equipment performance and maintenance, Liebherr said the development of the suite of data-driven digital services, globally introduced under its brand-new Mining Technology Product Portfolio, defines the company's interoperable and scalable approach to equipment, technology and service product offerings.
The Liebherr MTPP includes digital services, assistance systems and on-board analytics and machine automation product lines. Combined, the OEM said the products support operator performance, optimize diagnostic processes and automate machine functions while also integrating machine data and OEM expertise.
It also builds on a foundation, Liebherr officials said, of technical information in the content delivery portal and troubleshooting function of its Troubleshoot Advisor, as new Remote Support Solutions will offer real-time 24/7 digital support from its experts.
"[This reduces] the time and costs related to manual data gathering and allow[s] mine management to focus on maximizing overall mine performance," the company explained.
The portfolio includes three products: MyAssets, MyOperations and MyMaintenance. The first, a service for maintenance and machine support, offers detailed and real-time insights on machine health conditions; machine events including access to detailed fault code information and historic records to investigate root causes; and operational conformance insights for operational and safety compliance.
The MyOperations service has been designed for management and production roles requiring constant monitoring of load and haul operations and work to maximize productivity and equipment utilization. In addition to seeing inefficiencies and supporting the investigation of root causes, it also can provide rich data and insights on machine and fleet performance.
Finally, MyMaintenance is a suite of applications to support maintenance teams and accelerate execution of jobs from investigation, to preparation and resolution, including documentation.
The tool is comprised of Liebherr Troubleshoot Advisor, or TSA, a platform providing access to detailed troubleshooting instructions for common technical problems that is available both online and offline and allows users to follow a step-by-step process to connect to the app, select a problem and search for solutions. It also has the Liebherr Content Delivery Portal (CDP) intelligent search database.
"Comprising all Liebherr Mining technical documentation from operating manuals to assembly instructions, [it allows] users to locate relevant information quickly and precisely," the OEM said, adding the CDP has an offline mode, smart search, personal collections, bookmarks, document alerts and more.
The last component of that tool is the Liebherr Remote Support Solution, a new service utilizing the foundation of technical information in the CDP and troubleshooting function of the TSA to offer real-time 24/7 digital support.
Source: Liebherr