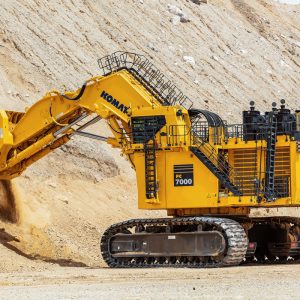 Attendees at MINExpo 2021 can witness a Komatsu excavator located more than 400 miles away in Arizona be operated from the Vegas show floor during a scheduled demonstration by the OEM this week.
The company will teleoperate the new Komatsu PC7000-11 hydraulic excavator from a remote console as it loads the company's autonomous concept truck at its proving grounds outside Tucson, Ariz.
"The [machine] and its operator will leverage an Immersive Technologies console that provides the user information and views of what is seen from the machine's actual cab onsite," Komatsu said.
"Multiple cameras and sensors around the machine and bucket, as well as a 360-degree monitor and machine display, support visibility and situational awareness for the remote operator."
The OEM confirmed that development of its semiautonomous 700-ton-class hydraulic excavator with teleoperation is nearing completion. It is hoping to trial the concept machine at a customer site in 2022.
A schedule of the demonstrations, as well as an option to catch the demo from home for those that cannot attend the show, can be found at Komatsu.com and komatsuevents.com, respectively.
Komatsu will be set up in the Central Hall, Booth 7027.
Source: Komatsu.mining