Customized Mobile Conveyors Optimize Material Transfer For Greater Stacking Volume And Efficiency In Heap Leach Mining Applications.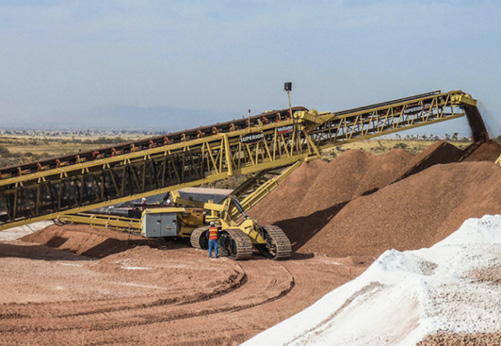 Heap leach mining operations continually seek greater capacity, continuous material flow and reduced downtime. In any precious metal application – including gold, copper and ore – these challenges are ongoing top-of-the-mind initiatives, particularly due to the complexity of stacking plans. 
Material handling equipment must be highly mobile and extremely flexible. And, for optimum performance, more and more operations are utilizing integrated conveyor systems, which can be custom engineered for the specific pad design. The speedy payback from the latter is measured in more tons per move, larger leach pad footprints and increased profitability.
"Because every heap leaching operation maintains a specific process with unique characteristics, mines are far more likely to improve efficiency with a customized and comprehensive material handling system," said Jarrod Felton, president of Superior Industries.
Felton noted that an integrated heap leach system is comprised of a core group of mine-duty conveyors, with the customization of the system being applied with various belt lengths and widths, belt speeds, and load areas, as well as choices in hoppers, mobile tracks, control systems, electrical components, and the total number of jump or grasshopper conveyors.
"This strategically selected system of machines and machine attributes ensures smooth material transfer and far greater efficiency over that of older, conventional methods," he pointed out.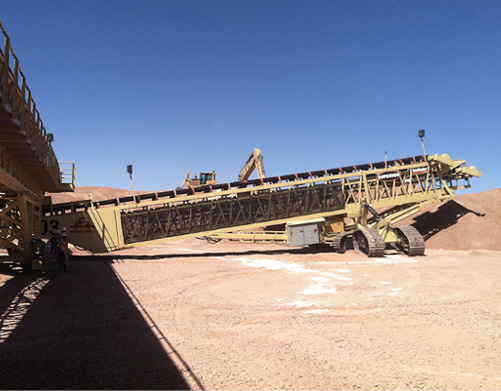 Felton explained that, currently, many heap leach mining operations work in a manual radial stacking mode. Operators will move the radial stacker with a loader to a given location, leaving it to stack there while they perform other maintenance duties.
Later, the operators return to either fill in holes or move the stacker to the next location. "This typically results in saw-tooth pile tops, which are not ideal for irrigation," he said.
Alternatively, automated heap leach conveying systems are programmed to stack per desired lift specifications. At the core of the system is the mine-duty TeleStacker Conveyor, which is engineered with an internal stinger conveyor that maintains constant motion along a cell, distributing material evenly to achieve a flat top to each heaped pile, while also piling more material per move.
"Its longer stinger conveyor, over that of conventional radial telescoping units, allows for greater flexibility in complex valley fill applications," said Felton.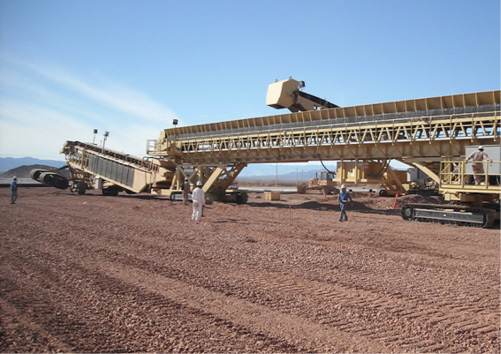 He explained the conveyor is equipped with the FD Series Axle assembly, a technology that allows a quick transition from radial to linear mode, enabling movement along the leach pad cell centerline. Also, the unit features the patented FB undercarriage support system, which is constructed of durable steel and a tubular braced structure that prevents any twisting and shifting. "This level of stability is required for the uneven ground and the constant movement typically seen in the heap leach environment," Felton stressed.
As to additional mobility options, Felton said that operations may utilize radial travel tracks and/or a track-mounted mobile pivot base in conjunction with the telescoping conveyor.
"Radial travel tracks are a cost-effective method to gaining optimum flotation and traction. When combined with the mobile pivot base, operations can achieve free-ranging onsite and transfer point mobility as well as radial travel capability – all while reducing the need for multiple trucks and loaders," he said.
Integrated with the telescoping radial stacker is the Horizontal Index Conveyor (HIC), a fully skirted unit with a frame that mounts to the stacker. "For greater heap leach site mobility, the track drive on the unit is designed to move itself and the radial stacker along the cell centerline – and for maximum flexibility, the HIC can be fed at any point along the length of the conveyor," noted Felton.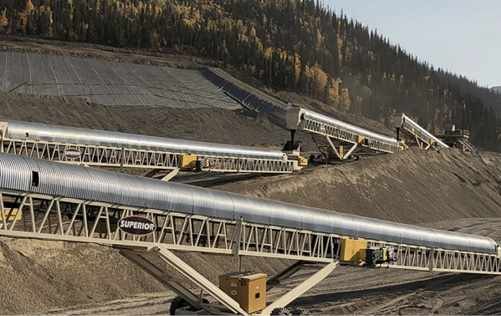 He added that when combined with portable jump (or grasshopper) conveyors, the HIC minimizes the frequent removal or adjustments of the jump conveyors along the material transfer line. "Ultimately, the combined mobility and flexibility of the HIC is key to building larger leach pad footprints," Felton said.
Next, Felton explained that a horizontal feed conveyor runs perpendicular to both the HIC and the grasshopper conveyors. "It transfers material from the grasshopper conveyor to the HIC to maintain a consistent, steady material flow," he added.
Built in standard lengths of 100 feet or engineered in custom lengths, multiple grasshopper conveyors comprise a substantial length and are combined consecutively to transfer material to the stacking conveyors. Felton said that retreat stacking will move in increments of the grasshopper conveyor length by removing one at a time, while advance stacking requires the insertion of a jump conveyor upon moving forward.
For very large systems, there are "super" portable grasshopper conveyors that range from 215 to 250 feet in length.
"Operations can also utilize a tugger, which is a self-contained and tracked mobile pivot base, to move grasshopper conveyors into place. It can also be used as a single point axle on a horizontal feed conveyor," said Felton. Additionally, the company's new Trailblazer Portable Groundline Conveyor can be used to replace some the grasshopper conveyors.
"This gives the system the advantage of fewer transfer points and electrical connections, and lesser move frequency," he added.
While a total systems approach to heap leach conveying may seem an unwieldy proposition to some operations, Felton stressed that adaptability is made easier when the systems provider also takes a total approach to the design/build factor.
"Today it's common for manufacturers to sub-contract to others for both large and small components. At Superior, we manufacture all our components and conveyors and engineer our systems as a whole to ensure such things as smooth material movement at all transfer points as well as the necessary electrical integrity required for the integration of multiple conveyors, for example. Our approach also allows greater control over lead times and delivery," he said.
From system installation through startup, Felton noted that his team provides onsite assembly and training. "This ensures safe operation and allows the crew to experience productivity right from the start," he explained.
Lastly, Felton pointed to the fact that Superior Industries was founded and built on the premise of making conveyors mobile, and minimizing the need for costly loader, dozer and haul truck use.
"So it is no surprise that we are drawn to the heap leach mining market as it has one of the highest requirements for mobility," he said.