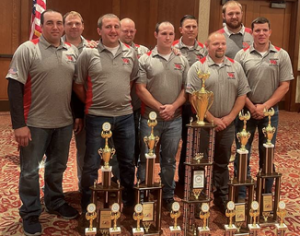 Wellmore Coal Company took home the top prize at the 2021 Virginia Governor's Cup Mine Rescue Competition held recently in Virginia.
The competition was held at Carl Smith Football Stadium at the University of Virginia's College at Wise, and was co-hosted by the Metallurgical Coal Producers Association and Virginia Department of Mines, Minerals and Energy (DMME). The second-place team was Alden Resources.
Teams were judged on thoroughness in recording mine conditions on a map as they advanced into a mock mine, and their ability to identify and respond to hazards that could endanger the team or trapped miners.
"It was great to get these teams at an in-person event after COVID forced us to be creative to get our required mine competitions in last year," DMME Director of Coal Programs Randy Moore said.
"When it comes to mine rescue, comradery is just as important as testing our skills."