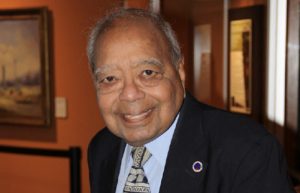 Raja Ramani, professor emeritus of mining and geo-environmental engineering at Pennsylvania State University, has been selected as an inductee into the National Mining Hall of Fame for the Class of 2021.
The longtime industry veteran and mine ventilation expert will be inducted into the NMHF on Oct. 23 in Denver, Colo.
"I was humbled, but more than that, my first reaction was surprise," said Ramani.
"When I came from India in 1966, I didn't even know what a hall of fame was. Over the years I have nominated people to the hall who have contributed a lot to mining over their lifetimes, as I had a sense of their extraordinary achievement. I am really humbled to get elected."
Ramani has been part of the faculty at Penn State since 1970. He has spent more than 50 years at the school, serving as head of the Department of Mineral Engineering (the predecessor to the John and Willie Leone Family Department of Energy and Mineral Engineering) from 1987 to 1998, and chair of the Mineral Engineering Management section from 1974 to 2001.
In 1998, he was appointed as the first endowed chair in the College of Earth and Mineral Sciences, the George H. Jr. and Anne B. Deike Chair in Mining Engineering.
Sanjay Srinivasan, head of the John and Willie Leone Family Department of Energy and Mineral Engineering, said of Ramani: "As a true, lifelong educator and someone who has given back so much to the mining community, it's impossible to imagine our world-renowned mining program without Dr. Ramani."
Ramani has had a number of national and international appointments and consultations, including the United Nations and World Bank. He served on more than 40 committees for Society for Mining, Metallurgy and Engineering (SME), including president, president of the SME Foundation, and chairman of the Coal Division.
He was a member of the SME board of directors, SME Foundation board of trustees, and the American Institute of Mining, Metallurgical, and Petroleum Engineers' board of trustees. In 2005, Ramani was elected to the National Academy of Engineering.