The Mine Safety and Health Administration reported that on April 22, a miner at Broadfoot Pit #2, Buffalo, Neb., was fatally injured when leaving the mine site in his personal pickup truck. The manual swing barrier gate was partially closed. A gate pole entered the truck's windshield as the pickup truck approached, striking the victim and causing fatal injuries.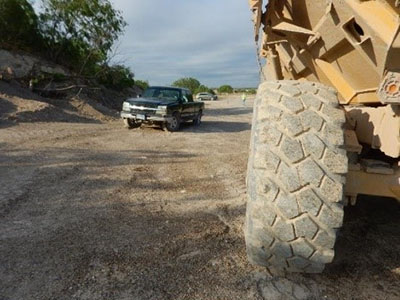 This is the ninth fatality reported in 2021, and the fifth classified by the agency under Powered Haulage.
MSHA recommends the following best practices to avoid this type of accident:
Ensure that manual swing barrier gates can be secured when opened or closed to prevent unintentional movement.
Paint or tape swing barrier gates with reflective and distinguished markings to differentiate them from their surroundings. Install additional lighting near barrier gates.
Conduct thorough travelway examinations to identify and mitigate hazards.
Establish safe traffic patterns with proper signage.
Be alert to road conditions and always keep a clear line of sight.
Maintain proper speed for road conditions.
The announcement came just days after the industry marked its eighth death; it occurred April 19 at Frontera Materials in Hidalgo, Texas. That event involved a miner that stopped his haul truck in front of his personal vehicle to get his lunch. While standing and eating his lunch, the haul truck rolled forward, pinning the miner between the haul truck and his personal truck.
It was also classified by MSHA as a Powered Haulage fatality.
MSHA recommends the following best practices to avoid this type of accident:
Do not leave mobile equipment unattended unless the controls are placed in the park position and the brake is set. NEVER use a steering column-mounted "dump brake" for parking.
When parking mobile equipment on a grade, chock the wheels or turn them into a bank. Maintain equipment braking systems in good repair and adjustment.
Position yourself in a safe location away from potential "danger-zone" areas.
Train miners to safely perform their tasks.